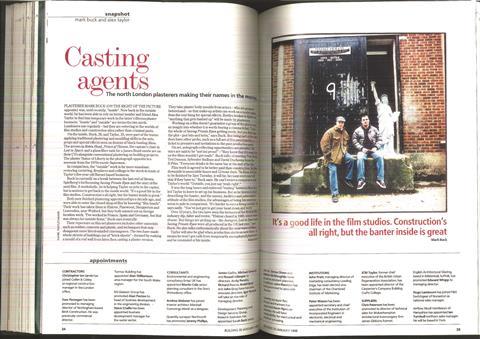 Casting agents
My editor was probably hoping I'd look back to find a pithy piece on shoddy housebuilding, industry fat cats or collapsed contractors. Instead, this archivist has decided to go on a journey with plasterers Mark Buck and Alex Taylor to a more glamorous place where the most unlikely things can happen – and yes, I mean good things.
It's not strictly a geographical location, although Buck and Taylor do refer it as "inside". They were referring to the world of movie making. The plasterers had created the arrows in Robin Hood, Prince of Thieves, the captain's chair in Lost in Space and a glass fibre tank for a James Bond movie, as well as countless other props.
Other work included making streets of buildings, plaster body moulds of actors for make-up artists to test special effects on and anything that gets broken in a fight scene. "The banter is great," said Buck, although he mentions the long hours.
But like everyone in showbusiness there could be periods of "resting", which often involved work "outside" on construction sites. "It's harder to earn a living outside," said Taylor sadly. "You just have to get your head down and work."
To read the full article from 30 January 1998, click on the pdf below.