15 years ago New York's authorities wanted to redevelop the area devestated by the 11 September attacks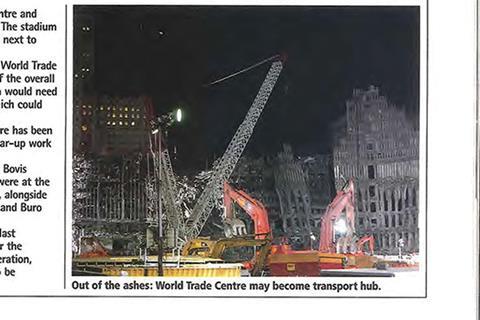 Olympic bid to focus on World Trade Centre
Spiralling costs from turning the Olympic stadium into West Ham's football ground sparked the resignation of London Legacy Development Corporation boss David Edmonds this month. Go back 15 years and New York, bruised from the 11 September attacks, was an eager contender to take on the 2012 Olympic Games, writes Christy Lawrance.
New York's authorities wanted to make an Olympic bid central to the redevelopment of the area, much of which lay in ruins after the 11 September attacks, according to a source at New York's Olympics committee.
Three other American cities - Washington, Houston and San Francisco - were also vying to host the event. However, the source said: "I think there is a good chance New York will be chosen. There is a groundswell of support backing it."
The World Trade Centre itself could have become a transport interchange, which would be linked to a convention centre and stadium in Manhattan. The stadium had been pencilled in for a site next to Penn Street station.
"The World Trade Centre would be part of the overall rejuvenation," said the source.
To see the full article from 7 December 1971, see the PDF file below.