A pair of fashion designers work on a housing scheme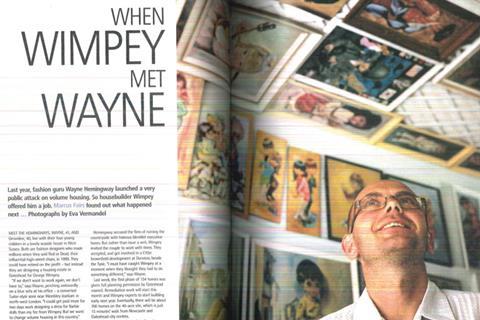 If you had thought that the world of fashion was peopled by flighty prima donnas – most unlike construction's solid, salt-of-the-earth types - and that an alliance between the two could result in nothing but disaster, think again, writes Helen Burch.
As this year's housing shortlist at the Building Awards was announced, it brought back memories of an usual scheme.
Fashion designer Wayne Hemingway had launched a "scathing assault" in the press on Wimpey's style of housebuilding, which he said was ruining the countryside. Surprisingly, in 2001 Wimpey invited Hemingway and his wife Gerardine – known for their Red or Dead clothing line – to design a 700-home housing estate near Newcastle.
Although Ian Laight of Wimpey commented on the duo's lack of knowledge of the business, he also said they "encouraged him to start thinking more creatively again".
And the resulting Staiths South Bank estate, which had an emphasis on green space and a variety of housing designs, turned out very well. On completion, it won the 2005 RIBA Housing Design Award for best large project, as well as Building magazine's very own award for Best Housing-led Regeneration Project.
To read the full article from 2 August 2002, download the PDF below