Following our look at France's Euro 2016 stadiums, we revisit 2006 when Arsenal's new home was almost ready to host its first match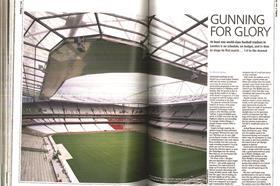 Gunning for glory
Following our look at France's Euro 2016 stadiums, we revisit 2006 when Arsenal's new home was almost ready to host its first match.
Things had progressed so smoothly that the stadium was ready a week before schedule, and according to the club, the project was also on target to meet its budgeted cost of £220m.
Located in Highbury, north London, the Emirates Stadium was set to be the third largest football stadium after Wembley and Old Trafford.
Reporter Martin Spring said: "Despite its huge capacity, the stadium keeps its head well below the parapet. Whereas the steel arch over Wembley can be seen right across Greater London, the Emirates is tucked between two main railway lines, invisible from the inner-city roads crowding around it. It is only when you turn the final corner facing the entrance square or cross the footbridges over the railway lines that you are confronted with a vast, gleaming drum.
"The drum is low - Islington planners stipulated an eaves height of 35m - and avoids appearing top-heavy. The main structure is made up of stretches of smooth fairface concrete alternating with crisply detailed curtain walls. Above that the upper tiers of seating are set back slightly on all four sides, and are encircled by a window wall that is so transparent as to appear quite insubstantial."