Building reported on how the imminent Eddington Transport study could impact the construction industry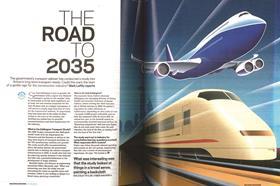 The road to 2035
This week we take a look back to 2006 when Building reported on how the imminent Eddington Transport study could impact the construction industry.
The study, presented by Sir Rod Eddington, incorporated a set of recommendations for UK infrastructure over the following 30 years, as well as looking at the impact of transport decisions on the economy. Commissioned by the government, it could have ensured a steady flow of work for the industry and have fulfilled the UK's future transport needs.
Mark Leftly reported: "Industry sources believe that for rail, Eddington will recommend that the government commits itself to building a high-speed rail link between London and Scotland. Trains would run at about 200 miles per hour and the journey would take about two-and-a-half hours. Like the Channel Tunnel Rail Link, speed would be maximised by having as few stops as possible, although one in Birmingham would be considered. According to a leading rail figure, this would involve hundreds of miles of new track."
With HS2 planned to be completed by 2033 - linking London, Birmingham, the East Midlands, Leeds, Sheffield and Manchester - Building's predictions about the outcome of the report and the future of transport links in the UK were well informed.