In 2007, the Isle of Wight was considering a technologically advanced future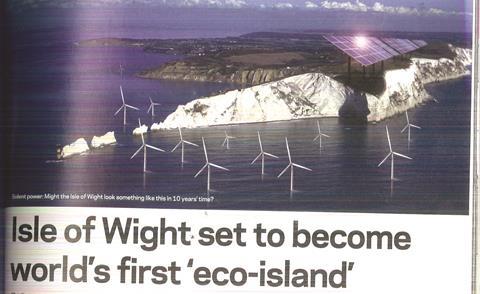 Isle of Wight set to become world's first eco-island
When people think of the Isle of Wight, they often call to mind sandy beaches, buckets and spades and Blackgang Chine amusement park. It's a distinctly olde world image. But in 2007, the island was considering a far more technologically advanced future.
This week, as we look how the the government has revived a little of its green energy ambition to deep scepticism from much of the renewable energy sector, we review the Isle of Wight's plans to become the world's first eco-island.
The island's council planned for the land mass, which sits about two miles off the coast of Hampshire in the Solent, to be powered entirely by green energy. Council chief executive Joe Duckworth said: "Politically there is huge support for this, and the private sector on the island is incredibly keen." Measures under consideration included tidal power and a combined heat and power plant that would run on "gasified waste".
Unfortunately, the ideas didn't come to fruition and the Isle of Wight Ecoisland Partnership CIC went into liquidation in 2013, but the island is still top of the list for us to visit for a breath of fresh air.
To read the full article from 2 November 2007, click on the pdf below.