As Lewis Hamilton takes the F1 championship, we revisit 2009, when the Formula One-themed Yas Hotel lapped Abu Dhabi's other buildings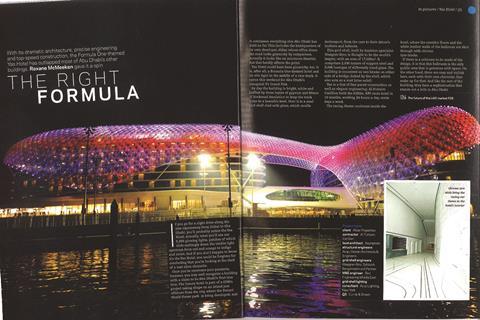 The right formula
As Lewis Hamilton takes the Formula One championship for the third time, we revisit 2009, when the Formula One-themed Yas Hotel lapped Abu Dhabi's other buildings.
Roxane McMeeken reported: "If you go for a night drive along the new expressway from Dubai to Abu Dhabi, you'll probably notice the Yas Hotel. Actually, what you'll see are 5,389 glowing lights, patches of which slide meltingly down the visible light spectrum from red and orange to indigo and violet. And if you don't know it's the Yas Hotel, you could be forgiven for concluding that you're looking at the shell of a vast alien chrysalis.
"Once you've overcome your paranoia, however, you may well recognise a building with a claim to be Abu Dhabi's first true icon. The luxury hotel is part of the £39bn project taking shape on an island just offshore from the city, where the Ferrari World theme park is being developed, and it outclasses everything else Abu Dhabi has built so far.
"Yas Hotel could have been gimmicky, too. It is, after all, a Formula One-themed hotel, and it sits right in the middle of a race track. It opens this weekend for Abu Dhabi's inaugural F1 Grand Prix."
To read the full article from 30 October 2009, download the PDF file below.