LSI Architects' "flood-proof house"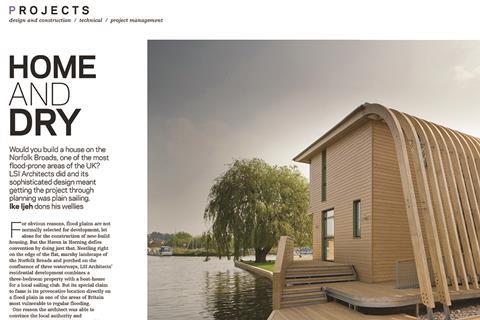 Home and dry
With many parts of the country still dealing with the aftermath of December's exceptional rainfall, many have called for change to policy on flood defences.
In 2011, Building architectural correspondent Ike Ijeh explored another way of dealing with flood-prone areas, and visited LSI Architects' "flood-proof house", which had been built on the Norfolk Broads, one of Britain's most vulnerable areas. He reported:
"The house is a steel portal frame supported on concrete piles embedded deep into the peat subsoil below. Above ground these piles turn into slender galvanised steel columns that help form the elevational grid that defines the principal facade. The elevated composition of the house is clearly visible externally by the dark narrow void, intermittently punctuated by columns underneath. It is through this void that flood water would flow, thereby protecting the house above.
"Unusually perhaps, the ground floor slab is not made up of lightweight steel deck structure but an in-situ cast concrete slab. As Lee Burgess, LSI Architects associate, explains: 'A steel floor would have offered an extremely low tolerance with regard to the accuracy of setting-out holes for the piles. A concrete slab also provided greater thermal mass, increased waterproof tightness and required no joints and lower maintenance.'"