As Building takes a look at the refurbishment of the Daytona International Speedway this week, we revisit 2011, when a different type of racing track was in the spotlight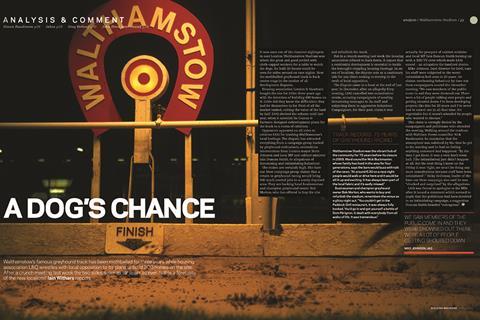 A dog's chance
As Building takes a look at the refurbishment of the Daytona International Speedway this week, we revisit 2011, when a different type of racing track was in the spotlight.
Walthamstow's greyhound track, once the heart of an East End night out, was thrown into a development dispute. The track closed in August 2008 and was bought by housing association London & Quadrant for £18m, with the intention of demolishing the stadium and building 490 homes. But not everyone was in favour.
Iain Withers reported: "Little did they [L&Q] know the difficulties they had let themselves in for. First of all the market tanked, cutting the value of the land by half. L&Q shelved the scheme until last year, when it unveiled its Conran & Partners-designed redevelopment plans for the track to a storm of criticism.
"Opponents appeared on all side to criticise L&Q for trashing Walthamstow's local heritage. The dispute has attracted everything from a campaign group backed by greyhound enthusiasts, contentious interventions from London mayor Boris Johnson and local MP and cabinet minister Iain Duncan Smith, to allegations of threatening and intimidating behaviour."
Work eventually began in October 2013 and is due to be completed by July this year.