Five years ago, Building was flagging up a number of problems with an eco subsidy scheme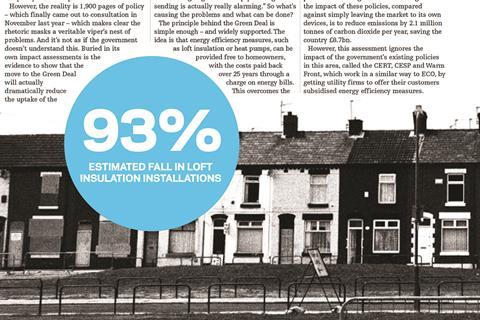 So what's the big deal?
This week we reported the resignation of Northern Ireland's deputy first minister, Martin McGuinness, over the region's Renewable Heat Incentive scandal (page 10). Five years ago, Building was looking at a number of problems with another eco subsidy - the UK government's flagship Green Deal policy.
Then energy minister Greg Barker described the £14bn scheme as "the biggest housing retrofit programme since the Second World War". However, wrote Building's Joey Gardiner, the reality was "1,900 pages of policy […] which makes clear the rhetoric masks a veritable viper's nest of problems".
This mainly involved evidence the scheme would "dramatically reduce the uptake of the most efficient domestic energy efficiency measures".
There also seemed to be a worrying approach to customers with older homes not suited to retrofitting, as described: "A little-noticed paragraph buried in the middle of the government's impact assessment makes clear: '… the reduction in permeability in homes could … have long term negative health impacts - for example, lung cancer (radon), stroke or heart attacks (second hand smoke) and respiratory illness for children (mould).'"
However, planning and implementation of the Green Deal was so awful hardly anyone applied for the loans at the heart of it (15,000 across the UK) and it was scrapped in 2015 before anyone died.
To read the article from 13 January 2012 download the PDF below.