Five years ago, British retailers were being a little reticent about getting involved with the government's Green Deal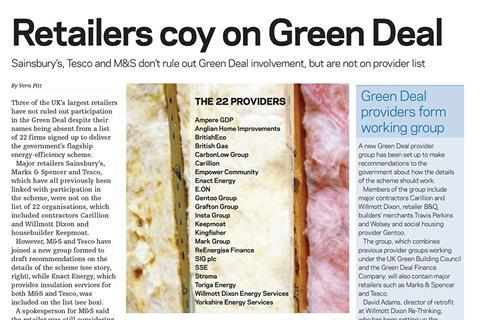 Retailers coy on Green Deal
This week, Building discusses how the sustainability agenda is being downgraded and five years ago, British retailers Sainsbury's, Marks & Spencer and Tesco were being a little reticent about displaying their own environmentally friendly credentials because they had not got involved with the government's Green Deal.
This lack of action – when all three had previously been linked with participation in the scheme – was perhaps in hindsight not worthy of much attention, as we now know the programme was hardly a huge success. The Green Deal was set up to fund loans for energy-saving measures in properties, but ran up against a number of problems.
Sally Hancox, director at social housing provider Gentoo, said: "It's vital that we get the finer detail of the Green Deal right in order to deliver warmer homes for our customers while simultaneously tackling fuel poverty and carbon reduction."
Unfortunately, one concern raised was that the extra insulation could cause overheating, posing a risk to health during heatwaves, as reported by the BBC. The broadcaster said that by 2013, only four people had signed up the deal, despite nearly 40,000 Green Deal assessments having taken place.
To read the full article from 13 April 2012, download the PDF below