Five years ago the government held a Construction Summit to reassure the industry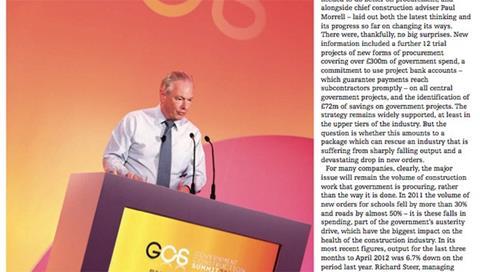 Warm words, cold comfort
This week, as Building assesses chancellor Philip Hammond's promise to expand government support for infrastructure capital funding in the face of the probable loss of European Investment Bank funding after Brexit, we were reminded of another time when government felt the need to show public support for the industry, writes Helen Burch.
In 2012, the government held a Construction Summit to reassure "an industry thirsty for anything that will help it get through the recession". The summit announced 12 projects totalling £300m and the testing of new procurement methods. However, then-deputy editor Joey Gardiner found some in the industry wondered whether it would really make a difference when the key issue was lack of work from public projects, construction's biggest source of employment. "They need to get a lot of money moving quickly," said Richard Steer of Gleeds.
One move sure to bring a cynical smile to the reader's lips was the policy to give councils independent control of finances, which a director at the Homes and Communities Agency assured builders would bring a "tsunami" of contracts for new council housing and repairs. "This will be a catalyst," he said. We're still waiting..
To read the full article from 6 July 2012, download the PDF below