In the first of our regular series of CPD modules designed to help you broaden your knowledge while you work, we look at the thermal performance of aluminium windows and doors. This module is Sponsored by Reynaers

How to use this module: Building's free continuing professional development distance learning programme is open to everyone who wants to develop and improve their professional knowledge and skills. These modules can contribute to your annual programme of CPD activity to help you maintain membership of professional institutions and bodies. All you have to do is read this module then take the questions via the link above or at the bottom of the page. Module deadline: July 8 2011.
Introduction
As sustainability becomes increasingly important, the construction sector has been highlighted as a major area for improvement. Innovation and sustainable product design are key in reducing the amount of energy used both in the construction of buildings and in their operations. According to the European Commission, buildings account for 40% of EU energy requirements and energy consumption could be cut by up to a third through better design and more efficient lighting, heating, cooling and hot water systems. The energy used in constructing, occupying and operating buildings represents approximately 50% of the UK's greenhouse gas emissions, according to the Environment Agency.
As heating consumes by far the greatest proportion of household energy use, reducing this is the most efficient way to improve the energy performance of buildings. Data from the European Aluminium Association estimates that 40% of the heating energy lost from homes escapes from their windows or the gaps around those windows.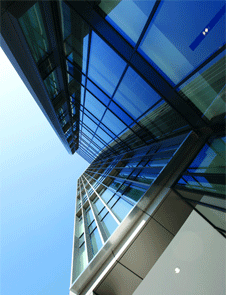 Introduction to aluminium
Aluminium is a durable material which may be recycled without loss of quality. Recycling one tonne of aluminium saves approximately four tonnes of bauxite and 95% of the energy required to produce primary aluminium. This saves nine tonnes of carbon dioxide emissions. The recycling of aluminium scrap currently saves 80 million tonnes of greenhouse gas emissions every year - equivalent to removing 15 million cars from the world's roads. It is extremely important that suppliers constantly innovate to improve the recyclability of their products.
According to the Council for Aluminium in Building, one third of all aluminium being used today is from recycled metal, and 75% of aluminium used in the 1880s is still in use today. Suppliers of non-recycled aluminium have also greatly improved their processes to minimise energy use. Since 1900, aluminium extraction and refining companies have reduced their energy requirements by almost 70% and are using a growing percentage, now 50%, of hydroelectric energy.
Extraction and manufacture
Aluminium is the most abundant metal on Earth, making up 8% of the Earth's crust. The primary source of aluminium is bauxite, mined from reserves close to the Earth's surface in tropical and subtropical regions.
Smelting: Aluminium oxide, known as alumina, is extracted from the bauxite ore, and aluminium metal is produced through smelting. The alumina is dissolved in cryolite, and an electric current is passed through the solution to produce molten aluminium at 98% purity. The amount of energy used during this process has been reduced, from 40kWh in 1900 to only 13kWh today.
Fabrication: aluminium products can be fabricated in various ways including rolling, forming, extrusion, casting and forging. In window fabrication, the method used is extrusion, which means the aluminium can be extruded into almost any size and shape. A cylinder of the metal is heated to 500°C and then squeezed through a die to form a profile with the desired cross-section. This process creates multi-chambered profiles, drainage channels and location grooves for guiding fixings and tools.
Recycling: many metals can be recycled, but few can be recycled repeatedly without losing quality. Aluminium can be repeatedly recycled with no loss of quality, and the process of recycling aluminium requires 5% of the energy required to produce primary metal. This ratio is low, partly because the production of primary aluminium requires a great deal of energy to break the aluminium-oxygen bond in aluminium oxide.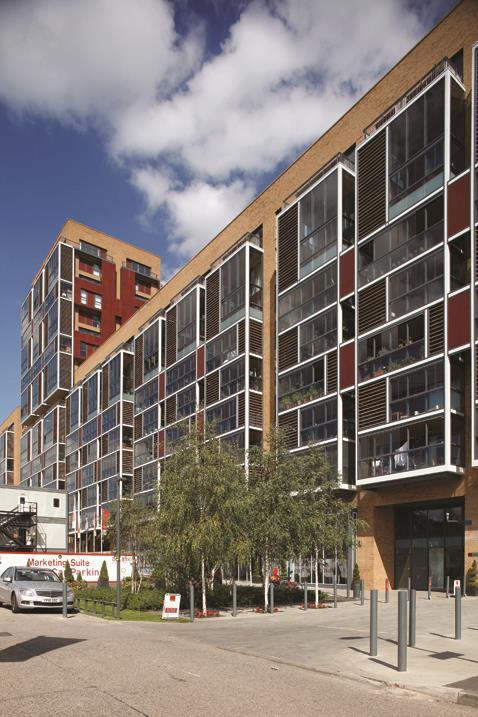 Drivers in the growth of high-performance glazing
Aluminium window and facade systems can improve the energy efficiency of a building by insulating to keep the cold out, reducing reliance on air conditioning by providing shading or by incorporating photovoltaic technology.
Regulations
There have been a number of changes to UK Building Regulations in recent years that prioritise sustainable construction and building products. Under Part L regulations published in 2010, the windows in a project must meet minimum standards of thermal performance. There are varying standards for different types of buildings contained in the following documents:
Document L1A - Conservation of fuel and power (new dwellings)
Document L1B - Conservation of fuel and power (existing dwellings)
Document L2A - Conservation of fuel and power (new buildings other than dwellings)
Document L2B - Conservation of fuel and power (existing buildings other than dwellings)
Under Part L, the minimum performance standard is given either as a Window Energy Rating (WER) or as a U-value. The WER scheme is run by the British Fenestration Rating Council and is the UK's national system for rating the energy efficiency of windows. Windows are rated from A to G, with A awarded to the most thermally efficient windows.
U-values
U-values measure the thermal transmittance, or the rate of heat loss of a building component, and the lower the value, the better the thermal performance of the material. U-values are expressed in watts per square metre, per degree Kelvin (W/m2K). The U-value value takes into account the combined thermal resistances of the materials in the element, air spaces and surfaces and the effects of thermal bridges, air gaps and fixings.
There are three types of U-value:
Uf = U-value of the window frame
Ug = U-value of the glass
Uw = U-value of the frame and glass combined
The U-values for windows and doors are calculated in accordance with the following standards:
BS EN ISO 10077-1:2006 - Thermal performance of windows, doors, and shutters - Calculation of thermal resistance. Part 1: General
BS EN ISO 10077-2:2003 - Thermal performance of windows, doors and shutters - Calculation of thermal transmittance. Part 2: Numerical method for frames
The average U-value required by Document L has steadily decreased in recent years. For example, Document L1A specifies a maximum of 3.3W/m2K. In 2006, this was reduced to 2.2W/m2K. The latest edition, published in 2010, reduced the maximum acceptable
U-value further to just 2W/m2K.
PassivHaus
The term "Passivhaus" refers to a ultra low-energy construction standard developed by Dr Wolfgang Feist of the PassivHaus Institute in Germany. The first compliant dwellings were constructed in 1991 in Darmstadt, but the standard and principals have since been adopted around the world. In a Passivhaus building, thermal comfort is achieved to the greatest practical extent through the use of passive measures such as high levels of insulation with minimal thermal bridging, passive solar gain and internal heat sources, excellent level of air tightness, and good indoor air quality, provided by a whole-house mechanical ventilation system with highly efficient heat recovery. Under the Passivhaus standards, windows should have a Uw-value no greater than 0.8W/m2K.
According to the Building Research Establishment, which developed the BREEAM sustainability standards and publishes the Green Guide to Specification, the main environmental impact of windows is from the heat loss through them. It draws attention to the large number of credits available under BREEAM and the Code for Sustainable Homes and EcoHomes standards for reducing fabric heat loss and improving operational CO2 emissions, compared to the small number available for material specification. BRE advises that when choosing a window products the emphasis should be on reducing operational energy usage rather than be embodied energy of window products.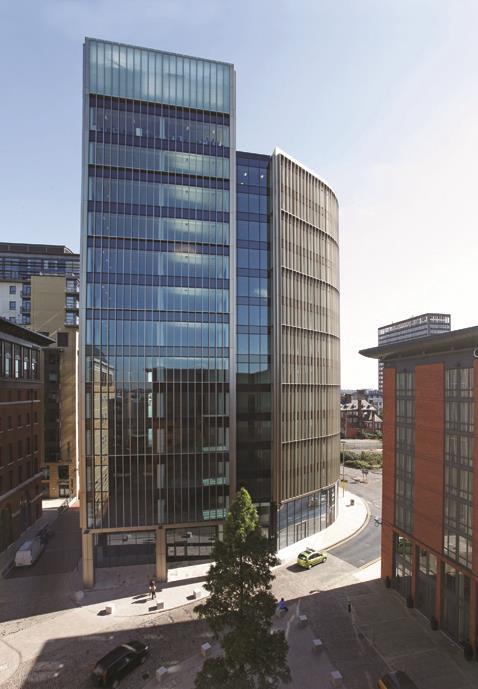 Improvements in window design and thermal performance
There have been major innovations in recent years to improve the performance of aluminium windows. In the Reynaers range, for example, the best possible U-value of aluminium windows has improved from 3.7W/m2K in 2000 to 0.88W/m2K in 2010. This has been achieved by several developments:
Multichamber systems, in which the chambers are filled with air which acts as an insulator, and in some cases more sophisticated insulation technologies, such as foam.
Thermal breaks incorporated into window profiles, which stem cold bridging, as well as enabling different frame colours for inside and out. Thermal breaks are now made with polyamide, which is more efficient than the resin used in older systems.
An increasing number of chambers and cavities are being incorporated in profiles.
The U-value achieved by a window system will depend on the glass being used and the size of the window. With a high specification triple-glazed unit, a Uw-value of 0.77W/m2K can be achieved where either a small or large vent is used, meeting the Passivhaus requirement of 0.8W/m2K.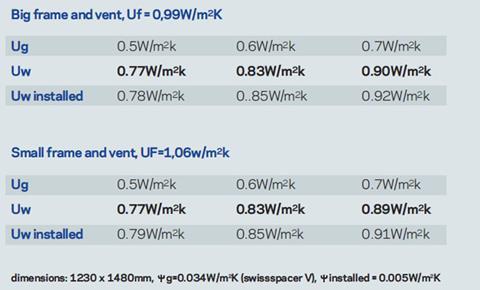 Building's continuing professional development distance learning programme can contribute to your annual CPD activity and help you maintain membership of professional institutions and bodies. If you experience any problems veiwing the test online, contact building.cpd@ubm.com
MODULE DEADLINE: July 8 2011
Information you supply to UBM Information Ltd may be used for publication (where you provide details for inclusion in our directories or catalogues and on our websites) and also to provide you with information about our products or services in the form of direct marketing activity by email, telephone, fax or post. Information may also be made available to third parties on a list lease or list rental basis for the purpose of direct marketing.
If at any time you no longer wish to receive anything from UBM Information Ltd or to have your data made available to third parties, please write to the Data Protection Coordinator, UBM Information Ltd, FREEPOST LON 15637, Tonbridge, TN9 1BR, Freephone 0800 279 0357 or email ubmidpa@ubm.com.