The quarterly analysis of construction costs and prices shows the upward trend of the last quarter continuing and wages pushing up. Peter Fordham of Davis Langdon, an Aecom company, reports
01 / Key changes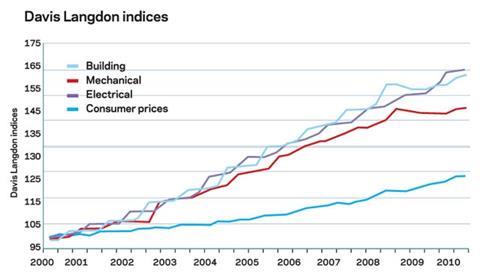 All construction cost measures on upward trend
Consumer price inflation remains well above target
Construction materials price inflation passes 10%
Metals prices resurgent
Some wage agreements still frozen, others secure increases of up to 4.7% for next year

Building cost index Despite frozen labour costs, the BCI maintains its rising trend as materials prices breach 10%. Mechanical cost index Moving higher but still well below long-term trend. Electrical cost index Labour cost increase at beginning of year and high materials prices push index above long-term trend.Consumer prices index Still above target but pace slowing before January's VAT rise kicks in.
02 / Price adjustment formulae for construction
Price adjustment formulae indices, compiled by the business and innovation department, are designed for the calculation of increased costs on fluctuating or variation-of-price contracts. They provide useful guidance on cost changes in trades and industry sectors and on the differential movement of work sections in Spon's Price Books.
Between November 2009 and November 2010, the 60 building work categories recorded an average rise of 4.5%, lower than three months ago and reversing the previous upward trend. Over the past six months, the average increase has been just 1.3%.
The largest price increases over the year are: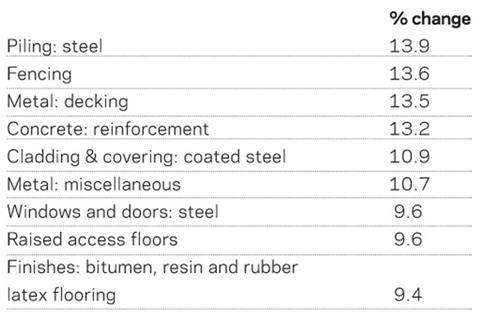 The primary input of almost all of the above work categories is steel, the price of which increased sharply during the spring.
Only one work category now shows a price decrease over the last 12 months:

Over the past six months there has been far less variation from the mean but the work categories with the greatest change are:

Materials Input costs higher again; construction materials above 10%, led by steel
03 / Executive summary
Consumer price inflation stubbornly above target
Oil and imported goods drive industries' input costs higher again
World demand causes resurgence in prices of metals and other commodities
Construction materials' prices exceed 10% inflation but may have peaked
Steel prices in the spring were the main driver
04 / Key indicators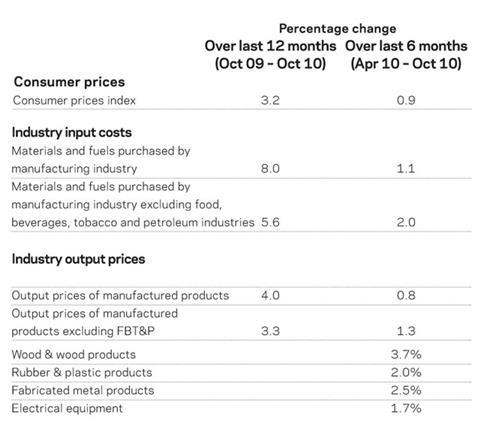 The consumer prices index has remained stubbornly above 3% for 10 consecutive months, more than 1% above the government's target. However, the index has risen by only 0.9% over the last six months, indicating a significant slowdown. The retail prices index remains much higher, registering a 4.5% rise over the past year.
Input costs faced by manufacturing industry jumped by 2.1% in October, almost half of which was caused by a rise in crude oil prices. However input prices for industry excluding food, beverages, tobacco and petroleum industries still rose by 1.7% in the month. The price of imported metals surged by 2.8% and fuel by 2.6%. This sharply reverses the trend throughout the spring and summer of flat or falling prices.
Average output prices of all manufactured goods have risen 4% over the past year and, excluding food, beverages, tobacco and petroleum, a slightly lower 3.3%. Price rises in the last six months have generally been more muted. However, there have been above-average increases in certain product areas associated with construction over this perio.
Metals prices
Metals, as traded on the London Metal Exchange, have had a mixed year, their 2009 recovery suffering a sharp fall in May and June as doubts about the world economy and the Eurozone in particular affected sentiment. Since then prices have been resurgent and, in the case of copper and zinc, reaching the highs seen at the beginning of 2008.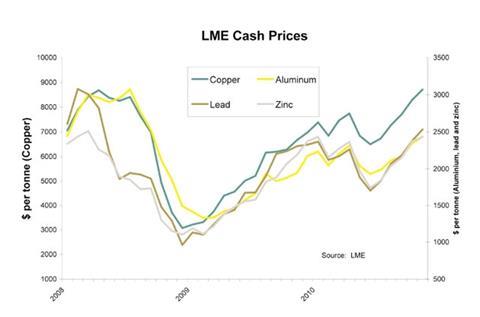 Construction industry
Materials price increases for the construction industry over the last year and the last six months (to September 2010) are detailed below:

Overall the annual increase in construction materials prices peaked in July at 10% but still registered a rise of 8.9% in September. Most of the increase occurred over the last six months but stopped rising in August.
New non-housing work recorded an annual increase of 10.9% in June, reflecting the significant part that steel prices have had on the basket of goods.

The figures above show the disparity between mechanical and electrical services materials with the latter increasing much more than the former over the last year. The impact of the rise in copper prices is clearly reflected. Over the last six months, the rate of increase has sharply reduced.
Materials showing significant price shifts over the last six or 12 months are shown below: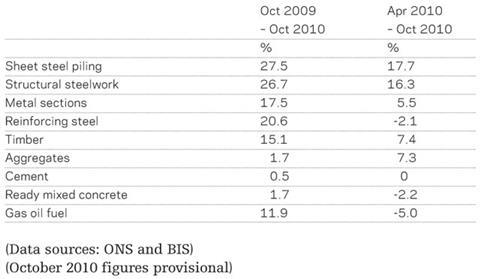 The table (both 12-month and six-month columns) is headed by steel items, reflecting the surge in world steel prices in the spring which has only partially subsided. Similarly copper (and other metals) prices have rebounded from the 2008 crash and, in the case of copper, passed its peak reached early that year.
Labour
Wages are nudging up, although building operatives and electrical rates remain on ice
05 / Summary
Building operatives rates remain frozen but demolition operatives received a 2% wage increase in July
Heating and ventilating operatives' rates also rise by 2%
Engineering operatives secure agreement based on Retail Prices Index but plumbers forced to accept lower deal for 2011
Electrical rates frozen for next year
06 / Wage agreements
Heating and ventilating operatives
New wage rates came into effect for heating and ventilating operatives from 4 October 2010 following a two-year pay freeze. However rates rose by only 2% in accordance with the promulgation dated October 2009. The new rates for the key grades of operative are:

Rates for apprentices and junior trainees and additional allowances and premium rates (for overtime payments) also rose by 2%. The only exception is the mileage allowance which remains at 20p.
Plumbers
The July 2009 promulgation by the Joint Industry Board for Plumbing Mechanical Engineering Services in England and Wales set out a two-year pay agreement. For the first year, January 2010 to January 2011, hourly rates and allowances were frozen at the rates that came into force in January 2009. The second part of the deal, from January 2011 to January 2012, provided for increases in line with the annual rate of inflation based on the Retail Prices Index for June 2010 with a maximum of 6% and minimum of 0%. Under this, rates of pay were due to rise by 5% from January 2011.
However the Joint Industry Board has undertaken another review of its pay structure and determined a new agreement that supersedes the previous provision. From 3 January 2011 hourly rates of pay will rise by only 3% for all grades of operative, apprentice and trainee. The new agreement has been extended to include a pay agreement for 2012 which provides for a further rise of 3% in hourly rates from January 2012.
Engineering construction industry
The National Joint Council for the Engineering Construction Industry also set out a two-year agreement in November 2009, the second part of which provided for an increase in rates and allowances from January 2011 based on the RPI, averaged over July to September 2010. This worked out at 4.7% and it has been confirmed that base, shift and overtime rates, welding proficiency payments and radius/ accommodation allowances will rise by 4.7% from 4 January 2011.
Electricians
The Joint Industry Board for the Electrical Contracting Industry has introduced a new series of mechanical grades from 4 October 2010. This is to enable Electrical JIB members to employ their mechanical workforce under the same terms and conditions as their electrical workforce. Rates of pay for mechanical operatives employed under this arrangement are between 8% and 22% higher than under the Heating and Ventilating National Agreement (21% to 37% higher where the London Rate applies).
Electrical wage rates for 2011 are being frozen at the January 2010 levels.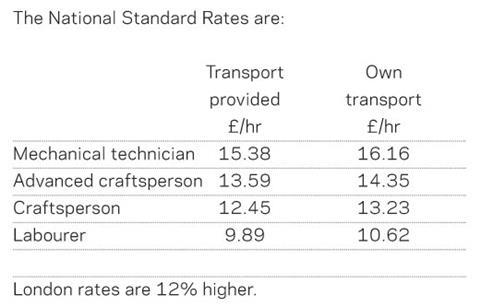 Guide to data
Davis Langdon's cost indices track movements in the input costs of construction work in various sectors, incorporating national wage agreements and changes in materials prices as measured by the government's index series.
They provide an underlying indication of price changes and differential movements in the work sectors, but do not reflect changes in market conditions affecting profit and overheads provisions, site wage rates, bonuses or materials' price discounts/premiums.
In the current market, most costs recorded here are rising but prices charged to some clients are still falling. Market conditions are recorded in Davis Langdon's quarterly market forecast (last published 29 October).