Never a dull moment: average earnings have improved but inflation is still at a 15-year high, and industrial relations remain tense. Peter Fordham of Davis Langdon, an Aecom company, reports
01 / Key changes
Consumer prices may have peaked and construction costs are beginning to moderate.
Electrical costs are falling.
Manufacturing industries' input costs are now beginning to fall and output prices are flattening out.
Metals prices suffer sharp falls as the world economy stutters.
Building operatives secure a small wage increase but electricians and heating and ventilating operatives are on pay standstill as industrial relations hit the buffers.
The chart below shows how Davis Langdon's index series, reflecting cost movements in different sectors of the construction industry, have fared since 2000, with the movement of the Consumer Prices Index for comparison.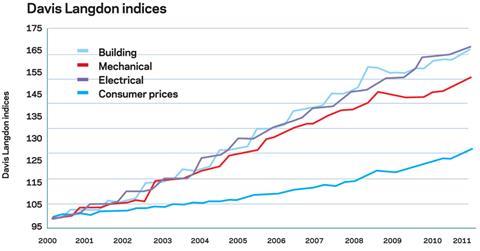 Percentage change year-on-year (Q3 2010 to Q3 2011)
% Direction
Building cost index 3.4
Mechanical cost index 3.8
Electrical cost index 1.6
Consumer prices index 4.7
(Third quarter 2011 figures are provisional)
Building cost index
Year-on-year change remains below long-term average but the first wage award for two years nudges the index up.
Mechanical cost index
The mechanical cost index stays flat in the third quarter.
Electrical cost index
The electrical cost index fell in the third quarter 2011 for the first time since 2005.
Consumer prices index
Consumer prices index eases back from 15-year high.
02 / PRICE ADJUSTMENT FORMULAE FOR CONSTRUCTION CONTRACTS
Price adjustment formulae indices, compiled by the Building Cost Information Service (previously by the Department for Business, Innovation and Skills), are designed for the calculation of increased costs on fluctuating or variation of price contracts. They provide useful guidance on cost changes in various trades and industry sectors and on the differential movement of work sections in Spon's Price Books.
Over the last 12 months, between October 2010 and October 2011, the 60 building work categories have recorded an average rise of 5.2%, a further increase from 4.6% three months ago.
The works categories showing the largest increases over the last 12 months have been:
October 2010 - October 2011 % change
Finishes: bitumen, resin and rubber latex flooring 18.4
Pipes and accessories: aluminium 15.2
Cladding and covering: copper 13.6
Pipes and accessories: copper 12.1
Cladding and covering: lead 11.8
Concrete: reinforcement 11.7
Over the last six months, the average price increase has been 2.6%, with the largest price increases shown below.
Copper pipework is the only work category to show a price decrease.
April 2011 - October 2011 % change
Finishes: bitumen, resin and rubber latex flooring 12.7
Boards, fittings and trims: hardwood 8.4
Boards, fittings and trims: softwood 6.1
Pipes and accessories: copper -0.4
MATERIALS: Consumer prices peak and industry prices and costs have started to drop
03 / EXECUTIVE SUMMARY
Consumer price inflation rose to its highest level in 15 years in September but is now expected to fall sharply
Industries' input costs beginning to fall
Industries' output prices flattening out
Metals prices lose a quarter of their value over the last six months
The rate of increase for construction materials' prices is generally slowing
Mechanical and electrical services materials have a much lower rate of inflation of late, with electrical materials prices falling
04 / KEY INDICATORS
Percentage change April 2011-Oct 2011 Oct 2010-2011
Consumer prices % Direction
Consumer prices index +1.4 +5
Annual CPI inflation rose to 5.2% in September, its highest ever level since the series began in 1996. October's ease to 5% may be the start of the fall back to the government's target of 2%, forecast by the Bank of England by the middle of 2012.
Industry input costs
Materials and fuels purchased by manufacturing industry -1.7 +14.1
Materials and fuels purchased by manufacturing industry excluding food, beverages, tobacco and petroleum industries (FBT&P) +0.8 +10.5
Industry's input costs surged between September 2010 and April 2011 in response to higher oil and other commodity prices. Since April, prices have been generally steady and the headline measure actually shows a slight fall over the last six months, mainly reflecting price falls in crude oil and imported metals.
Industry output prices
Output prices of manufactured products +1.0 +5.7
Output prices of manufactured products excluding FBT&P +1.1 +3.4
Industry output prices have risen only 1% over the last six months despite the sharp rise in input costs that occurred over the previous six months.
Over the year, petroleum (+15%) and food products (+9%) saw the largest increase in output prices.
Output price changes for construction related product families
Wood and wood products +2.8 +4.5
Rubber and plastic products +1.7 +5.0
Fabricated metal products +1.8 +3.7
Electrical equipment -1.4 +2.2
Metals prices
Metal prices have fallen significantly over the last six months in response to the weakening global economy and are now all lower than a year ago.
Copper -22.5% -11.4%
Aluminium -18.4% -7.4%
Lead -28.9% -18.1%
Zinc -21.6% -21.6%
Nickel -28.3% -20.7%
Based on LME cash prices
Construction industry
Materials price increases for the construction industry over the last year and half-year are detailed below:
March 2011 September
- September 2011 (%) 2010-2011 (%)
Construction materials for:
New housing +3.0 +4.7
Non-housing new work +3.6 +8.4
Repair and maintenance +3.4 +5.8
Overall construction materials prices rose by 7.5% over the year to September 2011, up from 6.6% three months ago. Over the year, materials prices for non-housing new work have risen considerably more than materials prices for housing or repair and maintenance work, largely due to the increase in steel prices at the beginning of the year.

Mechanical services materials
Housing only +0.9 +7.4
Non-housing +1.6 +6
Electrical services materials -1.9 +3.1
Mechanical services materials prices have been virtually static since April while electrical services materials prices have eased down by 2%, in response to the fall in world copper prices.
Materials showing the most significant price variation from the average changes over the last six and 12-month periods are shown below. Materials are manufactured in the UK unless stated otherwise.
March 2011 September - September 2011 (%) 2010 - 2011 (%)
Electric wires and cables -8.4 7.8
Lime and plaster -2.2 -3.1
Gas oil fuel -1.9 30.6
Electric lighting equipment -1.5 -4.7
Ironmongery -1.5 4.1
Metal doors and windows -0.6 0.3
Precast concrete tiles, flagstones, etc -0.2 3.8
Ceramic tiles 0.1 -0.3
Glass 0.2 0
Timber 0.6 -2.2
Imported plywood 3.0 -3.3
Aggregates 4.1 1.7
Steel for reinforcement 4.5 15.5
Ceramic sanitary fixtures 8.4 10.0
(Data sources: ONS and BIS. September 2011 figures provisional)

LABOUR: Average earnings in construction rose by 2.1%, with a 2.3% rise nationally
05 / LABOUR MARKET STATISTICS
Average earnings throughout the whole UK economy between July and September 2011 were 2.3% higher than the year before.
Average earnings in construction over the same period rose by 2.1%, having turned positive in June.
Average pay in construction in September 2011 was £543 per week.
The number of construction jobs recorded in the second quarter 2011 was 2,093,000, down for four consecutive quarters and 281,000 lower than at the peak in the third quarter of 2008.
06 / WAGE AGREEMENTS
Building operatives
The Building and Allied Trades Joint Industrial Council, the partnership between the Federation of Master Builders and the TGWU, negotiated a 1% wage increase for operatives that came into effect on 12 September 2011. The new hourly rates became:
S/NVQ3 Advanced Craft £10.73 (previously £10.62)
S/NVQ2 Intermediate Craft £9.22 (previously £9.13)
Adult General Operative £7.96 (previously £7.88)
Heating and ventilating operatives
The current wage rates for heating and ventilating operatives have been in force since October 2010. It is understood that no negotiations are currently under way to review these rates.
Electricians
Current rates have been in force since January 2010. The Electrical Contractors Association (ECA) and Unite failed to agree on any revised rates of pay or other terms and conditions for 2011. No changes to terms and conditions for 2012 have yet been agreed.
BESNA
Industrial relations in the mechanical and electrical services sectors are currently in disarray because of BESNA, the Building Engineering Services National Agreement, being promoted by the Heating and Ventilating Contractors' Association (HVCA) in conjunction with some of the largest services contractors. Unite has come out against the proposal and won't negotiate with either the HVCA or the ECA.
The proposed agreement has been developed by the HVCA to harmonise pay and terms and conditions of employment for mechanical, electrical and plumbing workers. The argument for the introduction of the new agreement is the evolution of modern installation methods with increased overlap between disciplines and the need for multi-skilled teams. Unite interprets the move as an attempt to cut rates of pay by putting semi-skilled workers into skilled jobs, to reduce costs.
Seven of the largest mechanical and electrical services contractors including NG Bailey, Balfour Beatty Engineering Services and T Clarke are currently in consultation with their workforces with a view to signing up to the new agreement on 7 December 2011 with the agreement set to come into force from 1 March 2012.

Date of next review