The downward trend in last month's consumer inflation figures is reflected in falling material prices and a slowdown in construction costs. Peter Fordham of David Langdon, an Aecom company, reports
01 / KEY CHANGES
Sharp fall in consumer price inflation
All construction inflation measures are declining
Electrical cost inflation is at its lowest level for 15 years
Manufacturing industries' input costs are now negative
Metals prices are rebounding after sharp falls last year
Construction materials prices are mostly flat or falling
Electricians, heating and ventilating operatives and engineering workers are suffering wage freezes.
The chart below shows how Davis Langdon's index series, reflecting cost movements in different sectors of the construction industry, have fared since 2000, with the movement of the Consumer Prices Index for comparison.
Percentage change year-on-year (Q4 2010 to Q4 2011)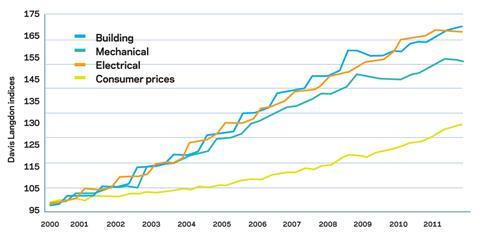 Building cost index
The highest annual percentage since 2Q09 but the trend heading back downwards.
Mechanical cost index
Frozen wage rates and falling material prices have led the inflation rate to drop.
Electrical cost index
Wages remain frozen and falling material prices have resulted in the lowest annual inflation rate for 15 years.
Consumer prices index
Consumer prices fell in January and annualised rate dropped to 3.6% as last year's VAT increase is eliminated from annual comparison.
02 / PRICE ADJUSTMENT FORMULAE FOR CONSTRUCTION CONTRACTS
Price Adjustment Formulae indices, compiled by the Building Cost Information Service, are designed for the calculation of increased costs on fluctuating or variation of price contracts. They provide useful guidance on cost changes in various trades and industry sectors and on the differential movement of work sections in Spon's Price Books.
Over the 12 months between December 2010 and December 2011, the 60 building work categories have recorded an average rise of 4.4%, down from 5.2% three months previously. But over the last six months, the average increase has been just 0.4%.
Those works categories showing significantly higher increases over the past 12 months have been:

These categories reflect the higher oil, steel and metals prices that occurred in early 2011.
A number of categories have measured significant falls over the last six months:

These reflect the decline in steel prices during the second half of last year and the 29% fall in lead prices - the highest of most metals - between April and October.
MATERIALS: Construction materials and output prices are flat, but metals are on the way up
03 / EXECUTIVE SUMMARY
Consumer prices fall at start of year and head towards government target
Industry input costs now virtually flat
Output prices also flat, except for recent increases in tobacco, alcohol and petroleum products
Metals prices recovering from last year's collapse
Pound improves against the dollar but is flat against the euro
Construction material prices flat in second half of last year
Mechanical and electrical materials' prices declining
04 / KEY INDICATORS

The year-on-year percentage has now fallen for four consecutive months from the high of 5.2% last September. The index fell in January by 0.5%, predominantly caused by drops in prices during the new year sales. The elimination of last January's VAT increase from the annualised inflation figure will enable the index to fall back to the government's target of 2% later this year.

Annual inflation remains relatively high at 7.0% but the index has been virtually flat over the last six months, as shown by the six-month inflation figures. The annual figure was caused by higher oil prices at the beginning of the year, but these have been subdued since May. Electricity and gas prices have risen by 7% and 14% respectively since September, but this has been counterbalanced by items such as imported metals, which have fallen 8% since July.

Output price inflation peaked at 6.3% last September but prices have been largely flat over the last six months, except for rises in January for tobacco, alcohol and petroleum products - hence the lower inflation in the narrower product index.

Metals prices slumped last year as the eurozone crisis unfolded. However, prices mostly bottomed out around October, since when there has been a steady recovery led by copper, up 13%.
Construction industry
Materials price increases for the construction industry over the last year and half-year are detailed below:

Overall, construction materials rose by 6.8% over the year to December but declined by 0.2% over the last six months. Increases in the first half of 2011 were largely driven by higher steel prices.

M&E services materials prices all began to fall in the second half of last year, in part due to the collapse in steel and copper prices.
Materials showing the most significant variation from the average trend over the last six and 12 months are shown below: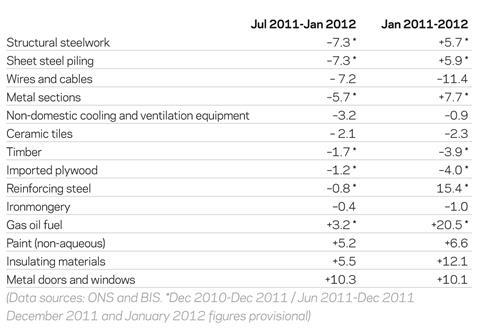 LABOUR: Plumbers benefit from wage increase at the turn of the year, but most rates remain frozen
05 / LABOUR MARKET STATISTICS
Scaffolders were the biggest earners last year and one of the few occupations to see wages rise
Only plumbers have seen wages rise this year so far
Electricians and heating and ventilating operatives wage rates have remained frozen since 2010.
ASHE data
Before Christmas, results from the 2011 Annual Survey of Hours and Earnings (ASHE) were published by the Office for National Statistics. The ASHE data is based on a sample of employee PAYE records taken in April of each year.
The 2011 survey revealed that median gross weekly earnings for full-time employees in the UK were £501, up just 0.4% from £499 in 2010. On a sample of 869,000, median weekly earnings in construction were £507, up just 0.1% from the previous year.
Median earnings for building workers stood at £520, civil engineering workers' earnings were higher at £541 and those employed in "specialised construction activities" were at £490. The following table shows median gross weekly pay for various construction occupations at April 2011: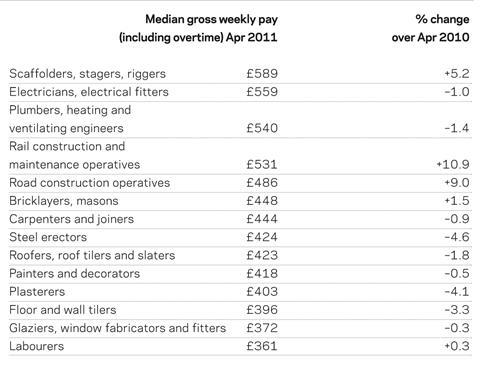 06 / WAGE AGREEMENTS
In 2012 only plumbers in England and Wales have so far received a wage increase - the result of an agreement put in place in October 2010. Operatives in the Engineering Construction Industry (for example, steel erectors, pipefitters, welders and scaffolders) normally receive a wage increase at the beginning of January but discussions have stalled. Further meetings were planned for the end of February.
Plumbers (England and Wales)
In accordance with an agreement reached in October 2010, basic rates of hourly pay for plumbers in England and Wales rose by 3% from 2 January 2012. The new rates became: