Building Boardroom spoke with U+I's delivery director about the regeneration specialist's strategy, upcoming projects and current challenges
Urban regeneration specialist U+I takes forgotten, derelict places and reinvents them as thriving, mixed-use communities. It operates principally in London, Manchester and Dublin but has interests all over the country, including in Brighton and the wider South-east.
The company has a £10.8bn pipeline of work, of which £2.7bn is in the planning system or has recently secured consent. U+I's pipeline, if built out, would provide 19,600 homes, 7 million ft² of offices and 50,000 jobs over the next 10 years.
The challenges of the pandemic led to U+I posting a £50m loss for the six months to 30 September 2020. This led to the chief executive Matthew Weiner standing down to be replaced by Richard Upton. In addition, the development and trading portfolio are being split into two areas, core assets which include regeneration schemes and non-core assets which will disposed of over the next two years to pay down debts. Despite these challenges and the suspension of the cash dividend, Weiner has said the company is in good health.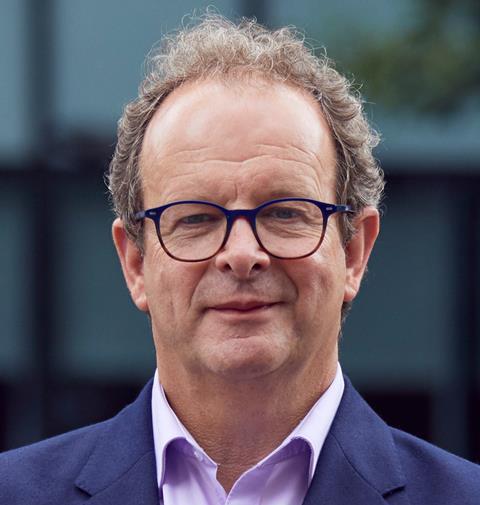 Mark Richardson heads up delivery for U+I; his role includes ensuring designs are compliant, looking after procurement, the on-site delivery, residential sales and asset management. He comes from a contracting background, having started at Laing in the 1970s, then working at Laing O'Rourke where he was variously a business unit leader, director of human capital and pre-construction director. His notable projects include One Hyde Park, the Francis Crick Institute and Ascot grandstand. He joined U+I in 2016.
Building Boardroom asked Richardson about U+I's market strategy amid the current challenges and its approach to procurement and the supply chain.
What differentiates U+I from its competitors?
MR: The place that we want to be is a master developer where we're working primarily in partnership primarily with the public sector. And as master developer we create truly mixed-use places with high-quality design and public realm that hasn't been value-engineered to boredom.
Schemes in London are all about the cost of capital and how much you are willing to pay for land. The biggest developers can't compete on their cost of capital with the big Asian or American investors or sovereign wealth in the Middle East because of foreign exchange rates.
Our skill is working with public sector bodies who have got the land and are looking for a developer. Unlocking complex brownfield sites takes signficant time and investment
There is zero chance that we can compete. So our skill is working with public sector bodies who have got the land and are looking for a developer. Their contribution is the land and ours is assisting in unlocking that land. Unlocking complex brownfield sites takes a significant period of time and investment because of the planning and remediation issues, various other restrictions and complex ownership structures. This would be too much of a distraction for a typical housebuilder or developer. So we are very much a specialist and work on incredibly complicated projects where we don't own the land. We have a very highly skilled group of people and are bringing a certain type of development, management and technical expertise.
What are the specific challenges facing developers at the moment?
London is very difficult because we are working on public sector sites. Unfortunately, we are finding because these are in public ownership we are caught in the politics between central government, the Greater London Authority, and Sadiq Khan. Clearly there is no love lost there. The majority of the London boroughs are Labour and say they want 50% affordable housing because this is public land. There is the new levy for cladding remediation, and we can't include car parking because this is now Transport for London policy. And there are carbon emission reduction requirements. All these things are making the chances of designing and creating a viable scheme less and less likely at the moment.
London is very difficult … because these sites are in public ownership we are caught in the politics between central government, the GLA and Sadiq Khan
The reality is every scheme has to be financially viable. And when people look at development returns, which translate into a 15% to 20% return and compare that with a main contractor's 4% to 5% overheads and profit, they think the developer is making a fortune. They are not making a fortune; that isn't profit. Most of that percentage is the return that the investor requires for putting the money in.
Over the past 12 months we've seen falling values, a reduction in occupation, and I think there are less people living in London. People have returned to their families in the EU so labour costs have gone up. As an example, in 2011 the daily rate for a bricklayer was £120 a day. If this was indexed the rate should be £174 a day now, but the current rate for a bricklayer in London is £250 a day.
A lot of them had the opportunity to furlough at a point when the weather has not been good. It is quite difficult to lay bricks in cold weather, and the temperatures have been consistently very low. They have to go on public transport to get to work, where there are safety issues at the moment, and they are also at risk in the welfare facilities. So a lot of them have chosen furlough and not return to work until they see how things play out.
And with Grenfell we've seen a move away from cladding systems back in favour of traditional brickwork, which hasn't helped matters.
How are you adapting to these changes?
We are increasingly going to focus on the role of master developer; developing wherever possible on fewer schemes. It is clear that building out is an essential part of what we need to be involved in, as this leads to the attention to detail that supports the planning, the phasing and the performance of those buildings in use. We still need construction partners, funding partners and specialist partners, for example we wouldn't build a hotel without having an operator on board.
We've acquired quite a few golf courses, with the rationale being middle-aged men have taken up cycling instead of playing golf so there aren't many golf courses that make a profit any more. You can buy a golf course for less than you could buy the equivalent amount of agricultural land. It's a bit of a long shot but if you are going to develop in what could be considered the green belt, perhaps building on the disused fairway of a golf course is more acceptable.
Middle-aged men have taken up cycling so there aren't many golf courses that make a profit any more. You can buy one for less than the equivalent amount of agricultural land
And we're looking at department stores and the option to create co-working in some of these spaces. We've got a couple of wind farms in Wales; one is in construction at the moment and is due to finish next February. We are trying to get funding for the other one at the moment.
What schemes have you got in the pipeline?
We've got two large schemes in Brighton. Circus Street has been on site since 2017 and is still under construction. The residential and student accommodation is handed over; we've got a building for South East Dance and an office block to complete, which will be late spring or early summer.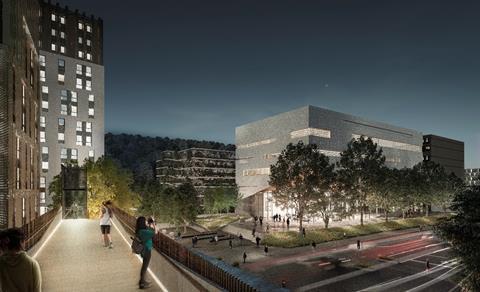 The other scheme is Preston Barracks, which is on site. We are the master developer and led on the planning with responsibility for all the public realm and the letting and construction of various buildings. We brought on board several partners, including Optivo, who are building 369 residential units, the majority of which are affordable. Scape are delivering 450 student bedrooms; there is a medical centre for Assura and quite a bit of retail and a new faculty for the University of Brighton. Henry Construction, Bouygues, Kier and Graham are doing the construction under our co-ordination. It is all being built entirely in accordance with our master plan and original brief with no material amendments or changes, so it looks good. We work hard to ensure that our philosophy and design, with the end user in mind, is what gets constructed. We've learned how that is absolutely key to the success of the project.
We work hard to ensure that our philosophy and design, with the end user in mind, is what gets constructed. We've learned that is absolutely key to the success of the project
Landmark Court in Southwark is predominantly offices, although there is an element of residential and retail. The scheme has consent, and we are finalising the joint venture arrangement with the landowner, Transport for London. And then we are hoping to start the archaeological work. It is a site of significant interest, so most of this year will be taken up with an archaeological dig down to 4m, which is a major piece of civil engineering.
We will use this time to develop the design from stage 2 to stage 3. Allies and Morrison are the architects, Robert Bird are the structural engineers, Aecom the MEP engineer and Faithful+Gould are the cost consultants. We will need a very competent main contractor because we are close to a number of Network Rail and London Underground assets and the construction costs are north of £100m. We will have to competitively tender the job; several contractors have shown interest including Skanska, LendLease, Wates and Balfour Beatty.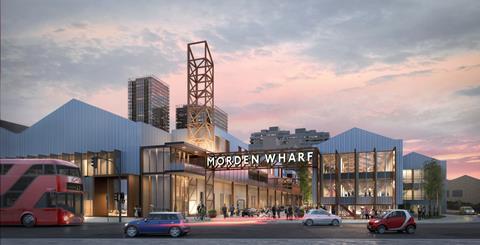 Morden Wharf in Greenwich will have 1,500 residential units, some warehousing, but no commercial as you wouldn't put offices there when you've got Canary Wharf on the doorstep. OMA is the concept architect, Ramboll is the structural and MEP engineer, Gardiner & Theobald is the QS. Carmody Groake and Aecom are doing the jetty works. We are hoping that it's going to committee in May.
We will need local expertise for the next stage: there is no doubt about it. We have used some local expertise just to make sure that we've got the right type of apartment mix. At this moment in time it is a changing landscape in terms of the marketplace. I would not want to make any decision now on demand for commercial office or residential or retail because this pandemic will have changed people's attitudes. This suggests there will be a period where people will want to work where they've got more space, which is naturally going to mean away from those urban areas. The big question is: are the British public still in love with high-density urban living in a post-pandemic world?
The big question is: are the British public still in love with high-density urban living in a post-pandemic world?
Mayfield is a £1.4bn mixed-use scheme that includes offices, retail, residential and 14 acres of public realm including a new park. It is a joint venture between Manchester city council, London and Continental Railway, Transport for Greater Manchester, and U+I and is on site now.
We've got another scheme in Greenwich called Faraday Works. We were going through the planning process and it got listed, so we're now redesigning it. It's the old Siemens works near the Thames Barrier where they built cables, some of which were reinforced. They used their own cabling as reinforcement in these buildings, which is the basis for the listing, so we are having to design the scheme around that. Some of the buildings are being designed by Studio Egret West and some are by Coffey.
We've got lots of other schemes, we are in for planning and hoping for a consent next month on a residential scheme at Tilehurst to the west of Reading. There is a scheme in Dublin called Whiteheather that is in for planning in March for 344 residential units, which will be build-to-rent. We have all kinds of projects, some of which I can't mention because these are at delicate stages.
What are you looking for when selecting your supply chain?
You have to collaborate to succeed. I've been in this business for 40-odd years and that hasn't made me a technical expert; I don't think you ever can be a technical expert across everything. Anything that I look at and think I know the answer, the more I look into it the more I realise I didn't know the answer. The answer is about getting lots of people to collaborate and share their knowledge. We work hard on that, building trust – and it is a two-way thing, being honourable, respectful, and avoiding being aggressive in a commercial or contractual context. So we try and genuinely engage with the industry, not as master/servant but as equals, and respect what they bring including their expertise.
What is your preferred procurement route?
I'm happy negotiating, and we do negotiate on some schemes. But where you have a public sector partner it is unlikely that negotiation would be their preferred route, so it tends to be two-stage as they prefer the competitive tension. Ideally, they would like you to design the scheme to a stage 4a fully co-ordinated design, and then procure it on a single-stage lump sum.
There is this theory that the best negotiations are where you show generosity because it's reciprocated, even subconsciously
This appears at face value to de-risk the project, but it hasn't at all – it exposes you to more risk rather than less. Tendering is a game, and the contractor is going to win it by having the quickest programme and the cheapest price because that is the procurement route you have approached. The minute you award that contract all you are going to get is delay – which they will suggest is due to things outside their control but within the client's control so therefore they are due an extension of time with loss and expense. And it just becomes a distraction. And all that collaboration that you need for the next three years is put under stress. The best projects ever from a client perspective is negotiated jobs, because of that trust. You also get commercially the best outcome. When I was in contracting, the projects where we made the most money were the ones that were traditionally bid. And the ones where we made the least money were negotiated.
There is this theory that the best negotiations are where you show generosity because it's reciprocated, even subconsciously, by the other. Whereas if you take a serious contractual stance, it is usually met with an equivalent or hardened contractual stance. And the outcome is usually less advantageous than if you'd been generous in the first place. And yet you can never persuade a public sector partner that negotiation offers value for money, because their advisers advise against it.