The construction activity index took a leap upwards after contraction the month before, while the UK composite index saw its largest increase since 2012
01 / State of play
The construction activity indicator returned to expansion territory in July, after a sharp and somewhat unexpected contraction in the previous month. At 54 points it had swung upwards by eight points on a monthly basis. In contrast, the repair and maintenance (R&M) index (43) posted its second successive decline in July, taking it deeper into negative territory. At the sector level, all three witnessed an improvement to their respective activity index. Residential (56) and civil engineering (55) increased by 10 points, while the non-residential sector (49) rose by two points, yet it remains below the no-change mark for the second consecutive month.
At 72 points the orders index had ticked upwards for its third successive month. It has now been at levels above the no-change mark since March 2013. Meanwhile, tender enquiries remained flat at 60 points in July.
Last month, the share of respondents reporting no constraints increased from 29% to 40%, which is well above its long-term average. Issues regarding insufficient demand fell to 27% after two successive increases in May and June. Seventeen per cent of respondents had issues with labour shortages, however this was a slight decrease from 18% reported a month earlier. Concerns over financing declined, with only 5% reporting it as an issue; down from 9% a month earlier. Difficulties due to bad weather were slightly more apparent in July, although at 3% they remain at a negligible level. Material and equipment shortages last month showed little variation from June, recording a single-digit increase to 5%. Issues sourced from other factors fell sharply by six points to 2% in July.
The employment prospects index posted a positive figure of 53 points in July following June's no change. This suggests that employers within the construction industry are more likely to expand their current workforce in the coming three months, as opposed to reducing it.
02 / Leading construction activity indicator
Leading activity indicator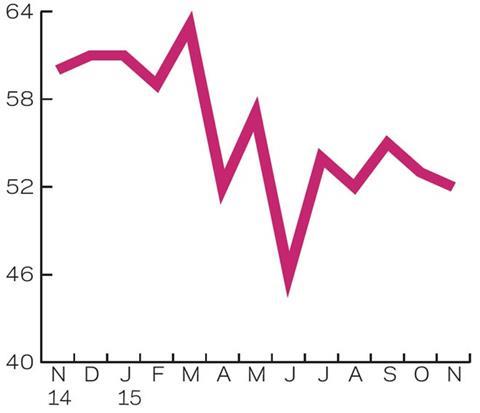 Employment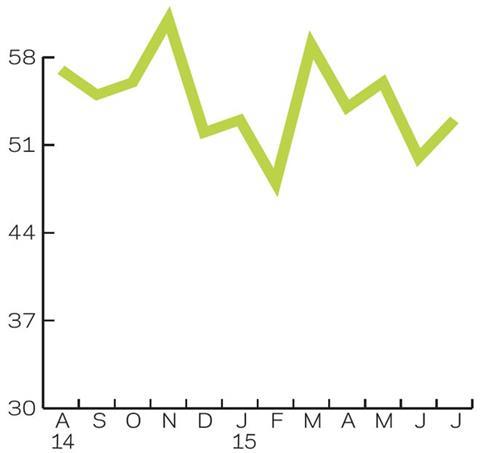 In July the CFR's Leading Construction Activity Indicator expanded by eight points on a monthly basis to reach 54, thereby recovering from June's contraction
The indicator uses a base level of 50: an index value above that level suggests an increase in activity, while one below it highlights a decrease.
Tender prices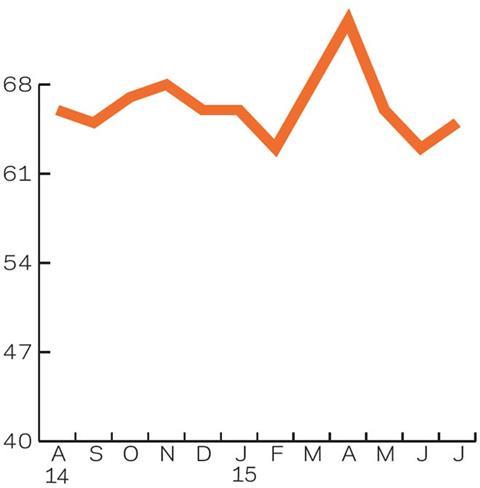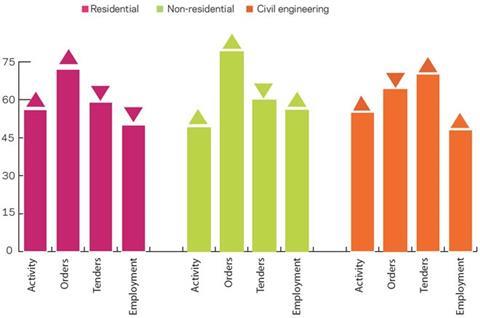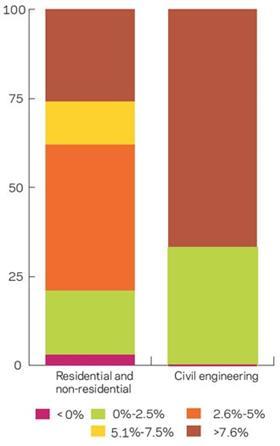 03 / Labour costs
During July 2015, 18% of non-residential and residential respondents reported labour cost inflation in the range of 0% and 2.5%. Meanwhile, 41% reported inflation at a level between 2.6% and 5%. This represented a fall from 49% in the same period of last year. The percentage of those reporting falling inflation rose to 3% on a quarterly basis. Approximately 12% of respondents indicated that their wage bill had risen by between 5.1% and 7.5%, easing slightly from its level three months earlier. The share of firms who experienced labour cost growth of more than 7.6% expanded to 26%.
04 / Regional perspectives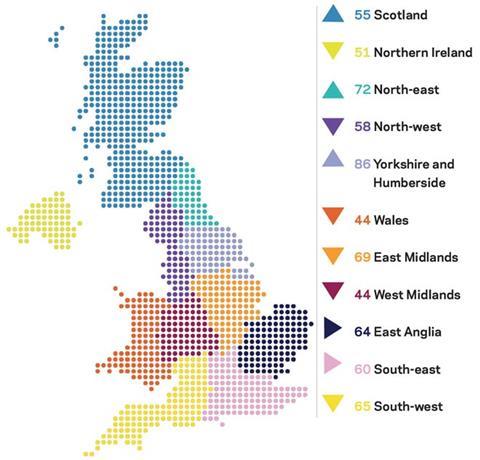 Experian's regional composite indices incorporate current activity levels, the state of order books and the number of tender enquiries received by contractors to provide a measure of the relative strength of each regional industry.
Activity among the 12 regions and devolved nations was quite varied in July. The largest positive shift was recorded in Scotland, which saw a five-point increase to 55. Yorkshire and Humber and the North-east also ticked upwards. In contrast, both East Anglia (64) and the South-east (60) maintained their levels in July.
Wales saw the largest decrease with a contraction of 10 points to 44. Northern Ireland (51), the West Midlands (44) and the South-west (65) saw decreases of three, four and five points respectively. The North-west (58) and East Midlands (69) both experienced marginal decreases of two points in July.
Given regional weightings, the UK index, which includes firms working in five regions or more, posted an increase of eight points – the largest increase since September 2012.