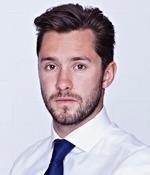 Fergus Ellis, development assistant, Land & Development
Q Has the year since you started in construction lived up to expectations?
A It's flown by. I thought I'd have things mastered by now but I've realised how much there is to learn. Every day is always interesting and I can see a long career ahead.
Q Have you achieved what you said you wanted to in the time?
A I think my ambition to run my own development projects may have been slightly unrealistic; the more I learn, the more areas of the industry I'm exposed to - there's so much to get to grips with but I'm proud of one or two smaller projects that I've managed.
Q What has been the biggest challenge you've faced in your job?
A Day to day attention to detail is critical - in this line of work, a tiny error at one end of the scale can have catastrophic effects at the other.
Q In your experience so far, does the industry encourage and nurture new talent?
A I meet young professionals from other firms on a daily basis and it seems companies are really encouraging their staff to carry out professional qualifications. Barratt London are now supporting me through an MSc and my RICS APC - the support has been overwhelming.
Q What's your view on the government appearing to backtrack on green built environment policies such as the zero carbon target, the Green Deal, and subsidies for wind farms and solar power?
A There is no doubt low-carbon homes should be the ambition and we should aspire to what the original policies were there to promote - a more environmentally friendly industry. However, changes to new building regulations for new homes will still make significant carbon reductions, and we need to make sure we succeed at putting in these new standards to a high quality, and cost effectively for customers. Small steps can still have a big impact.
Q Do you sense clients are less interested in sustainability following the recent policy shifts?
A Where I work, we have an interest in the longevity of our product as we manage our properties indefinitely once we've completed them. This means we really try hard to weave sustainability into the planning process to protect the environment around our developments because in 20 years, we'll still be there!
Q Has the attitude of your firm to sustainability changed at all?
A Honestly, it's been a focal point ever since I started. Regardless of the shifts in policy it is still very high up on the agenda.
Q Will you get a summer holiday? - if so, where?
A I have just got back from a trip to Oman with my friends where we went trekking in an old, dried-up riverbed called Wadi-Shab. It was quite spectacular. Now that I'm recharged, I'm just looking forward to getting back to work!