Labour prices continue to be the main driver behind cost inflation in the third quarter of the year, with industry pay continuing to exceed changes to average earnings in general. Michael Hubbard of Aecom reports
01 / Key changes

Building cost index

A composite measure of building costs increased over the year by 1% at Q3 2015. Labour costs are the primary driver of cost inflation, with these large increases offset by notable falls in key building materials.
Mechanical cost index
The rate of annual change at Q3 2015 eased again to 0.8%. Labour cost inflation contributed most of the annual increase, despite large falls in many commodity inputs.
Electrical cost index
The electrical cost index increased by 2.1% over the year, despite continuing large falls in many input costs for metals commodities.
Consumer prices index
Consumer price inflation rate recorded no annual change at Q3 2015.
The following chart shows Aecom's index series since 2005, reflecting cost movements in different sectors of the construction industry and consumer prices.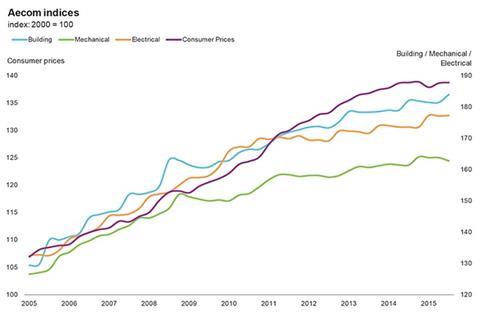 Guide to data
Aecom's cost indices track movements in the input costs of construction work in various sectors, incorporating national wage agreements and changes in materials prices as measured by government index series.
They are intended to provide an underlying indication of price changes and differential movements in the various work sectors but do not reflect changes in market conditions affecting profit and overheads provisions, site wage rates, bonuses or materials' price discounts/premiums. Market conditions and commentary are outlined in Aecom's quarterly Market Forecast (last published October 2015).
02 / Price adjustment formulae for construction contracts
Price Adjustment Formulae indices, compiled by the Building Cost Information Service, are designed for the calculation of increased costs on fluctuating or variation of price contracts. They provide guidance on cost changes in various trades and industry sectors – i.e. those including labour, plant and materials – and on differential movement of work sections in Spon's price books.
The 60 work categories recorded an average decrease of 0.5% on a yearly basis. Higher rates of change were recorded in the following categories: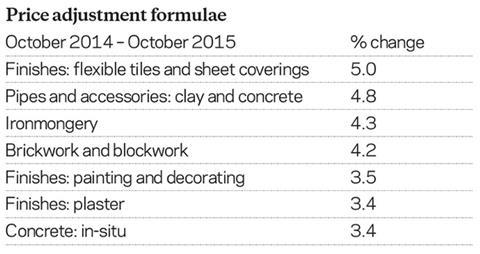 The largest price decreases include: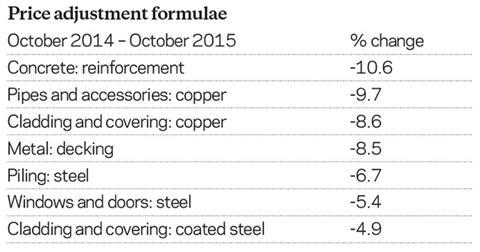 Materials
03 / Summary
Consumer price inflation measured as an average across Q3 recorded no change versus the same time last year ▶
Manufacturing input prices continue to fall, at a faster than in Q3 ▼
Industry output prices continue to decline but the rate of change slowed marginally ▼
Commodity prices are still displaying deeply negative price trends ▼
Construction materials price inflation weakened in Q3 2015 ▼
04 / Key indicators
Construction industry
The all work material price index fell by 2.3% in the year to September 2015. Materials prices for housing work dropped by 1.7% over the preceding 12 months. Non-housing materials prices also fell over the year, declining by 2.8%. Mechanical and electrical services materials also decreased notably over the year.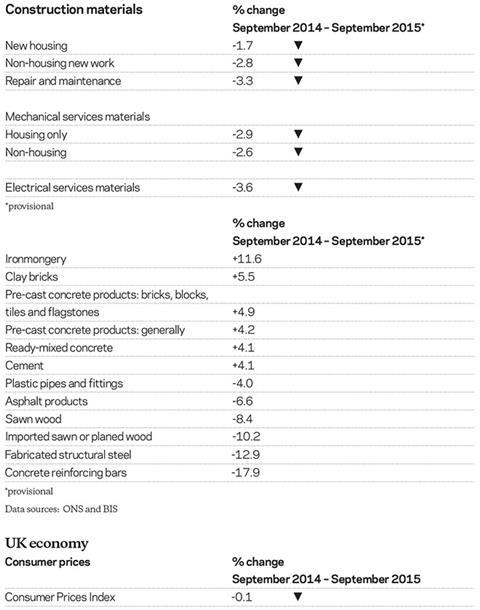 The annual rate of consumer price inflation has remained at or around zero throughout 2015. Recently published data indicated that CPI turned slightly negative on the year in the month of September. Motor fuel prices acted as the primary reason for this negative rate of inflation. Forecasts for CPI remain below 1% for the foreseeable future.

Input prices continued to fall on a yearly basis up to September 2015. While this annual recorded change saw a decrease of 13.3%, August 2015 posted the largest yearly fall at 14.6%. Core input inflation, which excludes volatile items, posted -5.7% over the year. Crude oil again remains the largest contributor towards the annual change in input prices.

Factory gate prices continued to decline in the year to September 2015, when they posted a 1.8% fall. This is a marginally slower rate than that recorded in August. The core index, which is narrower because it excludes items such as petroleum and food, bucked the trend of the broader measure of output prices by increasing 0.2% in the year to September 2015. Source: ONS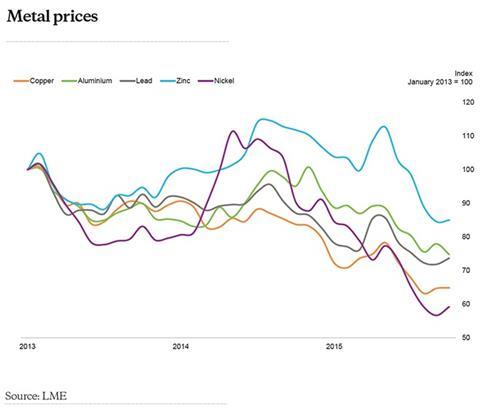 Deeply negative trends for metal commodities were maintained in Q3 2015. Despite a minor price rebound in October the momentum fizzled out in early November, as renewed price falls took hold. It is expected that fiscal stimulus by the Chinese government introduced marginally higher demand into an otherwise moribund market for metals, combined with production capacity trimmed across the globe removing some supply. Underlying trends reflect those of the global economy and the continual downward revisions to growth forecasts. Copper is often regarded as the bellwether of global economic conditions. Its price hit six-year lows in November, affected by weaker Chinese economic data, ongoing US dollar strength plus further expected dollar appreciation that will likely result from higher US interest rates. Moreover, linked trends relating to the combination of excess capacity and export of disinflationary or deflationary trends is combining to force down price levels.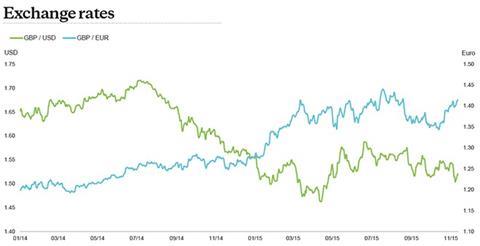 The US dollar strengthened against sterling over the course of Q3 2015. While reversing Q2 trends, the dollar has not returned to its recent peak seen earlier in 2015. Should the US Federal Reserve raise the bank rate in December – with forecasters expecting a higher likelihood of this – then the dollar is likely to strengthen further once more against many currencies. Countries that rely on export of raw materials have also experienced heavy sell-offs of their currencies, as the effects of changing Chinese economic data are assessed by markets. Sterling also strengthened against the euro in recent months after earlier gains in 2015 were pared at the end of Q2.
Labour
05 / Labour market statistics
In September 2015, average weekly earnings (total pay including bonuses) in construction fell to £589 from £593 in August 2015. Annually, total earnings rose 4.6% in September on a single-month basis, and 6.0% annually on a three-month average basis. The early part of Q3 2015 saw a large increase in earnings, which accounted for these notable annual change increases. Regular pay (excluding bonuses and arrears) increased to £568 per week, with annual rates of 6.0% on a single-month basis and 6.6% using a three-month average.
Construction industry regular and total pay continued to exceed similar changes to average earnings for the whole economy.
06 / Wage agreements
Construction Industry Joint Council
The parties to the Construction Industry Joint Council agreed a pay deal which saw pay rates increase by 3% from 30 June 2014, and a further 3% rise from 29 June 2015. Travel and fare allowances also increased from 30th June 2014, along with subsistence allowances increasing to £35 a night from 6 January 2015. The agreement also addresses changes to sick pay.
Joint Council Committee of the Heating, Ventilating and Domestic Engineering Industry
A 3% increase in hourly wage rates came into effect from 5 October 2015. The daily travel allowance also increased by 3% from 5 October 2015. Amendments to the basic working week also applied from 6 October 2014, as the number of hours per week reduced from 38 to 37.5. Changes to the level of weekly sickness and accident benefit are also planned.
The Joint Industry Board for the Electrical Contracting Industry
Members received a 2% pay rise in January 2015, followed by a 3% increase from January 2016.
Building and Allied Trades Joint Industry Council
The Building and Allied Trades Joint Industrial Council (BATJIC) agreed a two-year pay deal effective from 30 June 2014. The deal involves variable wage rises averaging 2.5% for the standard wage rates. A further set of rises averaging 3% came into effect from 29 June 2015. Annual holiday entitlement increased by one day, as of 29 June 2015, from 21 days to 22 days, making a total of 30 days including public holidays.
The new BATJIC rates of wages effective from 29 June 2015 are: