Though activity, orders and employment are down, firms are relatively upbeat about tender prices, which are at a three-year high. Experian Marketing Information Services brings the latest figures
01 / THE STATE OF PLAY
In May, the activity index fell by three points to a three-month low of 46, signalling a stronger pace of decline. There were varying performances across the sectors, with the non-residential activity index dropping by 12 points to 43, while the residential index rose by two points but remained in negative territory at 46. The civil engineering sector saw a marked improvement, with the activity index jumping by 27 points to 71, a 43-month high.
Firms continued to indicate that orders were below normal for the time of year. Moreover, the index declined by five points to 43, an 11-month low. The orders indices declined across all sectors in May. The index for residential orders remained in negative territory in May and edged down by three points to 38. This was the lowest reading for two years. The non-residential new orders index dropped by seven points but still remained in positive territory at 54, signalling that orders were above average for the time of year. In contrast, the civil engineering new orders index fell by 13 points to 30, the lowest reading since the series began in April 1991.
Employment prospects for the construction industry remained gloomy, as the employment index remained below 50 and signalled a stronger pace of decline at 33, three points lower than the previous month.
Firms are more upbeat regarding tender prices, with the index rising by three points to reach the no-change mark of 50. It was the first time that the index had not been in negative territory for three years.
02 / LEADING CONSTRUCTION ACTIVITY INDICATOR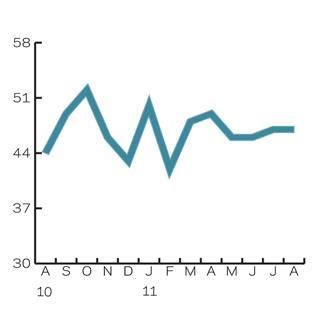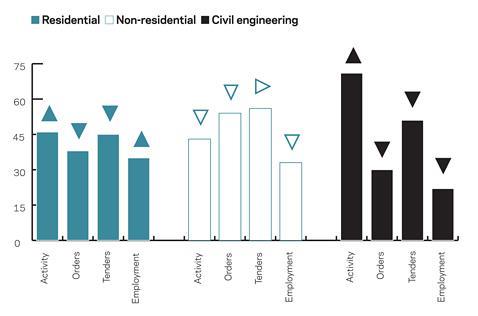 According to CFR's leading construction activity indicator, construction activity is expected to continue to contract over the coming three months. The activity index is projected to remain unchanged at 46 in June, before edging up to 47 in both July and August, suggesting a slightly weaker pace of decline.
The indicator uses a base level of 50: an index above that level indicates an increase in activity, below that level a decrease.
03 / MATERIAL COSTS
More than 61% of building firms reported annual material cost inflation of more than 7.6% in May - significantly higher than the 22% three months ago. The proportion of firms reporting that material costs had declined also fell, from 14% three months ago to just 3% in May.
Opinion was more divided among civil engineering firms, with half of firms indicating that material costs had increased by more than 7.6% compared with last year, higher than the 17% three months ago. However, 25% of respondents did indicate that material costs had fallen, higher than the 17% reporting lower material costs three months ago.
The continuing rises in materials costs must be one reason why tender price changes may be about to turn positive, as firms are no longer able to absorb these without passing them on to clients.
04 / REGIONAL PERSPECTIVE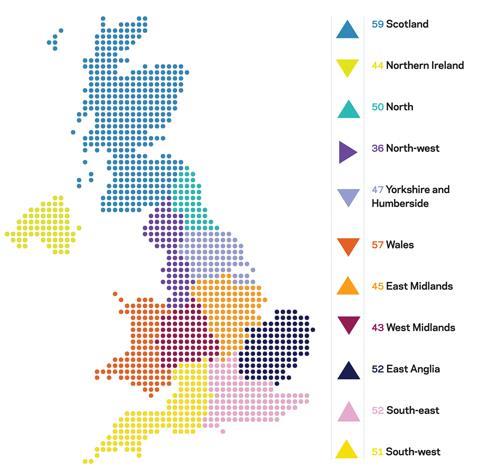 Experian's regional composite indices incorporate current activity levels, the state of order books and the level of tender enquiries received by contractors to provide a measure of the relative strength of each regional industry.
The indices for six of the 11 regions and devolved nations rose in May. The strongest increase was for the East Midlands, whose index rose by seven points to take it to a five-month high of 45. East Anglia's index was three points higher at 52, taking it back into positive territory for the first time in six months. The Scottish index continued its recent strong performance, edging up by one point to take it to a 37-month high of 59. It was also the highest reading across all the regions and devolved nations.
The indices for the South-east and South-west remained in positive territory in May, edging up by one point to 52 and 51, respectively. The North's index was also one point higher, reaching the no-change mark of 50.
The strongest fall was for Yorkshire and Humberside, which declined by four points to 47, returning to negative territory after three months. The index for Wales edged down by two points but remained in positive territory at 57, and the West Midlands index was also two points lower at 43. The North-west's index remained unchanged at 36 and was again the lowest of all the regions and devolved nations.
The UK index, which includes firms working in five or more regions, fell by four points to 55.