Total activity growth remains steady but R&M continues to slide, while materials costs have risen notably and there has been a positive level of activity in nearly all regions. Experian Economics reports
01 / State of play
In May, total activity growth remained stable – the index stood at 56, up one point from April. R&M activity, however, is still on a downturn, as the index fell by a further 11 points in the last month to 35 – its lowest since July 2010. Residential activity remained unchanged, while non-residential and civil engineering activity improved. The non-residential activity index gained three points and stood at 58, whereas the residential and civil engineering indices fell by a point each to 50 and 70, respectively.
Construction orders and tender enquiries exhibited diverging patterns as the orders index rebounded with a seven-point increase to 70 (as in March), while the tender enquiries index was down by three points to 56. All sectors contributed to May's overall increase in orders. The biggest improvement was recorded in the non-residential orders index, which grew by 16 points to 84. Next were the civil engineering and residential indices, which increased by four points to 72 and two points to 64, respectively.
Civil engineering contributed most to overall tender enquiries figures, as its index jumped 11 points up to 71. Residential and non-residential tender enquiries, however, slowed. The tender prices index has risen since March by one point in both April and May to reach 68.
Employment prospects exhibited slow growth as the index edged back into positive territory by one point to 51.
In May, half of respondents faced no constraints on their activity – an improvement from a month earlier, when just over one-third reported this. Insufficient demand and labour shortages continue to hinder activity, as 23% and 12% of respondents, respectively, highlighted those factors as problematic. This brings into sharp focus issues the industry could face if Brexit includes stricter immigration policy. Financing problems also continue to be an obstacle, according to 10% of respondents.
02 / Leading construction activity indicator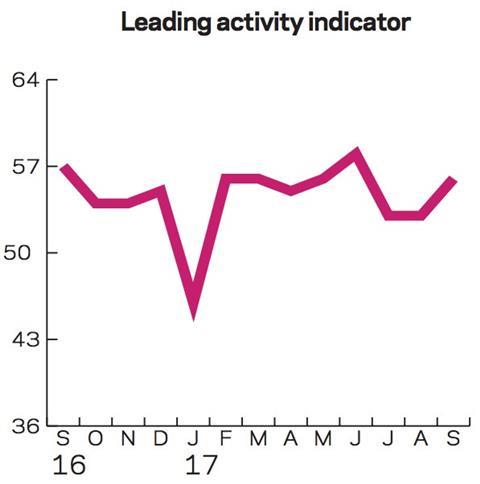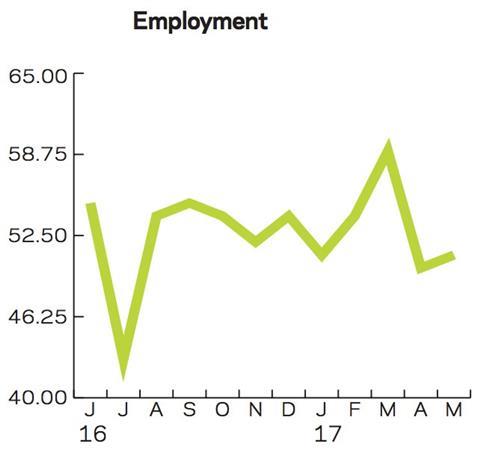 CFR's Leading Construction Activity Indicator remained in positive territory in May as it ticked up one point to 56 – the same figure recorded in February and March. Upward movement is expected to continue over the next month before gradually slowing down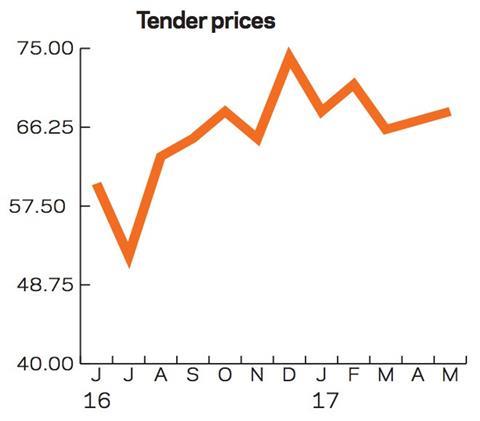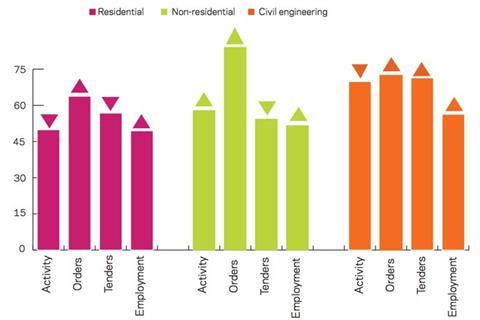 03 / Material costs
Among the respondents, only 2% have reported a decrease in material costs in May on an annual basis. Of the remaining 98%, 39% point at a change within the range of 2.6% and 5% and the other 41% reported an increase greater than 5%. Within the latter group, slightly fewer than a quarter of all respondents (24%) have marked a growth greater than 7.5%, which is lower than in February (39% of the respondents) and higher than a year earlier (20% in May 2016). With respect to civil engineering, 40% of respondents reported an increase in material costs greater than 5%, of which half face an increase of more than 7.5%. Compared to previous surveys, reported costs have gone up notably. Since February 2015, respondents have reported increases in material costs no greater than 5% on an annual basis.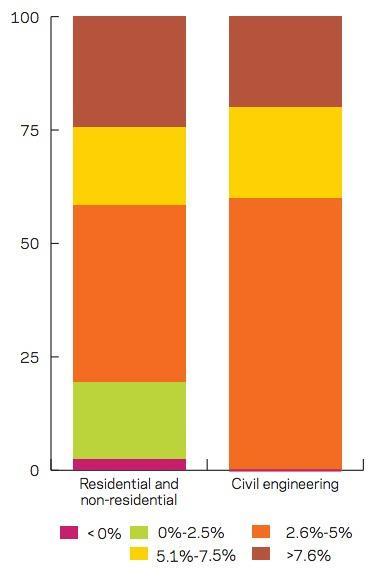 04 / Regional perspectives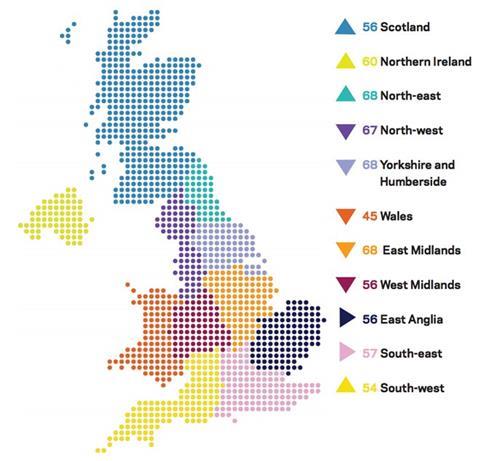 Experian's regional composite indices incorporate current activity levels, the state of order books and the level of tender enquiries received by contractors to provide a measure of the relative strength of each regional industry.
The regional figures in May indicate positive developments in all regions but one. Among the four regions that recorded growths in their composite indices, Northern Ireland has improved marginally since April as its index increased by 11 points to 60. Changes in the indices for the other three regions are mild in comparison.
Wales dropped below the no-growth threshold after a 13-point decrease in its index to 45 in May. Yorkshire & Humberside also saw a fall, although it remains among the leaders even after a 12-point drop to 68, along with the East Midlands – which fell two points to 68 – and the North-east.
East Anglia and the South-east remained in positive territory but recorded no change in their indices in May, at 56 and 57 respectively.
The overall UK composite index ticked up by one point to 64, marking the seventh consecutive month of an above 60-point composite index for the UK.
This an extract from the monthly Focus survey of construction activity undertaken by Experian Economics on behalf of the European commission as part of its suite of harmonised EU business surveys.
The full survey results and further information on Experian Economics' forecasts and services can be obtained by calling 020 7746 8217 or logging on to www.experian.co.uk/economics
The survey is conducted monthly among 800 firms throughout the UK and the analysis is broken down by size of firm, sector of the industry and region. The results are weighted to reflect the size of respondents. As well as the results published in this extract, all of the monthly topics are available by sector, region and size of firm. In addition, quarterly questions seek information on materials costs, labour costs and work-in-hand.