The sun comes out and Brits go doolally, right? Luckily there are no examples here of pale, topless men walking the streets but there are wanna-be wrestlers, wizards and wardrobe fans
All work and no play …
From my vantage point over London, I spy many things on construction sites, but for entertainment, none quite matches the Blackfriars' station overspill site, on the west side of Blackfriars Road. Two weeks ago there was a fire on site, which was exciting enough, but last week, two workers stopped what they were doing for a different reason: an impromptu wrestling match. It wasn't quite WWE, but the good-natured tussle even raged on top of a truck. None of the attempted trip moves quite worked, but hard hats fell off and one wrestler even used a piece of flex to attempt to whip the other. On another day, the team relaxed with a game of football. Good to see that the job is so in-hand that there is time for such frolics.
Technological wizardry
Amid much fanfare, and a serious turnover warning, Styles & Wood announced it was rebranding itself as - wait for it - "S&W" last December. It involved a glossy new website and logo: "S&W" on the side of a floating, tilted cube. Come the firm's results last week, however, and nobody used the new name, even the firm's own announcement to the LSE. As the fit-out firm's new bosses told one of my spies: "Rebranding is a journey". A Google search for "S&W" finds not only that the firm ranks well below gun maker Smith & Wesson, but also the "Swords and Wizardry companion" to role-playing games. An entirely different type of journey, I suppose.
Normal for Norwich
The public sector seems to be having a bonanza of cost-cutting at the moment, what with James Review standardisation here and 10-20% cuts across public projects there. But do these economy drives always go to plan? Not according to a well-placed source. A cost-cutting trial in Norwich under the previous government actually almost doubled in cost, because the public sector client kept changing its mind about its requirements. Oh dear …
Who you gonna call?
You might think the best people to ask for information on the alleged use of blacklists on construction sites might be the Blacklist Support Group - the campaign group set up to raise awareness about the issue. But you'd be wrong. A call from one of my hacks in search of a case study fell on deaf ears. If (as is claimed) there are employment tribunals on-going over the use of blacklists, surely the group could provide more information? "I don't know of any examples," the organiser said. May I suggest a change of campaign?
Crystal ball of engineering
Last October, a press release made its way to Building Towers that, at the time, we let slip by. But now it seems that it was authored by someone with an astonishing ability to foresee future world events, although not entirely accurately. An engineering firm called Mason Navarro Pledge had succeeded in making Libya's supreme court … earthquake proof. It might have been better for the client if it had made it missile proof, or used its skills on buildings in Japan. If MNP start making the Houses of Parliament meteor-proof, then we'll all need to worry.
King of all wardrobes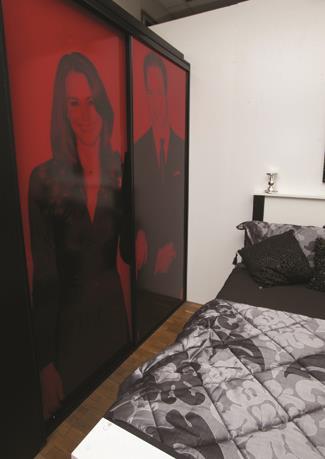 Royal Wedding silliness is beginning to reach nauseating proportions. One of my minions was sent a delightful advertisement for Wills and Kate sliding wardrobe doors. For as little as £448, you too could have the glossy couple beaming down at your bed in an attractive blood-red and black finish. The doors are
"future proof" as well, because you can simply slide Kate's door behind William's so she is no longer visible, should the royals' domestic bliss be interrupted.