Construction output rose 5.5% over 2014, but construction materials and consumer price inflation have both slowed.
01 / Key changes
Construction output rose 0.4% month-on-month and increased by 5.5% year-on-year in December 2014.
Construction material prices inched higher by 0.1% in the year to December.
Although consumer price inflation was still positive at 0.3% in February 2015, it posted its lowest figure in over 25 years.
Construction average weekly earnings increased on a yearly basis for total pay and regular pay in November.
The following chart shows Aecom's index series since 2005, reflecting cost movements in different sectors of the construction industry and consumer prices.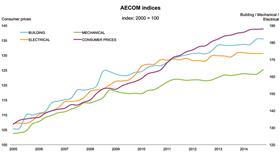 Building cost index
Building costs increased in the year to Q4 2014 by 2.0%. Labour costs accounted for most of the yearly increase.
Mechanical cost index
The rate of annual change at Q4 2014 was 1.8%. Although both labour and materials cost inflation contributed to the increase over the year, labour costs saw higher rates of inflation.
Electrical cost index
The electrical cost index decreased by -0.3% in Q4 2014. The lower cost index over the year was a result of a larger fall attributable to materials than labour costs.
Consumer prices index
The consumer price inflation rate was 0.5% at December 2014. It has since gone on to record its lowest annual rate of change for over 25 years at 0.3% in February 2015. But core inflation, which excludes more volatile items, increased from 1.3% in January to 1.4% in February.
Guide to data
Aecom's cost indices track movements in the input costs of construction work in various sectors, incorporatingnational wage agreements and changes in materials prices as measured by government index series.
They are intended to provide an underlying indication of price changes and differential movements in the various work sectors but do not reflect changes in market conditions affecting profit and overheads provisions, site wage rates, bonuses or materials' price discounts/premiums. Market conditions and commentary are outlined in Aecom's quarterly Market Forecast (last published January 2015).
02 / Price adjustment formulae for construction contracts
Price Adjustment Formulae indices, compiled by the Building Cost Information Service (previously by the Department for Business Innovation & Skills), are designed for the calculation of increased costs on fluctuating or variation of price contracts. They provide useful guidance on cost changes in various trades and industry sectors - that is, those including labour, plant and materials - and on the differential movement of work sections in Spon's Price Books.
The 60 building work categories recorded an average increase of 1.1% on a yearly basis.

Materials
03 / Summary
The rate of consumer price inflation remains positive over the year but is now lowest on record ▲
Manufacturing input prices continue to slide ▼
Industry output prices still in negative territory ▼
Metals prices were mixed over the year at Q4 2014 ▲ ▼
Construction materials price inflation resulted predominantly from housing sector activity ▲
04 / Key indicators
Construction industry

The All Work material price index increased by just 0.1% in the year to December 2014. Mechanical and electrical services materials also showed little signs of inflationary change. Only housing-related materials recorded inflation in the year to December at 0.5% for mechanical services and 1.3% for other general materials.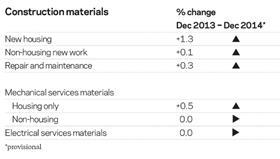 Inflation for specific materials classes reflected firm levels of housing sector activity. Materials predominantly composed of metals mirrored broader commodity price trends, which finished the year weaker than at the beginning of 2014.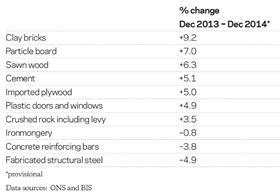 UK economy

The annual rate of consumer price inflation was 0.5% in December but has since fallen to its lowest level on record (see opposite).

Input price falls accelerated to -10.7% in December, from an average of -7.5% in Q3 2014. Core input inflation, which excludes volatile items, was still negative on an annual basis but moderated to -1.9%. Once again, petroleum products accounted for the largest component of the percentage change to December 2014.

Factory gate prices posted a sixth consecutive month where annual output inflation fell. Output prices of UK manufactured goods fell 0.8% in the year to December and highlighted a general inability of manufacturers to secure higher output prices. The core index, which is narrower because it excludes items such as petroleum and food, increased 0.8%.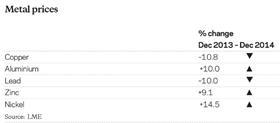 Metals prices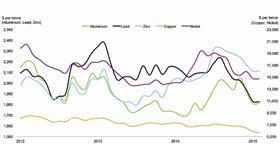 The speed of price falls across many industrial metals increased in Q4 2014. Nickel, zinc and aluminium finished the year at similar price levels to those seen at the start of the year. Copper posted the lowest monthly average prices since mid-2009, after four successive years of annual overall price deflation. Although industrial metals experienced further price weakness in Q4, steel billet moved in the other direction and increased by over 40% during 2014 - but still only returning to 2012 levels.
Exchange rates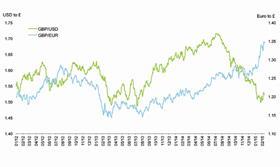 Sterling continued to strengthen through Q4 2014 and into 2015 against the euro, with £1 buying 1.35 Euros in February 2015. Likewise, the US dollar maintained its trend, strengthening against many currencies - sterling included.
Labour
05 / Labour market statistics
In November 2014, average weekly earnings (total pay including bonuses) in construction decreased to £558 from £560 in October. Annually, earnings increased 2.3% in November, on a three-month average basis. Regular pay (excluding bonuses and arrears) increased at a marginally slower annual rate of 1.8%.
Construction industry regular pay broadly tracked similar changes to average earnings for the whole economy. However, total pay statistics for the construction industry outstripped the same measures for the whole economy, at 2.4% and 1.0% respectively (three-month averages).
06 / Wage agreements
Construction Industry Joint Council
The parties to the Construction Industry Joint Council have agreed a new pay deal, which sees pay rates increase by 3% from 30 June 2014, and a further 3% from 29 June 2015. Travel and fare allowances also increase from 30 June 2014, along with subsistence allowances increasing to £35 a night from 6 January 2015. The agreement also addresses changes to sick pay.
Joint Council Committee of the Heating, Ventilating and Domestic Engineering Industry
A 2.5% increase in hourly wage rates comes into effect from 6 October 2014. Amendments to the basic working week also apply from the same date, as the number of hours per week reduces from 38 to 37.5. Changes to the level of weekly sickness and accident benefit are also planned.
The Joint Industry Board for the Electrical Contracting Industry
Members will receive a 2% pay rise in January 2015, followed by a 3% increase from January 2016.
Building and Allied Trades Joint Industry Council
The Building and Allied Trades Joint Industrial Council (BATJIC) recently agreed a two-year pay deal effective from 30 June 2014. The deal involves variable wage rises for the standard wage rates averaging 2.5%. A further set of rises averaging 3% come into effect from 29 June 2015. Annual holiday entitlement will increase by one day, as of 29 June 2015, from 21 days to 22 days, making a total of 30 days including public holidays.
The new BATJIC rates of wages are: