Smart motorways could solve rising traffic volumes and congestion in the UK, and have led to Highways England finding an extra third of capacity in our existing motorway network. Ciara Walker and David Threlfall of Arcadis report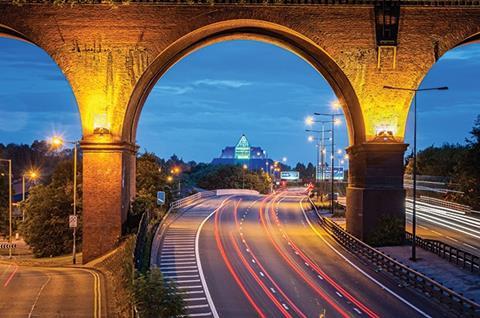 01 / Introduction
Smart motorways are an ingenious way to squeeze an extra 33% capacity into our existing motorway network safely, economically and without impacting significantly on the environment.
Underinvestment and growing traffic volumes in the Strategic Road Network (SRN) have led to significant congestion, currently estimated to cost the British economy £2bn a year. Certain areas of the SRN have already reached or exceeded capacity, particularly around larger cities.
Traffic density on UK motorways is 113 million vehicle miles per mile of road per year, compared with much lower figures for European neighbours, at 47 million in Germany and 39 million in France.
The £1.55bn planned programme of works will add 286 extra lane miles and provide the capacity the country needs to continue to grow.
02 / What is a smart motorway
Smart motorways use technology to manage and smooth the flow of traffic. By using road sensors to detect speed, CCTV cameras to monitor incidents and overhead signs to communicate with road users, incidents can be managed quickly and effectively. Congestion can also be reduced by setting variable speed limits to manage high volumes of traffic at busy times or during an incident. By opening up an extra lane to traffic either permanently or during peak times and providing emergency refuge areas (ERAs) for emergencies, increased capacity is achieved while maintaining the safety of road users. There are two main types of smart motorway:
All lane running (ALR) smart motorway The hard shoulder is replaced by a permanent live lane
Controlled motorways Three or more lanes with variable speed limits. For sections with Dynamic Hard Shoulder Running (DHSR) the hard shoulder is opened as an additional lane depending on traffic conditions
All lane running has been the preferred solution since 2013, providing extra capacity permanently. Given the lack of the hard shoulder as a place of refuge, ALR schemes have emergency refuge areas (ERAs) around every 1.55 miles to use in the event of a breakdown or incident. Data produced by the radar and loop technology, measuring speed and congestion of traffic flow, is processed through regional control centres (RCCs). On ALR schemes this system is automated and the speed limits are set automatically. However, in the case of an incident, the traffic management system notifies operators in the RCC, and they decide how to manage the incident.
History
Smart motorways were introduced in 2006 on the M42 when potential additional capacity was identified in the form of the hard shoulder. Widening roads for capacity was not an option, being more expensive and environmentally damaging, so maximising the use of existing assets became a priority. Initially, controlled motorways were brought in, making periodic use of the hard shoulder. Trials for the new technology were conducted in the M40-M42 Birmingham Box area. The balance of the studies found a clear benefit in terms of vehicle movement per year and a clear economic benefit. After further studies, ALR was found to be a preferable solution and introduced on the M25 in 2014.
03 / Why smart motorways?
The main reason for implementing a smart motorway solution is to enhance the capacity of the motorway without the cost and disruption of adding an additional lane. Most of the foundations and building work are already in place for the hard shoulder, so it is a question of converting from the hard shoulder format to lane format rather than adding an additional lane from scratch. As a motorway reaches more than 80% capacity, small changes in speed can ripple across the whole system due to minimal capacity to absorb the shock. When the smart motorway regulates the traffic to the same speed, there is less incentive to switch lanes, and traffic flows more smoothly, allowing for more cars per hour on the same stretch.
Investment in motorways has not kept up with demand in the past two decades, highlighted by relative per capita spending on roads; 75% higher in France and 40% higher in Germany than the UK in 2010. As a result the quality of the network has declined and congestion, noise and poor air quality are issues at numerous hotspots. Continued underinvestment is not an option as aging roads will increasingly fail to meet social, economic and environmental aspirations of the country.
The SRN is strategically important, making up only 2.4% of all roads, but carrying 33% of road traffic and 67% of all freight traffic. Significant growth in demand on these roads is expected by the Department for Transport (DfT)who forecast 44% growth between 2010 and 2035.
By 2040, DfT estimates that unless action is taken congestion will cost £10bn a year in lost time, and £2.2bn to the freight industry. The high growth scenario for the SRN would result in the loss of 16 hours per household to traffic each year, 28 million lost working days per year and an annual cost to the freight industry of £3.7bn by 2040. Difficulties presented by congestion on strategic roads could include:
Impeded travel between regions, which hampers business
Longer travel times, which constrain possible job opportunities
Poor journey time reliability impacting on business
Negative impacts on efforts to spur economic growth with enterprise zones, potential housing sites and areas of high growth held back by bottlenecks
Increased stress on roads to ports and airports making it harder for British businesses to access export markets
Safety and environment suffering as congested traffic is more polluting and there is an increased risk of accidents.
Smart motorway schemes have proven effective in responding to congestion and growing demand. A review of the M42 DHSR scheme around Birmingham found that it not only reduced congestion and improved journey time reliability, but also improved safety, with the frequency of accidents falling by more than half on the stretch. Smart motorways fall within the existing highway corridor, so do not usually require complicated planning processes as they fall within the existing development corridor, potentially saving years of delay and enquiry costs.
Environmentally, any addition of capacity is going to present some challenges, and the increased capacity could be expected to drive up air and noise pollution in the area. However, evidence from existing smart motorway schemes suggests no significant increase in noise and air pollution. This could be partially due to the reduction in speed and smoother flow of traffic resulting in lower emissions.
In addition to other benefits, smart motorways improve speed compliance (and hence safety) by controlling and managing motorways through the use of overhead mandatory speed limits, driver information, CCTV coverage and enforcement. Improved speed compliance reduces risk to users of the motorway, and any construction workers active on it.
The ability to inform drivers of unexpected conditions through the latest generation of roadside variable message signs also improves safety and provides further benefits to the smart motorways programme (SMP).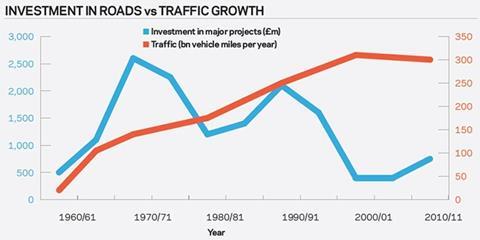 04 / Programme, cost and design
The smart motorway schemes to be delivered in the first Road Investment Strategy period (RIS1, worth £15bn, to be delivered by 2021) were outlined in the Road Investment Strategy. The SMP, under Highways England, is responsible for delivering the schemes. The programme approach has approved funding ring-fenced in the Autumn Statement, guaranteeing availability of funds for the projects.
Sixty-nine smart motorway schemes will enter construction in RIS1 across every region of England. A further 15 schemes are planned for RIS2 (2021-2025), including completion of smart motorways connections across the Pennines. Investments include nine schemes to develop a 145 mile "smart spine" linking London, Birmingham and the North-west. By 2040 Highways England aspires to a network that is smoother, smarter and sustainable, all achieved by maximising the capacity of the existing network. The SMP leadership team procured six consultants (including Arcadis) in three joint ventures to undertake the first tranches of schemes.
Smart motorway schemes are quick to complete, with the "accelerated programme" progressing construction of the elements needed to update the motorway to a smart motorway, in under two years, compared to 10 years for a road widening project. This is due to concurrent working, standardisation of solutions and the lack of land purchase requirements. The minimum requirement for smart motorways is a communications upgrade, involving running cables down the verges of the motorway to supply power to the new electronic equipment, and connect it to the control centre. Works to install signal gantries, create emergency refuge areas and strengthen the hard shoulder to support a full traffic load, all contribute to lengthening the duration of the build.
A "productisation" approach is being taken to deliver the extra capacity required in the most cost and time-effective manner possible. A principle of the SMP is "design once, use many times" so these learnings are developed into best practice and adopted as standardised solutions for other schemes. This approach requires agility and flexibility on the part of project teams due to ongoing adaptation and innovation of best practice. Life-cycle cost is taken into account, for example, by limiting the elements requiring extensive maintenance to reduce long-term maintenance costs for the scheme.
A lean process is encouraged, with time on site limited as much as possible to reduce disruption. As such, work is front-loaded at the design stage and efforts made to make the product more efficient before taking it to the roadside.
The technology represents only about a third of the cost of a smart motorway. Big cost drivers are the need to adapt the hard shoulder, build verge barriers, or drainage design in order to make the hard shoulder usable. However, the cost of updating a section of motorway to ALR remains much less than the cost of widening the motorway, as it avoids all land purchase costs costing £6.4m per additional mile of lane provided compared to £9.9m per mile for an additional lane of trunk road, for example.
Table 1: Smart motorway schemes as of February 2016
| Scheme | Area | Open for traffic |
| --- | --- | --- |
| M6 J10a-13 | Midlands | Q3 2015/16 |
| M1 J39-42 | North-east and Yorkshire | Q3 2015/16 |
| M1 J28-31 | Midlands | Q4 2015/16 |
| M5 J4a-6 | Midlands | Q2 2016/17 |
| M1 J32-35A | North-east and Yorkshire | Q4 2016/17 |
| M1 J16-19 | Midlands | Q4 2016/17 |
| M3 J2-4a | South-east | Q1 2017/18 |
| M6 J16-19 | North-west | Q1 2017/18 |
| M60 J8-M62 | North-west | Q2 2017/18 |
Table 2: Planned smart motorway schemes announced in June 2013
Construction starts
Open for traffic
15/16
16/17
17/18
18/19
19/20
17/18
18/19
19/20
20/21
21/22
22/23
Number of schemes
3
2
5
3
3
2
1
5
1
6
0
05 / Highways england's collaborative approach
The approach to road construction and management changed in 2015 when the Highways Agency became Highways England, a government owned strategic highways company. The Office of Rail Regulation has taken on the role of independent monitor, holding Highways England to account for delivering to quality, time and budget.
Capital expenditure is structured through programmes of work and procurement and allocation of work can be planned in advance. The long-term plan permits delivery of a significantly larger volume of capital investment than had previously been possible.
The Collaborative Delivery Framework (CDF) makes use of a bespoke contract based on the NEC, which emphasises collaborative partnering with target cost and uses incentivisation in a pain/gain scenario. It includes incentivised targets for continuous improvement on performance, time, cost and quality and aims to drive efficiency.
Three main routes to procurement are used:
Framework agreements let and owned by Highways England
Framework agreements let by the Crown Commercial Service or other public bodies
Individual contracts let through Official Journal of the European Union (OJEU) which will normally be let through open procedure to encourage competition and interest from small and medium-sized enterprises (SMEs)
There are many skillsets involved in the design, construction, maintenance and operation of a smart motorway, including:
Operation and safety
Traffic management and analysis
Civil engineering
Technology experts
Environmental/economic assessment skills.
There is significant emphasis on collaboration in the CDF, and various stakeholders are brought together during the preliminary design stage to ensure they work together and identify issues before bringing the work to the road side. Collaborative practices include the running of a peer-to-peer network for some disciplines to learn from each other, and the development of guidance documents based on identified best practice called "really useful guides".
Sharing commercial intelligence is integrated within the supply chain. For example, taking maintenance needs into account led to fixed taper points being designed into the scheme rather than the use of traffic management signs when undertaking construction work, allowing the actual process of how lanes are closed to lead the design of the scheme.
A "right first time", one-team approach is used to ensure the skills and contributions of the suppliers come together to optimise the output and deliver best value for money.
Value delivered is measured against clearly defined criteria. Quality and cost continue to be assessed, but the decision making process is based on the principles of best value. As such Highways England is increasingly measuring behaviours as part of their decision making criteria when awarding and managing contracts. The most significant factors used in determining best value are:
Exemplary health and safety performance
Excellence in customer service delivery
Performance based on whole-life value and affordability
Innovation.
The CDF also provides for pooling and planning of resources across the suppliers, therefore partially avoiding one of the big challenges in the current construction environment – shortages in skilled labour and other resources.
By working collaboratively, the CDF provides forward visibility to help the supply chain make plans to commit resources and people, encourage innovation and bring new suppliers into the market. This will allow existing suppliers to do more for the same budget, with limited resources.
The CDF maximises effectiveness by allowing collaboration to identify issues, find solutions, develop best practice and productise the programme. In addition to the collaborative approach, there has been a shift in attitude with the creation of Highways England, moving from a focus on construction alone to building, operating and maintaining the asset.
06 / Technology
Various technologies are used on smart motorways, and there is a potential for further innovation over the course of the SMP. In all cases reliability and design for maintenance is key, particularly on ALR sections where there is no hard shoulder for short stops to maintain.
For example, Highways England uses either induction loops or radar detectors to measure congestion and set the variable speed limit. Maintaining loops requires digging up of the road to replace them, therefore radar at the roadside is the preferred technology for ALR.
There is 100% CCTV coverage on the smart motorways network, used to identify incidents and plan the appropriate reaction in terms of lane closures and variable speed limits at the RCC. In comparison with DHSR, ALR has a reduced amount of technology, not only improving the value of the schemes but also reducing the risk to the road worker who has to maintain the technology.
Smart motorways aim to be at the cutting edge of technology, and in order to keep pace with innovation and incorporate emerging technologies Highways England is setting out its approach to innovation, technology and research early in RIS1. The pace of development in technology continues to mould the future of smart motorways.
Moving vehicle (SIM) location data is being progressively integrated to give better real time management of traffic, enabling predictive and personalised traffic information for road users.
Semi-autonomous technology to assist drivers and progressively take on the job of driving is being developed and adopted and vehicles will soon communicate with each other to drive more cooperatively.
The technology will require upgrading so the infrastructure can communicate effectively with increasingly autonomous vehicles, putting more messages inside the car and removing the need for variable message signs.
In the meantime, Highways England is developing journey planning and data provision apps, which are tied into the system and reflect real time data allowing users to self-optimise their journey, further improving capacity.
07 / Health and safety
Safety concerns are prevalent in both optimising the use of the motorway and protecting the construction workers undertaking the update works.
Evidence has shown that the use of reduced speed limits in congested conditions tends to reduce the number and severity of accidents and will protect the back of the queue from the risk of secondary incidents.
Questions were raised regarding the use of the hard shoulder as a running lane by services that traditionally made use of it to reach their destination more quickly, such as the police or ambulances.
They have expressed concerns around the safety of the scheme, though evidence from existing schemes, including the M25, indicate no increase in number and severity of incidents.
Road workers do a vital job, but have one of the highest risk occupations in the UK.
Safety is naturally a priority for Highways England and reducing the overall maintenance requirements on ALR schemes reduces risk. Additionally, technology developments mean most of the technology on the schemes will be accessible remotely, further reducing risk.
Various safety initiatives have been implemented to try and make working on an active road safer for both construction workers and users, mostly led by the contractors involved.
Examples include the Varioguard, introduced five years ago, which is a portable barrier that can be moved along lengths of the carriageway overnight. Average speed cameras are used at roadworks to limit speeds to 50mph, as studies have shown that if speed is decreased to this level, lanes can be narrowed, allowing roadworkers more space to manoeuvre in.
Challenges remain around communication of smart motorways, with poor understanding of how to manage a breakdown found in simulator and computer-based assessments by the Transport Research Laboratory (TRL), with only 50% of drivers tested aware to head to the Emergency Refuge Area.
Highways England is targeting communication campaigns to improve driver education.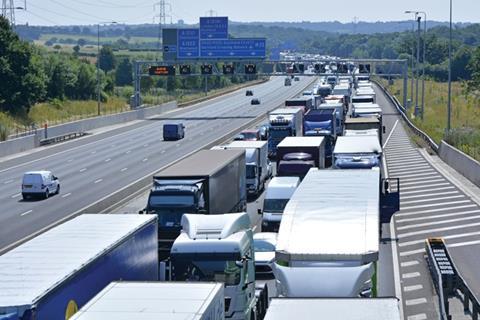 08 / M25 case study
The M25 was one of the first completed ALR smart motorway schemes and is part of a key strategic orbital route around London, which forms the hub of the British motorway network and also serves as a commuter route for London's large volume of commuter traffic. The scheme has been closely monitored to test whether smart motorway schemes are truly making the most out of the asset by expanding capacity without impacting on safety. The interim report presenting results from May 2014- April 2015 by Highways England found that the scheme is easing congestion and reducing journey times on the M25 with no adverse effect on safety. The Transport Select Committee launched an enquiry into the scheme in December 2015 to determine the impact of all lane running, to inform how future policy should evolve and to review the results found so far.
| | Traffic flows | Journey times |
| --- | --- | --- |
| J5/-7 clockwise | +13% | -3% |
| J5-7 anti-clockwise | +3% | -2% |
| J23-27 | +10% | -7% |
There was an improvement in traffic flows and journey times across both schemes, with the biggest improvements occurring in time periods that were previously congested. For example, on the J23-27 stretch average journey times during Monday to Thursday morning peaks anti-clockwise decreased by four minutes. Across both schemes the number of vehicle hours delay was reduced saving a total of 7,680 hours per day between the schemes.
Though for the most part the figures are good, non-compliance for lane closures was 7%, a figure the RAC raises as a cause for concern. With no permanent hard shoulder, the safety of someone breaking down in lane is highly dependent on motorists obeying overhead signage indicating the closure of the lane to traffic. Misuse of ERAs is also worrying, with 21% of non-local road users assuming it is permissible to use an ERA to attend to a child. Both of these causes for concern could be driven by a fundamental lack of driver awareness of how to use smart motorways, with only 42% of users surveyed aware of the changes on the M25. These results suggest users are still getting to grips with how to make use of ALR motorways, and more communication efforts could be required in order to deepen understanding.
However, in terms of actual incidents the potential lack of understanding has not led to any increase in number or severity, and the majority of users claim to feel safer after the upgrade. Similarly, no deterioration of environmental quality was observed. As such the M25 scheme has successfully expanded capacity, with no measurable safety or environmental impact.
09 / Conclusion
The development of a smart motorway programme with ring-fenced funding is allowing Highways England to maximise the capacity of our existing motorway network as part of the Road Investment Strategy. This essential investment will open up wider commuter circles around key cities, provide better connections within and to the "northern powerhouse" and improve journey time reliability for businesses and individuals alike. Though the sheer volume of work is a challenge, the CDF gives forward vision to suppliers, and allows best use of resources, as well as providing an example of what true collaborative working can achieve.
The UK was facing a crisis of road investment, lagging behind our European peers and creating a drag on the economy as a result. The investment in smart motorways will bring us back on track, and keep us at the forefront of motorway innovation.
Thanks to Ian Bell, Graham Martin, Colin Black, Stuart Pritchard and Mark Brown of Arcadis for their contribution to this piece.