Read about the winner and shortlisted entries for this year's Housebuilder of the Year award
Winner: Mount Anvil
London-based Mount Anvil has invested substantial resources in a small number of projects where it says it can offer a compelling value-added proposition to landowners while creating homes and communities. In June the mayor of London provided the company with a sizeable loan facility, creating a partnership that is the first of its kind between GLA Land and Property and a private developer. The mayor's backing will enable Mount Anvil to accelerate construction of the next 2,000 homes in its pipeline and continue the rapid expansion of land-buying activity as part of its strategy to deliver 10,000 homes in London by 2030.
The group continues to employ modern methods of construction to minimise waste and decrease on-site hazards, while its new Makers and Mentors scheme will focus on helping young people maximise their potential. And last year Mount Anvil partnered with Bouygues UK, Tower Hamlets council and Women into Construction to develop a bespoke introduction to construction course focused on encouraging more women to enter the industry.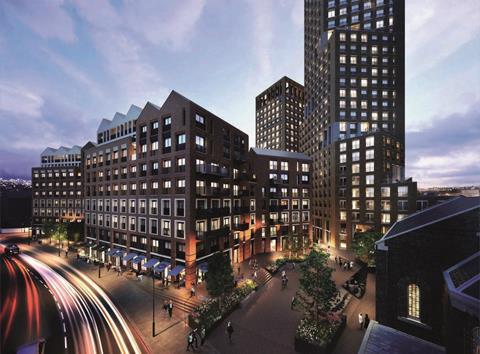 Runners-up
Berkeley Group
Berkeley has made significant progress on its long-term regeneration sites, many of which are now maturing into new communities. This year it increased the number of such projects in its portfolio to over 25. Underused sites are being transformed into new neighbourhoods of between 1,000 and 5,000 homes, supported by a mix of community amenities and infrastructure. The company is meanwhile embracing new technology through construction of its advanced manufacturing facility in Northfleet, Kent. The Berkeley Modular factory includes a digitally enabled robotic assembly process to manufacture homes it claims will outperform traditionally built homes on thermal performance, environmental impact, build time and quality standards. The housebuilder has net biodiversity gain strategies in place for 35 sites, which altogether will create 185ha of new or improved natural habitat.
Miller Homes
Established in 1934, Miller Homes has recorded its eighth successive year of consecutive growth, with completions increasing by 10% to 3,498. The firm launched a new office in Teesside in autumn 2019 and strengthened its executive team with the promotion of Stewart Lynes to the newly created role of chief operating officer and the appointment of Warren Thompson as divisional managing director for northern England. Digital innovation has been a key part of Miller's strategy. Last year it launched the My Miller Home app, allowing customers who have reserved a home to access a wide range of information from their smartphone or tablet to keep them involved every step of their homebuying journey. This proved invaluable during the lockdown, as customers could use the technology to continue with many aspects of the homebuying process and engage with the housebuilder from a safe distance.
Redrow
Redrow has invested in innovation, created sustainable developments and nurtured its staff. While the pandemic will inevitably hit the industry in 2020, investment over recent years in digital capabilities to improve the homebuying experience for customers meant the group was well placed to support those who still wanted to progress with their move during lockdown. Its online reservation service, accessed via its website members' area, allows buyers to legally complete the reservation of their new home online. Customers no longer need to visit sales centres for a long reservation meeting and can instead read and review all documents in their own time. Meanwhile the focus on improving customer service has continued, with developments including a bespoke tablet-based quality management system to better track and measure standards and deal more efficiently with workmanship issues during the build process. Redrow has also brought in a health and safety training standard and competency matrix for all its employees.