Phil Birch of Sweett Group reviews recent research by the Energy Bill Revolution campaign to assess what it is going to take to turn the UK into the energy efficiency champion of Europe
01 / INTRODUCTION
Much has been said about the UK's failure to have a football team in the quarter finals of the Champions League. But this article considers how the UK performs in another European league, that of housing energy efficiency, one of Building's priority areas in the Green for Growth campaign.
Thus far, the reception to the Green Deal (arguably the main vehicle for kick-starting the domestic refurbishment revolution) can be considered lukewarm at best. Meanwhile, the prolonged cold weather highlights the urgency of improving our inefficient stock and acting on David Cameron's recent pledge to make the UK "the most energy-efficient country in Europe" .
This article appraises what Cameron and the UK are up against. It highlights opportunities available to help the country climb to the top of the European energy efficiency league table and capture some of the benefits that energy efficiency brings: warmer homes, reduced running costs and lower carbon emissions.
Much of this analysis is based on primary research by ACE Research on behalf of the Energy Bill Revolution (EBR) campaign. The EBR is a movement of people committed to ensuring warm homes and lower bills for all. Their objective is to convince the government to use the money it gets from carbon taxes to help make homes super-efficient through investment in insulation, low-carbon energy and modern heating systems.
This article compares the UK with countries in Europe that are both fairly prosperous, and have "full" heating seasons (in other words, that usually need to heat their homes throughout the winter). Countries that are either significantly less prosperous than the UK, or have warm climates, or both, are not included.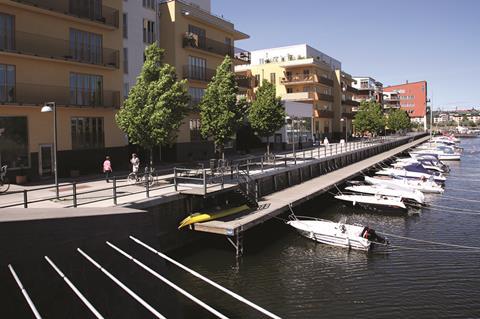 02 / AFFORDABILITY OF HEATING AND ENERGY POVERTY
A vitally important issue is whether people can afford to heat their homes adequately. The table below shows that 6.5% of UK households say they cannot afford to keep their home warm.
Moreover, about one in five UK households is defined as fuel poor, so while 6.5% say they are unable to adequately heat their homes, many more are likely to be struggling to keep warm, or at risk of energy debt or cuts in other areas of household spending. The table is, however, a good indicator of where the UK stands in relation to other European countries.
On fuel poverty (or energy poverty, as it is referred to in European policy circles) the European Commission developed an estimate of its incidence in the EU, in the workingpaper An Energy Policy for Consumers in 2010. The results are in the graph below.
To provide an estimate of the number of households in energy poverty, the commission assessed how many households in each country were spending more than twice the national average share of their expenditure on energy. On this basis, the UK has the highest incidence of energy poverty among the countries compared here - 19.2%, as shown by Figure 2.
03 / ENERGY PRICES AND INCOMES
It might be assumed that UK residents are struggling to keep warm because of high energy prices. Although it is true that retail gas and electricity prices have seen significant increases in the last few years, the UK has relatively low energy prices compared with other European countries.
The Department of Energy and Climate Change's (DECC) most recent Quarterly Energy Prices update (DECC 2012b) states that in 2011, average UK domestic electricity prices, including taxes, were the third lowest in the EU15 (the member states prior to May 2004). Average UK domestic gas prices, including taxes where not refunded, were the second lowest in the EU15. (Including the UK, 11 out of 16 countries compared in this article are also part of the EU15 group.)
The 2011 data 1 for the countries compared in this article - 16 EU countries including 11 of the EU15 - shows that the UK had the fourth-lowest electricity price and the lowest gas price.
For incomes, 2011 "real adjusted gross disposable income of households per capita" from Eurostat was examined. At €21,900 (£ 18,597), the UK ranks seventh out of the 13 countries for which data is available, and is within €1,000 (£849) of Finland and the Netherlands (which have marginally less income), and Sweden and Belgium (which have marginally more).
This makes the data presented here so far all the more significant:
UK residents struggle more than all the other countries (apart from Belgium) in this comparison to afford their heating bills, and have the highest incidence of energy poverty
This is despite facing among the lowest energy prices and having middling incomes
It is worth noting that Sweden - with household disposable income that is closest to the UK's but gas prices that are the highest among the countries for which Eurostat data was available - scores a lot better than the UK on heating affordability, average share of expenditure spent on energy, and the incidence of energy poverty. This is despite the fact that Sweden is a country where the weather is colder for longer.
Figure 1
| Country | Proportion who say they cannot afford adequate heating (%) | Rank |
| --- | --- | --- |
| Luxembourg | 0.9 | 1 |
| Norway | 1.2 | 2 |
| Sweden | 1.6 | 3 |
| Netherlands | 1.6 | 4 |
| Finland | 1.8 | 5 |
| Iceland | 2.0 | 6 |
| Austria | 2.6 | 7 |
| Denmark | 2.6 | 8 |
| Germany | 5.2 | 9 |
| Switzerland | 5.3 | 10 |
| Slovenia | 5.4 | 11 |
| France | 6.0 | 12 |
| Czech Republic | 6.4 | 13 |
| UK | 6.5 | 14 |
| Belgium | 7.1 | 15 |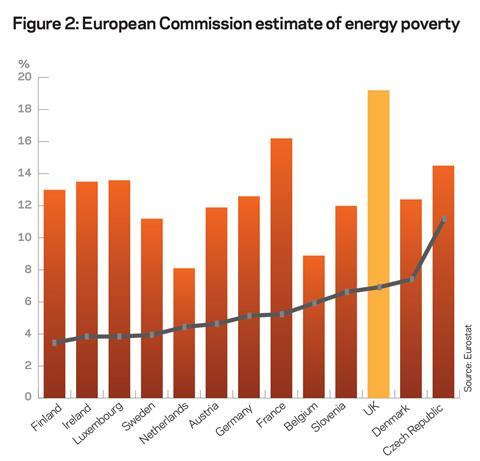 04 / ENERGY PERFORMANCE OF HOMES
So with relatively low energy costs and middling incomes, it is inescapable that the primary cause for the high levels of energy poverty in the UK is the performance of the nation's homes. With the available data, there are two main ways that this can be measured.
The first is by examining indicators of condition, such as the number of households living in a dwelling with a leaking roof, damp walls, floors or foundation, or rot in the window frames or floor. These sub-standard homes may be hard to keep warm, and can present a health risk to occupants. (It is common practice in the UK to consider issues such as mould, condensation and damp as indicators of possible fuel poverty.) Figure 3 shows the UK's performance relative to others.
Figure 3
| Country | Proportion who say they cannot afford adequate heating (%) | Rank |
| --- | --- | --- |
| Finland | 5.7 | 1 |
| Norway | 7.6 | 2 |
| Sweden | 8.4 | 3 |
| Switzerland | 10.6 | 4 |
| France | 10.9 | 5 |
| Czech Republic | 11.9 | 6 |
| Austria | 13.6 | 7 |
| Germany | 13.7 | 8 |
| Netherlands | 14.6 | 9 |
| Luxembourg | 15.5 | 10 |
| UK | 15.9 | 11 |
| Denmark | 16.0 | 12 |
| Iceland | 16.0 | 13 |
| Belgium | 21.2 | 14 |
| Slovenia | 34.7 | 15 |
The U-factor
A second relevant indicator of housing quality is the average U-value of walls. Figure 4 shows countries' average wall U-values 2 in single-family dwellings, derived from the Building Performance Institute Europe's Data Hub for the Energy Performance of Buildings. To reflect the fact that each country's climate is different (with colder climates necessitating lower U-values), the table also includes the "optimal" wall U-value for new and existing buildings in each country. Each optimum was calculated to reflect the most cost-efficient standard for buildings in each country in order to make their contribution to the EU's 2050 climate goals (see ECOFYS 2007a and ECOFYS 2007b). The countries in the table are ranked by the size of the discrepancy between the current average and optimal average U-values.
For the eight countries for which data was available, the UK ranks second to last, with current wall U-values and the discrepancy with the optimal average similar to Slovenia. Sweden is by a long way the country closest to achieving its optimal U-value. To put UK U-values in context, the average for the whole wall is not too dissimilar from the performance of a good-quality double-glazed window. The current minimum U-value for walls in new housing is 0.24-0.27W/m2K.
Worst offender
Together, this data suggests that the UK's buildings perform badly in terms of energy efficiency. This is a key reason why so many UK people cannot afford their heating, and are at risk of cold homes, fuel poverty and impacts on their health and wellbeing.
None of the countries compared in this article perform as consistently poorly as the UK. The level of energy poverty is all the more worrying considering the fact that the UK's domestic gas and electricity prices are among the very lowest in Europe. If energy prices were to increase towards the average levels across the EU then the impacts on energy poverty would be disastrous.
Countries with the highest gas prices - Sweden, Denmark and the Netherlands - have the highest levels of space heating affordability. At the same time, Denmark and Sweden have the most efficient housing stock, while Sweden and the Netherlands have among the lowest levels of energy poverty. The case of Sweden, in particular, suggests that energy-efficient buildings can enable people to live in warm homes even while facing high prices (and extremely cold winters).
Conversely, the UK, France and the Czech Republic are the three worst-ranking countries in terms of energy poverty, despite enjoying the lowest gas prices. This is no coincidence. Given the poor efficiency in the UK and France, it may be politically expedient to ensure prices are relatively low - for example through reduced rates of VAT on domestic energy in the UK and France.
The Czech Republic, meanwhile, has more efficient housing, but its household income is by far the lowest for the countries compared, which is the main reason for energy poverty and could be the main driver for keeping gas prices low.
High price to pay
The impacts of cold homes on health and wellbeing are now fairly well established, and these findings may also help to explain the UK's historically and comparatively high rates of excess winter deaths. In the last European survey undertaken in 1997, the UK ranked ninth out of 10 among the countries compared here for excess winter deaths.
These findings confirm that there are very real political, social, environmental and economic opportunities available in making our housing stock one of the most efficient in Europe.
Figure 4: Average U-values of walls in single family dwellings
| Country | Average U-value of walls (W/m2K) | Optimal U-value | Discrepancy | Rank |
| --- | --- | --- | --- | --- |
| Sweden | 0.35 | 0.17 | 0.18 | 1 |
| Denmark | 0.57 | 0.19 | 0.38 | 2 |
| Czech Republic | 0.86 | 0.22 | 0.64 | 3 |
| Austria | 1.04 | 0.20 | 0.84 | 4 |
| Netherlands | 1.10 | 0.21 | 0.89 | 5 |
| Slovenia | 1.21 | 0.27 | 0.94 | 6 |
| UK | 1.16 | 0.21 | 0.95 | 7 |
In July 2012, DECC 3 published the following figures on the remaining potential in the UK for cavity, loft and solid wall insulation:
| Figure 5 | |
| --- | --- |
| Cavity walls insulated | 12,910,000 |
| Cavity walls remaining | 5,570,000 |
| Lofts insulated | 15,200,000 |
| Lofts remaining | 8,200,000 |
| Solid walls insulated | 144,000 |
| Solid walls remaining | 7,670,000 |


By the end of 2022, it is estimated that the Energy Company Obligation will address an additional 2.3 million lofts, 3.3 million cavity walls and 980,000 solid walls 4, at a cost of £1.3bn a year paid through an increase to our energy bills of an average of £66 5 (by 2020) a year.
This would leave 5.9 million lofts, 2.27 million cavities and 6.7 million solid walls that would need to be picked up through other mechanisms. Figure 6 sets out the approximate cost involved:
Figure 6
| Measure | Number remaining | Approx cost of measure | Total cost |
| --- | --- | --- | --- |
| Loft | 5,900,000 | £300 | £1.77bn |
| Cavity | 2,270,000 | £500 | £1.14bn |
| Solid wall | 6,690,000 | £10,000 | £66.9bn |
TOTAL: £69.8bn
Source for cost of measures: Energy Savings Trust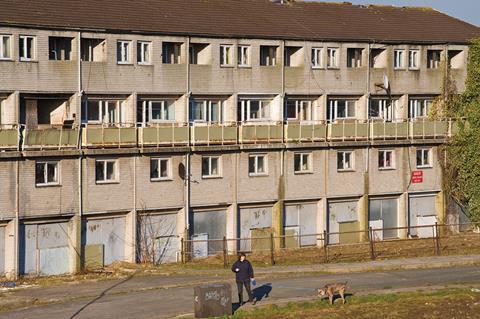 05 / SOLUTIONS
1. The Green Deal
The initial statistics from the launch of the Green Deal showed that about 1,800 assessments were lodged in the first month. At that pace, it is estimated that it would take more than 500 years to address all of the properties in need of upgrading. Clearly, this is an unfair estimate as the government and industry are confident that uptake will increase as supply chains mature and awareness grows. Nevertheless, assuming that the Green Deal will be sufficient to address the scale of the problem is perhaps overambitious.
2. Avoid costs elsewhere and reuse these savings
Fuel poverty remains a serious and growing problem - a 25% increase in the average gas and electricity bill would double the number of children in fuel poverty to 3.2 million, and there are projected to be 8 million households in fuel poverty by 2016, which is the deadline for eradicating fuel poverty. Overall, according to the chief medical officer, illnesses caused by cold homes cost the NHS more than £850m a year 7.
That £850m could address about 170,000 homes (assuming an approximate cost of £5,000 to go from an F or G-rated property to an E). This would lift 3% of households out of fuel poverty. Overall it would still leave a considerable number of households as fuel poor and in terms of the energy efficiency standards would leave the UK in lower mid-table mediocrity.
3. Recycle carbon revenues
In terms of energy efficiency, France and the UK are in a similar position, however the French have acted vigorously to address their housing. In September last year the French government decided to recycle its carbon revenues from the EU Emissions Trading Scheme back into retrofitting its housing stock.
As research for the EBR campaign makes very clear, this choice is available to decision-makers in the UK as well. Recycling carbon revenues would provide a very powerful means of removing energy inefficiency as a cause of fuel poverty, create the types of jobs and economic benefits the UK presently needs, reduce carbon emissions and go a long way to meeting prime minister David Cameron's ambitious energy efficiency pledge.
The EBR work shows that recycling the carbon revenues could be worth £4bn a year over next 15 years. The European Commission is formally requesting member states to reinvest these proceeds into climate mitigation and energy efficiency. If the UK was to follow suit this could provide the stimulus to deliver the mass change required.
Coupling this investment with relatively low fuel bills and high income would send the UK soaring up the table. The result? Within seven years, fuel poverty would be eradicated; within 18 years all of the stock could be addressed. The UK would be a long way towards meeting its long-term energy and carbon targets and would sit as champions of Europe - perhaps not as glamorous as being footballing greats but in the grand scheme of things far, far more important.
3 (DECC 2012)
4 (DECC 2012, Energy Trends)
5 (DECC 2013, Estimated impacts of energy and climate change policies on energy prices and bills)
6 (Energy Saving Trust (EST) www.energysavingtrust.org.uk)
7 (EBR 2013)