Hazel Blears now has role at Land and Lakes which will see accommodation it is building used to put up nuclear workers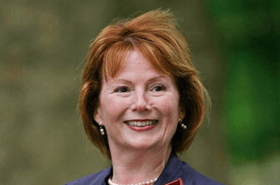 A former Cabinet minister in Gordon Brown's government has said a planned spending spree on a slew of infrastructure projects should be used as a battering ram to build more homes as well.
Hazel Blears was communities and local government secretary for two years until June 2009 before she resigned from Cabinet.
Blears (pictured), who was also the police minister during Tony Blair's government, stepped down as an MP at the 2015 general election and is now a non-executive director with Cumbria-based residential and leisure developer Land and Lakes.
The firm is in discussion with Japanese-owned Horizon Nuclear Power over temporarily accommodating the construction workers needed to build the planned Wylfa Newydd nuclear power station on Anglesey at a nearby £120m holiday village it is developing.
And it is looking at providing modular housing for the workers needed to build another nuclear power at Moorside in Cumbria.
Blears said: "We have a housing crisis in this country, so why not, rather than build a temporary camp for workers, why wouldn't you build permanent modular housing? If we don't do this it's a completely missed opportunity, so I want to see that happen… anywhere major infrastructure is built."
And the former MP for Salford and Eccles added: "At Land and Lakes we've got a whole new concept that when the construction workers come in, we will make sure we have built for them modular housing that is high quality, energy efficient, together with sports and leisure facilities.
"After the construction is over and a vast majority of the workers have left those homes can be converted from accommodation for workers into affordable family housing."
Land and Lakes chief executive Richard Sidi said accommodation at its Anglesey holiday village will be used to house workers and a further 320 modular new homes will also be used to put up builders. "They will then be refurbished for family use," he added with around half marketed as affordable homes.