Costain hits the top with contract haul worth £457m
A dozen projects, including a £152m Welsh road contract, boost contractor to top of this month's league table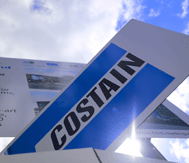 Costain has surged to the top of the contractors' table for June after securing 12 contracts worth a combined total of £457m.
The firm's largest contract win was a £152m deal with the Welsh government to dual a section of the A465 between Gilwern and Brynmawr.
THE CPA/BARBOUR ABI INDEX
The Index shows construction contract awards based on Barbour ABI research. It is adjusted for seasonal variation and includes monthly deflators to allow for price changes. The Index is benchmarked against the value of 100 in January 2010.
For index data on 11 different industry sectors click here