Sustainability White Paper (Special Offer)
How to get this report
The link below will become active once the White Paper has been purchased.
Click 'buy now' to purchase.


To purchase this report via invoice please
download
the form attached
*Please note you will need to be logged in or registered on building.co.uk in order to make your purchase*
Pre-ordered reports will be delivered as soon as available.
Sustainability White Paper
Already purchased this report? Sign in
Price: £ 269.00 Buy now
Buy your business critical information now: Do you want to know the future of sustainability for construction?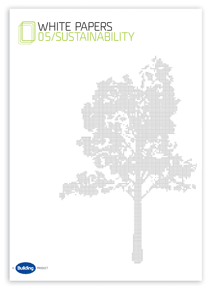 With expert advice, in depth commentary and exclusive survey and market data from key sustainability professionals, this report will support you in making business decisions for the coming year.
Inform your business planning with in-depth exploration of the business case you can use for investing in sustainable buildings
Better understand the market using the full analysis of the government's current sustainability policy, and expert commentary on likely future trends
Plan ahead for your business with a detailed breakdown of current and forthcoming sustainability regulations
Win more work by finding out what matters to clients and specifiers – exclusive survey of major clients revealing attitudes towards sustainability and investment priorities
Benchmark your performance using a detailed survey of end users revealing what they think of their completed buildings
Stay ahead through competitor analysis including exclusive data revealing which firms have the most involvement in sustainable buildings