Despite bad weather in January, construction activity levels went into positive territory. But, according to Experian Economics, any gains at the start of the year will be lost in the coming months
01 / STATE OF PLAY
After sliding back into negative territory in December, the construction activity index gained seven points to reach 53 in January. There was a mixed performance among each of the sectors' activity indices. The residential index remained unchanged at 52, while the non-residential index added 10 points to take it firmly back into positive territory at 57.
Civil engineering experienced a 15-point decline, taking the index to 46, its lowest level in six months.
The orders index remained unchanged at 50, indicating that orders were normal for the time of year. In the residential sector the orders index fell by two points to 47. The non-residential and civil engineering sectors both gained three points, reaching 62 and 52 respectively, with the latter regaining its place above the no-change mark of 50 following a brief slump in December.
The percentage of respondents reporting no constraint on acttivity fell to 17% in January, its lowest level since April last year. Much of this appeared to be down to bad weather, as the percentage of people indicating that this was holding up their activity rose to its highest level since December 2010 at 16%. Insufficient demand dropped back marginally last month but still remained a very significant constraint, with 45% of firms saying that this was affecting their activity.
The employment index has remained firmly in negative territory since December 2007 and despite a two point increase is still five points below the no-change mark. This indicates that there is expected to be further employment cuts in the industry.
The tender prices index climbed back above the no-change mark of 50 for the first time in eight months in January, rising two points to reach 51. This indicates that firms expect prices to rise over the next three months.
02 / LEADING CONSTRUCTION ACTIVITY INDICATOR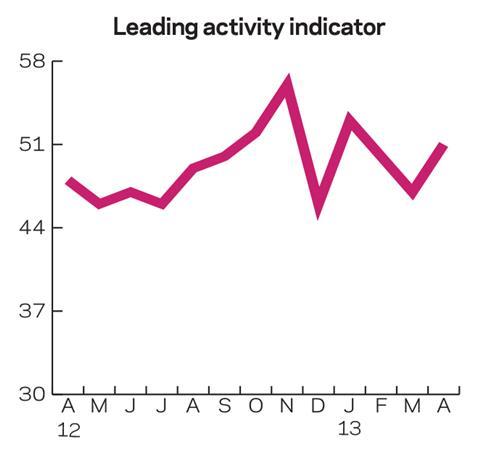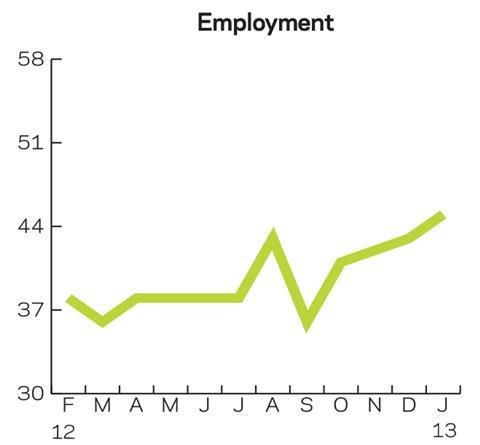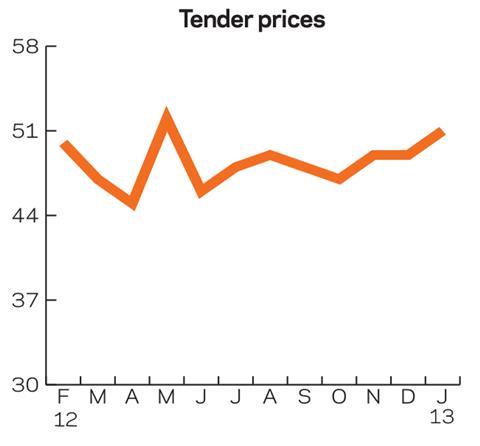 CFR's Leading Construction Activity Indicator is predicted to drop back to the no change mark of 50 in February. The following month will see the index slide a further three points, signalling declining construction activity, before a four-point uplift takes the indicator to 51 for April.
The indicator uses a base level of 50: an index above that level indicates an increase in activity, below that level a decrease.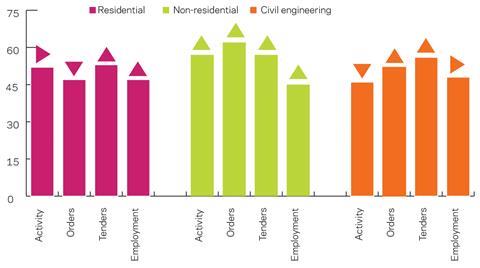 03 / LABOUR COSTS
Slightly fewer building firms reported falling labour costs in January, as the percentage fell further from its 40% peak in April 2012 to 29%. The bulk of firms, 55%, reported experiencing a labour cost increase of 5% or less over the past year, with only 16% citing rises above this level.
The percentage of civil engineering firms reporting falling labour costs increased to 50%, up from a third three months ago. All businesses that indicated that they were experiencing labour cost inflation reported the rise at less than 2.5%.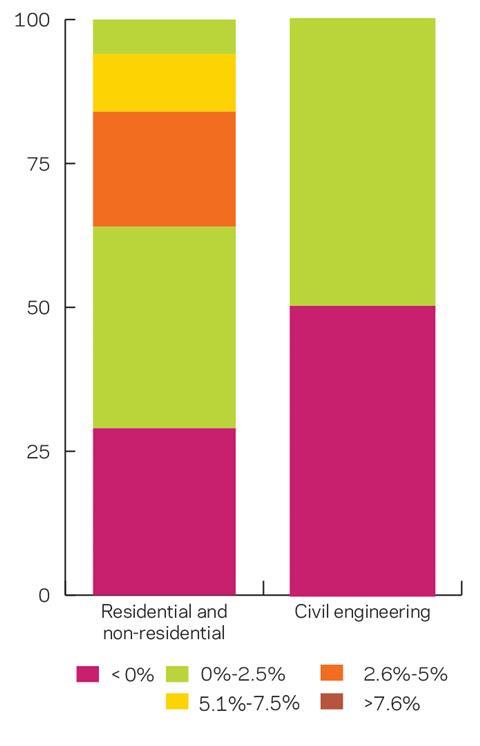 04 / REGIONAL PERSPECTIVE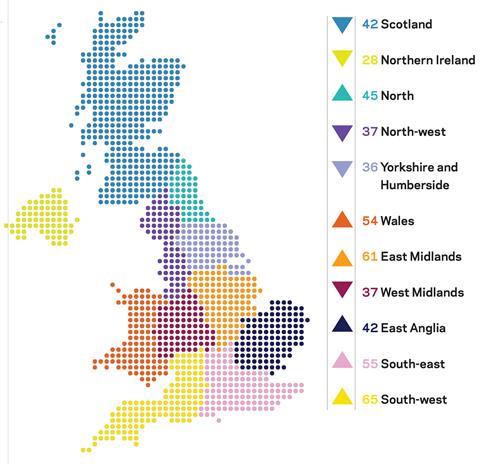 Experian's regional composite indices incorporate current activity levels, the state of order books and the number of tender enquiries received by contractors to provide a measure of the relative strength of each regional industry.
In January six of the eleven regions in the UK saw a rise in their index. The South-west experienced the greatest increase as it gained nine points to reach 65, its highest level since August 2007. Wales also experienced a strong rise in its index, rising six points to reach 54 - the first time it has been above the no-change mark of 50 in 18 months. The South-east saw its index add two points to reach 55, while the North, East Midlands and East Anglia gained one point, taking their indices to 45, 61 and 42 respectively.
Four regions saw declines in their indices with Yorkshire and Humberside experiencing the largest fall, as it dropped by nine points to a four-year low of 36. The index for Scotland slid six points to 42, while the West Midlands and the North-west both fell two points to 37. Northern Ireland experienced a fourth successive decline in its index as it reached 28 - a four-year low.