There's been plenty of talk about potentially leaving the EU without a deal, but very little detail. In the first of two articles launching our Building Without Borders campaign, Joey Gardiner examines the likely consequences of a no-deal Brexit for construction.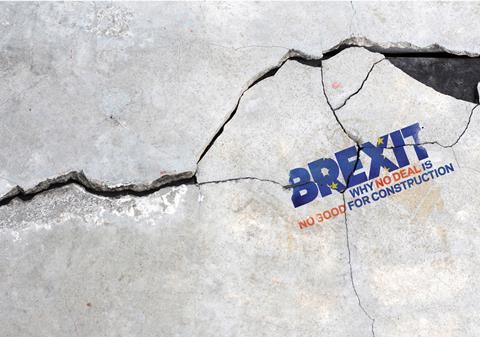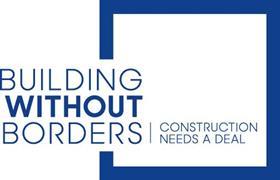 In July last year the Brexiter international trade secretary Liam Fox boasted that a free trade agreement with the EU would be the "easiest in human history" to strike. Thirteen months later, things look very different, with obstacles to concluding a deal – particularly in relation to the Irish border – appearing to grow harder to surmount with every passing day.
As Brexit secretary Dominic Raab steps up contingency planning, Bank of England governor Mark Carney has said the prospects of a no-deal Brexit are now "uncomfortably high". Even Liam Fox has now admitted the chances are 60:40 in favour of crashing out of the EU.
There is no shortage of business voices saying what a disaster a no-deal Brexit would be. But many ardent Brexiters maintain this is actually the best possible outcome for the UK's future. So, what would it actually mean for construction?
"If you try to plan for any particular scenario, there are just so many permutations it makes it impossible"

Will Waller, Arcadis
Having triggered Article 50 of the Treaty of the European Union, the UK is set to leave the EU on 29 March 2019. If a withdrawal deal is agreed, a transition period would apply until December 2020, during which, essentially, nothing will change, giving time for the UK and EU to thrash out what exactly life will look like after. But if no agreement is reached, the UK faces the prospect of exiting the EU in less than eight months' time without any vision – let alone a legal framework – for our future relationship with the bloc.
If that were to happen, UK trade with EU nations would not, of course, stop overnight.
But, compared with the current single market, it would introduce significant barriers to cross-border trade, while guaranteed freedom of movement of EU workers to the UK would cease.
"I very much doubt Polish plumbers will be rounded up and shipped home"

Alastair Stewart, Progressive
Keith Brooks, chairman of consultant Cast, says significant contingency planning will be required, because leaving without it would be "financial, economic and political armageddon". Former Tory MP (and Remain supporter) Tim Yeo, chairman of New Nuclear Watch Europe, says: "There's been an extraordinary complacency from people who say no deal is better than a bad deal. The day-to-day impact would be absolutely devastating."
The International Monetary Fund says that exiting with no deal would cost the UK about 5% in GDP growth over the subsequent five years, while individual EU countries, except for Ireland, would suffer much smaller negative consequences. Many predict further falls in sterling if no deal is secured, pushing up the cost of both everyday items and imported construction materials.
There is fear of a subsequent hit to business confidence. Steve Beechey, group strategic director for contractor Wates, says: "[Clients are] not going to make any investment decisions. This situation could trigger a significant construction downturn – I'm more worried about that than anything."
For Leave voters, of course, these concerns are just the latest to-be-expected sorties from "Project Fear". Certainly, there are positives to a no-deal Brexit, which would leave the UK free to make trade deals with other countries, and avoid the £39bn exit "fee" agreed with the EU last winter.
Leave supporter Alastair Stewart, equities analyst and consultant at Progressive, says any negative effects will be transitory. "There could be major government investment, monetary and fiscal stimulus packages, most probably aimed at housebuilding," he says. "We will have a greater range of economic levers to hand than the benighted members of the eurozone, who are crippled by the EU's 'one-size-fits-all' structure."
Whatever the outcome, it appears construction is not well prepared. "There hasn't been a lot of preparation in the industry for no deal," says Will Waller, director at consultant Arcadis, who sees no-deal as a "very realistic" prospect. "If you try to plan for any particular scenario, there are just so many permutations it makes it impossible."
So, what are the specific practical concerns over how construction firms will operate in the days following departure? Here, Building reads the fine print.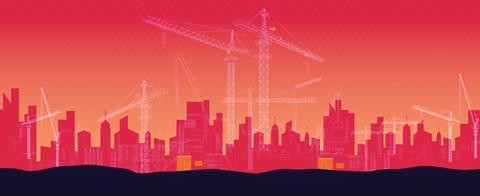 1. Construction products and materials
Leaving the EU without a deal would undoubtedly hit trade in goods with the EU, including construction products and materials. Just over £10bn of construction products are imported from the EU each year, including £1bn of timber and £750m of aluminium products, adding up to about 15% of products used in UK construction, according to Build UK. UK producers export more than £4bn of products back out to the EU.
The most likely option in the event of no deal – which the government has explicitly referenced – is that the UK would fall back on to World Trade Organisation (WTO) rules, bringing the sudden imposition of a range of tariff and non-tariff barriers at the borders. The good news (comparatively) is that tariffs on most products are relatively modest under WTO rules, averaging out, according to the CBI, at around 5.7% on imports. While these would be unwelcome, other sectors such as food and drink and cars would be comparatively much harder hit. The UK could even choose to abolish all import tariffs if it desired – although under the WTO's "Most Favoured Nation" rule, it wouldn't be able to do this to the EU alone, but would have to simultaneously drop tariffs to zero with every country it trades on WTO terms with.
Potentially more serious for construction are the so-called non-tariff barriers that would be imposed: the standards, regulations and other red tape that have to be borne when trading with another country. After leaving the EU, rather than being waved through, products would be checked at the border for appropriate paperwork, raising the prospect of big delays – with the government already working up contingencies that will see the M20 in Kent used as a lorry park. The CBI says average non-tariff barriers amount to a further 6.5% on costs. Noble Francis, economics director at the Construction Products Association, says: "The problem is not about tariffs, it's more about the industry working on 'just-in-time' delivery models where stocks of materials are not held. The impact of a no-deal scenario is completely dependent upon the extent of the delays."
Even worse, while UK and EU product standards are harmonised through the use of CE marks, which certify them as meeting EU regulations, the EU made clear in July that after a no-deal exit it would not recognise certificates issued by UK testing houses. This could mean products being held at customs while samples are sent for tests.
There may be a way round this, as the CE mark system is administered by CEN/Cenelec, a body separate from the EU and that already has non-EU members. Ant Burd, head of built environment at CEN member body the British Standards Institute, says talks are already ongoing to get changes to CEN's statutes agreed to reflect the UK's move outside the EU. He says: "Our membership of CEN is not contingent upon remaining part of the EU. It likely needs a change in CEN's statute and we've been working on that and it's not insurmountable."
But even if this is agreed, it would still be down to the EU and UK governments to make clear whether or not they each continue to recognise CE-marked products certified in the other jurisdiction. Guy Lougher, head of the Brexit team at law firm Pinsent Masons, says the UK government would be able to do that using a statutory instrument. "In relation to goods coming in, the government could simply say the CE mark is still valid. I can't see why it would become a political football," he says.
However, given everything else the government will be having to do at that moment, whether it would get round to doing that immediately is a different question. Lougher says some clients have already started stockpiling products and/or inserting Brexit clauses into contracts that seek to put the risk of additional materials costs and delays on to the supplier. Will Waller, director at consultant Arcadis, says: "You're potentially not going to be able to get things to site. There is a threat to programmes on schemes immediately from a no deal." He adds that materials cost inflation would also be exacerbated by a further fall in sterling: "It would definitely be inflationary on cost."
Nuclear industry projects such as the £16bn Hinkley Point C project face a further hurdle. Trade in sensitive nuclear materials is governed by the Euratom treaty, which the UK is likely to leave at the same time as Brexit, and without which exports and imports are simply illegal. New Nuclear Watch Europe's Tim Yeo says: "No-deal would put up serious barriers to trade, which might cause enormous problems for any new-build projects and prevent timely completion."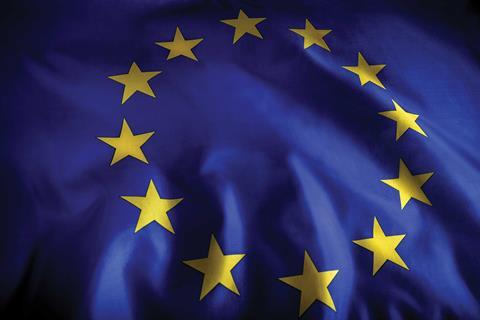 2. Movement of labour
Leaving the EU without a deal would leave EU nationals in the UK (and vice versa) with uncertain status, as the deal on this issue agreed between the UK and EU earlier this year was contingent upon a full and final withdrawal agreement being signed. Technically EU nationals – who provide around 7% of the UK construction workforce – would not have a clear right to work in the UK, though there is no sense the government would seek to prevent them doing so.
Leave supporter Alastair Stewart says: "I very much doubt Polish plumbers will be rounded up and shipped home," a view supported by others. Andrew Dixon, policy director at the Federation of Master Builders, says: "There's no reason to think that post no-deal the right to work of EU nationals would be under imminent threat. The problem is that for individuals and businesses there's a lingering threat, and workers might feel so unsettled as to leave themselves. There are huge levels of uncertainty."
The other problem relates to the need to bring in further workers. Both government and the industry have been working to train up UK staff to cope with Brexit to the December 2020 deadline, when the transition period that would apply in the event of a deal would end. A no-deal would make the day of reckoning 21 months earlier, and it is not clear, with the promised immigration white paper still awaited, what system the government would fall back on.
Would it seek to temporarily preserve freedom of movement, or would the existing Tier 2 rules governing movement of workers from countries outside the EU be relied upon? These would put limits on the movement of skilled professionals, while making movement of lower-skilled site workers all but impossible. Arcadis' Waller says this would inevitably force labour costs up, while the FMB's Dixon says: "We don't know what the government would default to. We don't want the supply of workers in the EU to completely dry up. But the truth is we're able to do very little apart from cross our fingers and hope for the best."
Cast's Brooks says construction is likely to get few favours from government. "The government does not see construction as a priority sector when it comes to border control relaxations," he says. "Government sees Brexit as a way of forcing construction to up its productivity and embrace technology – effectively weaning it off the migrant worker 'drug'."
3. British expertise
While few UK-run contractors work in the EU, many construction consultants – architects, engineers, surveyors – do sell their services. WTO rules allow cross-border trade in services but contain few specifics to iron out the regulatory issues. Hence it is extremely unclear how sales will be affected. The CBI said in October last year that in the event of a no-deal Brexit, "companies in some of our most successful exporting sectors would be unable to export specific types of services at all [including] financial a range of professional and business services".
The RIBA, for example, found a no-deal Brexit could reduce exports of architects' services by 15% a year – or £73m – even though most of the £500m of architecture exports are to countries outside the EU. Cast's Brooks says: "UK businesses could find themselves barred from competing for EU contracts or from working in the EU if they do not have businesses registered in the EU."
A key issue is that of mutual recognition of qualifications. The EU said in July that, in the event of a no-deal exit, it would only recognise professional qualifications gained in the UK before the March departure date. That would leave newly qualified architects, engineers and surveyors unable to practice in the EU. A RIBA spokesperson called on the UK and EU to show flexibility, saying: "An ongoing agreement is crucial to the continuing health of the sector both in the UK and EU."