Proposals would create new business district and 'Victory Arch Square'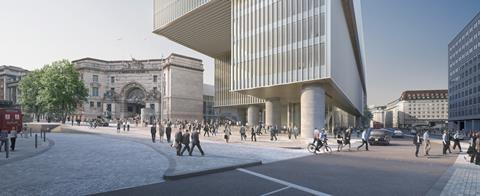 Victory Arch Square
Chelsfield and London & Regional Properties are seeking planning permission for a development next to London's Waterloo Station that would create new business district and a new face for the terminal.
The £600m plans, due to be submitted to Lambeth council this week, would see the replacement of Elizabeth House with two new buildings - one a 29-storey tower - and the creation of a new public space in front of the station, dubbed "Victory Arch Square".
Designed by Sir David Chipperfield, the project would see 10,000 m2 of new public realm running the length of the site from Victory Arch to Leake Street, connecting to York Road. A new double-height glass fronted gallery space will run along York Road and be open to the public with sofas, small retail kiosks, art space and wi-fi.
As well as creating space for up to 8,500 jobs on site, the two new buildings would also include 142 new homes across 15 floors.
Sir Stuart Lipton of Chelsfield said the proposals were an opportunity to "make a difference for Waterloo".
"The regeneration of the site will be a pivotal moment in a pivotal location for rail users, for the arts world, for the local community and for Londoners - the plans will significantly improve the experience for the tens of millions of people who pass through the site each year," he said.
Ian Livingstone, executive chairman of London & Regional Properties, said Elizabeth House would be "a shot in the arm" for the area.
"The development will create exceptional quality office space in the heart of London adjacent to one of the best connected stations in the UK," he siad.
"These plans are key to unlocking future growth in Waterloo."