From the ingenious transformation of some of London's remaining gasholders into homes to the UK's first proton beam facility; from an office that blurs the boundaries between work and home to the fastest school ever built, Ike Ijeh surveys the shortlisted nominees for the coveted Building magazine Project of the Year Award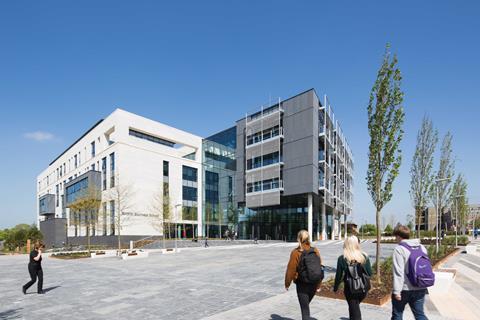 Bristol Business School
Bristol
Architect Stride Treglown
Client University of the West of England
Contractor ISG
Submitted by ISG
The £55m Bristol Business School is a truly transformative project for the University of the West of England. Home to 6,000 students and 300 staff across the business and law faculties, the new glass and stone building forms an impressive campus hub with a radical hybrid teaching philosophy that allows the business world to engage directly with both staff and students. Facilities include a legal clinic, lecture theatres and showcase court rooms, all of which have already been used by a diverse range of corporate stakeholders ranging from small local SMEs to global players like Google, NatWest and PwC.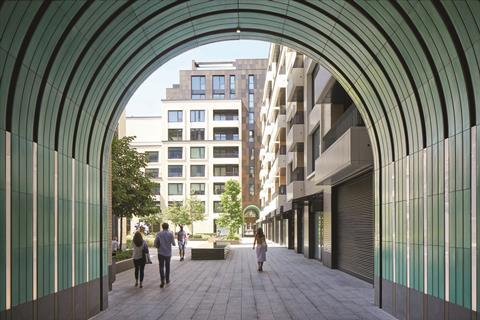 Rathbone Square
London
Architect Make
Client Great Portland Estates
Contractor Lendlease
Submitted by Make
Fitzrovia in central London may now be home to a number of new mixed-use developments that seek to give contemporary expression to its historic streetscape and character, but Rathbone Square stands out as one of the largest and most successful. A formerly publicly inaccessible Royal Mail sorting office has been transformed into a vibrant mixed-use scheme housing 142 flats, 13 retail units and office space that has been pre-let to Facebook as its new London headquarters. But best of all is the new 1,800m² public garden around which all these facilities are arranged, a generous piece of civic placemaking that firmly embeds the scheme within its surrounding urban grain and pedestrian realm.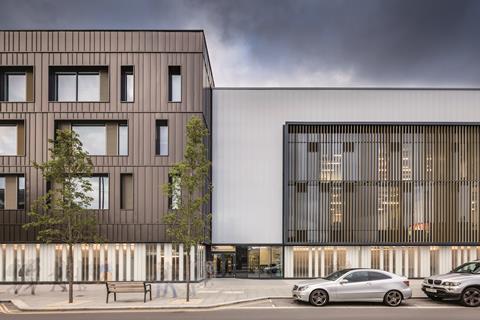 Harris Invictus Academy
London
Architect Scott Brownrigg
Client Education and Skills Funding Agency /
Harris Foundation
Contractor Galliford Try
Submitted by Scott Brownrigg / Galliford Try / Harris Foundation
This pioneering south London free school manages to forge an inspirational teaching environment from a challenging set of constraints. These included a demanding brief, a difficult site, limited funding and initially unsympathetic planning expectations. The result, however, overcomes these hurdles to create a vibrant contemporary school that not only successfully marries the prescriptive output models specified by the Education and Skills Funding Agency with exceptional design standards and innovation but also makes a positive contribution to local urban regeneration efforts.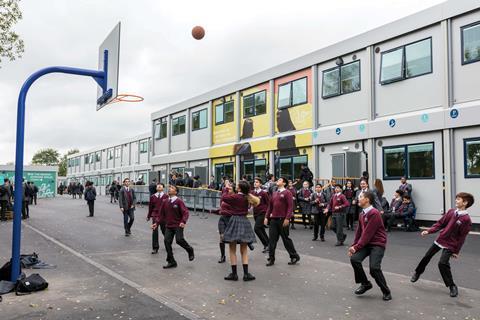 Kensington Aldridge Academy (KAA2)
London
Architect Portakabin
Client Education and Skills
Funding Agency
Contractor Portakabin
Submitted by Portakabin
The fire at Grenfell Tower was first and foremost a human tragedy but it left a number of practical and social challenges for the affected neighbourhood. After rehousing and health, arguably the most urgent of these was education after the local school was cordoned off due to its proximity to the fire site. The response was the biggest emergency build Portakabin has ever undertaken, which resulted in a new temporary school serving almost 1,000 pupils, built in just nine weeks. Built entirely off site and comprising 200 modules that provide 7,500m² of teaching space, the radical construction claims to be the fastest school ever built.