Few things outrage the driver's innate sense of entitlement more than not being able to find a car parking space near to home. Yet planners and designers are still grappling to reconcile the need to placate the resident with the desire to minimise the impact of the car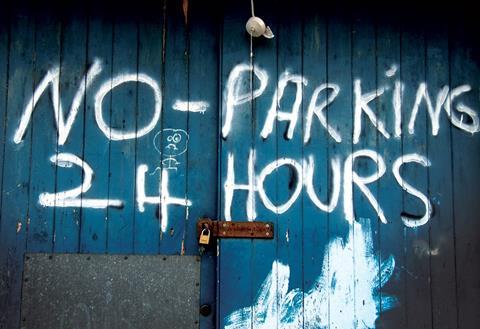 As scores of urbanists and sociologists throughout the 20th century predicted, parking has indeed become the modern day scourge of suburbia. Those yet to be convinced need look no further than a recent study compiled by Kent council, the findings of which have been included in Space to Park, a landmark new report on residential parking compiled by housing lobbyist Design for Homes, environmental urban designer URBED and the University of Edinburgh.
Residents in housing developments built from 2007 onwards were asked about their level of satisfaction with their estates, over 400 of which were analysed. While up to 80% of residents were generally happy with the character and design of their surroundings, a whopping 75% identified parking as an issue they were unhappy or very unhappy with.
Why might this be the case? Parking occupies an oddly paradoxical position within modern society. In and of itself a parking space is just another piece of mundane urban apparatus. Yet its perceived scarcity or denial is capable of provoking extraordinary emotional outbursts from car owners and igniting disproportionate feelings of anger, entitlement and possession.
Essentially, when it comes to parking, car owners like two things. To have adequate space to park however many cars they may own, and to be able to park their vehicle(s) outside or at least very near to their homes. These may seem like simple enough requirements on a personal basis but multiplied to a macro scale, it presents a complexity of challenges that planners and designers have been grappling with for decades.
The quandary has been deepened further in recent years by a more enlightened approach to urban development that has recognised the environmental harm cars can cause and attempted to minimise their use in favour of walking and public transport. Yet how can worthy efforts to discourage car use be squared with the perfectly reasonable expectation of having somewhere to park your vehicle, particularly in rural areas where public transport does not always exist as a viable alternative?
The evolution of planning policy over the years partially explains how we have arrived at the frustrated impasse highlighted in the Kent survey and new report. In the nineties, policy guidance switched from providing minimum parking standards to maximum standards, the idea being to reduce the impact of the car in line with the emerging environmental agenda at the time. In order for the new restrictive standards to deliver as equitable a distribution of spaces to all residents as possible, allocation was also introduced that designated specific spaces to specific residents.
At the same time, rural housing design methodology dictated low-density, detached or semi-detached housing often arranged around spacious, meandering cul-de-sacs with ample room for on-site or on-street parking.
However, a fly soon flew into the ointment of accepted wisdom and according to David Birkbeck of Design for Homes, that fly was called Poundbury. "Poundbury changed ideas of what was good housing design at the time. At Poundbury houses followed the traditional pattern of coming right up to the pavement line which was soon copied at other developments. However, bringing the building to the pavement line removes on-site parking, forcing parking onto the street.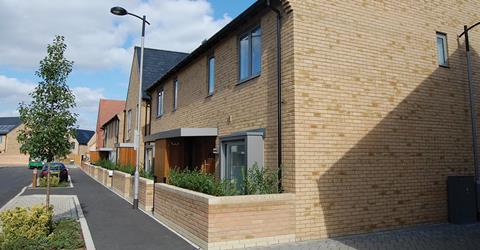 "That's fine at Poundbury, but what you can't see in many of the photographs that depict it as a car-less historic idyll are the giant parking courts to the rear. It also has comparatively wide carriageway widths of 6.1m, which means that even if cars do park on either side of the street there's still enough room for moving traffic to pass between them. However, these principles created parking problems at other developments."
On many of the other developments Birkbeck refers to, carriageways are commonly narrower at 4.5m and huge parking courts are not necessarily a luxury that can be readily afforded when housing space is at a premium and economic return needs to be maximised. So, this led to increased parking congestion on relatively narrow streets with limited space available, a development largely responsible for many of the frustrations vented in the Kent survey.
Anecdotal evidence even suggests that ambulances and fire engines have been prevented from reaching emergencies due to parked cars restricting carriageway width.
"Garages have been one solution to the problem," says Birkbeck, "but even this isn't really working. Developers will only construct garages for houses over a certain value, so that still leaves out a lot of private housing and all of social housing. And even when houses do come with garages, many residents invariably use them for alternative purposes such as storage."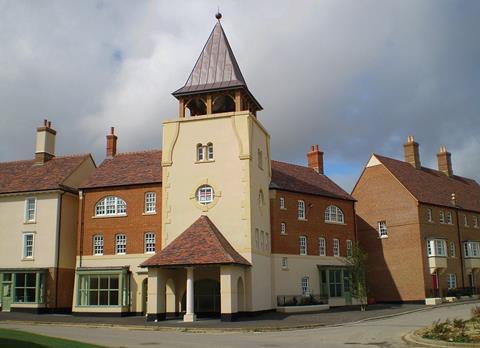 So what can be done? Birkbeck presents three obvious design solutions: "Building more storage so garages are more likely to be used to keep cars, accommodate more parking into developments and allow wider roads."
But parking problems on many British residential estates do not stem from a lack of parking space alone but from how the parking space is used. And this opens up a hugely controversial practice: parking allocation.
In many developments properties are allocated parking spaces proportionate to their size. For instance, a two-bed house might be allocated one parking space, a four-bed, two and so on. Additional parking will be put aside for visitors.
As Birkbeck explains, the problem with allocated parking is that it is inherently inflexible. "A standardised metric can't respond to the fact that not every three or four bed is going to need two spaces; some might need less, some might need more. And a single person who perhaps lives in a two-bed property and takes the bus to work might not necessarily need the single space they have been allocated."
Clearly, allocated parking does not accommodate the significant variations in car ownership and need that will commonly be found on any housing development. Nor does it accommodate variations in time. While there may be huge pressure on parking spaces in the evenings and on weekends when people are not at work, in the afternoons when they are, the opposite is more likely to be the case.
Garages have been one solution to the problem - but even this isn't really working

David Birkbeck, Design For Homes
The Kent study also proved that parking allocation can also lead to a large amount of land waste. Ironically, despite the widespread dissatisfaction expressed by respondents, average parking allocation among the sample group was 2.12 spaces per house despite the fact that the average level of car ownership was only 1.47 cars per household. Yet parking was still perceived as being woefully limited.
Older studies by the London Planning Advisory Committee, forerunner to the planning department at the Greater London Authority. also seemed to suggest that parking allocation might not necessarily represent the most efficient use of land.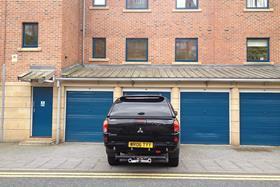 On the ubiquitous streets of Victorian terraced housing found across all the London boroughs, as little as 25% of space is usually required for parking. Even if parking permits are issued, parking on these streets is not allocated but controlled by means of a "first come first served basis" which, in the main, seems to work reasonably well.
Yet on several of the post-Poundbury developments which have adopted a combination of parking courts and allocated parking, the amount of development land occupied by parking can rise to a staggering 50%, despite the pervading perception of insufficiency. With parking bays able to command market values of up £20,000, this also represents significant economic waste.
As do findings by urban designer Phil Jones that if more than 50% of parking spaces are allocated, an additional 18% of total spaces are required to accommodate both resident and visitor parking.
An alternative parking solution is therefore gaining credence: shared communal parking. Here, all or some parking spaces on new developments are designated for unallocated communal use, the theory being that this format provides a more flexible response to the variations in household car ownership and parking demand at various times of the day.
The principle has already been unofficially implemented at several London developments in recent years and is also generating increasing interest from both the Greater London Authority and Communities and Local Government department. Bristol has also experimented with the approach in tandem with regulated parking zones. These differ from controlled parking by operating on an individual permit principle rather than the wholesale enforcement of restriction times.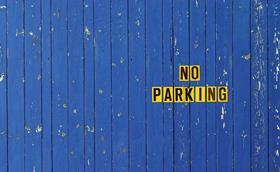 The Space to Park report concludes that the answer to current parking problems will require a broad range of solutions. These include more legible and permeable estate design, wider carriageways to accommodate on-street parking, greater deployment of unallocated spaces and a general cultural acceptance that reducing suburban residential parking provision should no longer be considered a viable strategy for minimising car use across society as a whole.
Increasingly, people like to think of themselves as being more environmentally conscious but few are prepared to give up their car. For the time being at least, society doesn't actively expect them to either, nor should it. Making parking difficult may assuage environmental guilt but it ignores the reality of modern life. It is up to clever design and new, more flexible parking solutions to find a balance between the two.
The Space to Park report is available at: www.spacetopark.org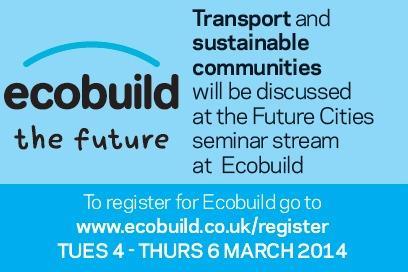 Source
This article was published in print with the headline "Park strife"