City of London approves Queen Hithe Hotel for shadow of St Paul's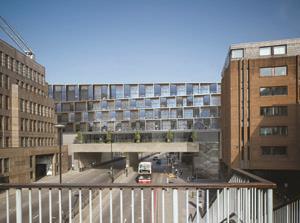 Queen Hithe HotelQueen Hithe Hotel
Bennetts Associates Architects' plans for the five-star Queen Hithe Hotel have been approved by the City of London.
The project for Resolution Properties will redevelop a historic riverside site south-east of St Paul's Cathedral, replacing a disparate group of 1960s buildings, including one which spans Upper Thames Street, to create a new 200,000 sq ft, 224 bedroom hotel and adjoining private riverside residential block.
Constrained by St Paul's Cathedral's heights and the retained bridge structure, the hotel forms a distinctive wedge-shape which extends over the full length of the site.
It will also have to negotiate the Scheduled Ancient Monuments that partially occupy the site, including the remains of Huggin Hill Roman Baths to the north and the original Queenhithe dock to the south.
The development will also allow for a new walkway between Queens Quay House and Bull Wharf, completing the final link in the City of London's riverside pedestrian route.