Borough commissions non-sport media centre for Olympics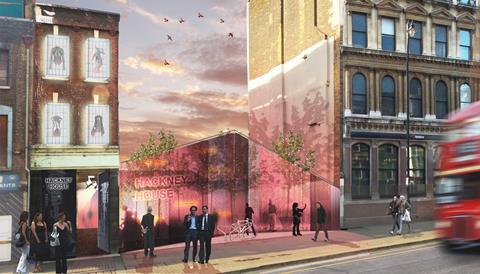 Hackney House 3
The London Borough of Hackney has commissioned Ellis Miller to design a media centre for non-sports journalists to use during the Olympics.
Hackney House, off Shoreditch High Street in central London, is planned as a showcase for the borough to promote itself as "the creative heart" of the capital.
Due for completion in a few weeks, the development features a bespoke entrance structure juxtaposing functional materials with a decorative woven chainlink design. Beyond an entrance garden, Hackney House will feature a flexible series of marquees and other temporary structures, including exhibition and performance venues and catering facilities.
Before the start of the games, the venue will host events including the Digital Shoreditch Festival and BBC Radio 1's Hackney Big Weekend. It will remain open until the end of September.
Ellis Miller partner Chris Patience said Hackney House was "simple, flexible and fun".
"It will play host to journalists from around the world alongside thousands of people enjoying a wide range of activities including music, fashion, exhibitions and business functions," he said.
Hackney LBC leads the Hackney House partnership, which commissioned the development.