The City of London Corporation's head of the built environment has plenty to take into account, from protecting views of St Paul's to fostering tech hubs. David Blackman talks to Carolyn Dwyer about her plans for the Square Mile. Photography by Jean Goldsmith
It's not so long ago that a night out in the City of London was a pretty dreary affair. Getting a drink after 9 o'clock was hard once the Square Mile's army of dark-suited financial services workers had disgorged into the suburbs and the Home Counties.
Those days are long gone, thanks in no small part to sometimes-controversial former City chief planning officer Peter Rees, who stepped down three years ago. He was instrumental in approving schemes such as the Jean Nouvel-designed One New Change, which changed the area's previously monocultural identity as a business district to usher in more retail, restaurants and bars. A new team is in charge of the planning department now, led by Carolyn Dwyer, who was appointed director of the built environment at the City of London Corporation, the City's local authority, two years ago.
Building visited the Corporation's headquarters at the Guildhall, to find out from Dwyer what further changes might be afoot for the UK's most valuable real estate: London's Square Mile.
Serious business
On first impression, Dwyer certainly cuts a more sober figure than Rees, who developed a reputation not only as the man who signed off on some of the city's most unusual towers, but also as the showiest dresser in the grey-suffused world of planning.
Dwyer's cautious style may reflect her long track record in local government, which she joined nearly 30 years ago as a rookie traffic engineer. And while Rees continues to champion Rafael Viñoly's controversial Walkie Talkie (writing in its defence when the scheme won BD's Carbuncle Cup award for worst building two years ago), a building that was approved on his watch, Dwyer indicates that applications for this kind of flashy icon won't be warmly greeted at the Guildhall these days.
It's really important that while we attempt to create a 21st-century city, we protect and make visible the heritage of the city
But what will we be getting instead? Dwyer says the Corporation wants to see "slightly calmer and more harmonious architecture". "We have to have architecture of the best possible quality that delivers for 21st-century needs but every piece doesn't need to be a stand-out landmark building. We are not developing individual tower blocks that stand alone on the skyline; we are developing a cluster of buildings that will have to respect each other."
As an example of what she likes, Dwyer points to Rogers Stirk Harbour + Partners' Cheesegrater at 122 Leadenhall Street: "It's an elegant and beautiful building but quite spare: it doesn't have any bells and whistles."
The Cheesegrater has been mostly well-received, but it is hard to find much praise for some other projects that grace the City's skyline. Eric Parry, the architect of the City's tallest planned building at 1 Undershaft, has criticised the quality of buildings coming forward in London and there have been many more mutterings about nearly every project given approval in the Square Mile over the past few years.
But the Fife-born, English-raised Dwyer defends the quality of buildings being delivered in the City, arguing that Parry was referring to the quality of new development across the capital as a whole rather than the City per se.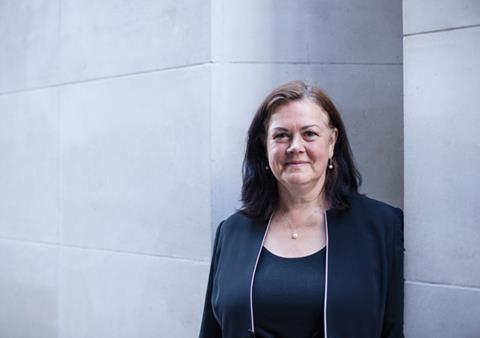 "We are very keen to maintain the high standards of building in the City and we believe we have," she says, pointing as an example to Foster + Partners' new European HQ for Bloomberg, which is due to open in the autumn. "It will be one of the most beautiful buildings in London," says Dwyer, who was a director of communities, housing and environment at the south London borough of Lambeth before joining the Corporation.
It's a hard job that Dwyer faces, and striking the right balance is crucial in a highly pressurised environment like the City, which is the UK economy's most important powerhouse, employing hundreds of thousands of workers as well as being a visual symbol to the rest of the globe of London's enterprise and importance.
Dwyer says: "We are very much about enabling development; we need the City to retain its competitive position but not at all costs."
History
This includes ensuring that development respects some of London's oldest and most historic neighbourhoods. And while developers may get frustrated by the City's medieval street patterns, Dwyer argues that it is in the Square Mile's interests to respect this heritage.
"One of our unique selling points is our historic fabric. Modern cities in China might be able to build taller and more densely, they might have better infrastructure and better IT, but they will never be able to match our heritage.
"It's really important that while we attempt to create a 21st-century city, we protect and make visible the heritage of the City. We are very much driven by competition, being a global city in a global market."
The most emotionally charged heritage issue in the City remains the views of St Paul's cathedral, which are so important that they are protected in national legislation. Any developers hoping that the new regime at the Guildhall will help water down these restrictions on where tall buildings can be built in the City are likely to be disappointed, though. Dwyer says that protecting those views is "absolutely critical" and that the Corporation does not want to see a "radical shift" in the existing corridors.
Rather than paring back existing protections, the Corporation's discussions with the Greater London Authority about its forthcoming St Paul's supplementary planning guidance are focusing on safeguarding views that are not "currently protected", she says.
Meanwhile Dwyer says the Corporation is "continuing to work" on its plans for allowing a new cluster of tall buildings around Fenchurch Street, which would effectively fill in the gap between the Walkie Talkie and the knot of towers that has developed around the Lloyd's building in recent years.
Harnessing technology
While having a key role in protecting icons of the past, the Corporation certainly has an eye on the future, with its planning department using pioneering 3D modelling technology to scope how much development can be allowed within the viewing corridors.
This modelling takes into account the five factors that have the biggest impact on the quality of life of those living and working in the City: noise, wind, air quality, daylight and sunlight.
"Modelling should help us to really understand where it is most appropriate to develop and where it is appropriate for tall or not so tall buildings," says Dwyer, who adds that this modelling software has shown the Corporation's planners that many existing standards, like those governing right to light, need to be updated.
The standards that we use to test things like wind, daylight, are really quite outdated
"The standards that we use to test things like wind, daylight and sunlight are really quite outdated and were developed before the technology we currently have," she says, explaining that existing standards focus on individual buildings rather than assessing
the cumulative impact that clusters of towers can have.
The Corporation is also investigating how the nature of the City's business occupier mix is changing, particularly as the tech firms move in.
"We still see ourselves as a global centre for finance and professional services, such as insurance, but they increasingly depend on a whole range of other businesses being around them," she says, pointing to Bank Junction as an example of how the City is already changing.
This is where the City's key crossroad has recently closed to traffic during daytime. While this move was partly prompted by a series of fatal cycle accidents at the junction, which is overlooked by the Bank of England, it has also created the opportunity to create a new public space in the City's congested heart around which a novel mix of occupiers is emerging.
Bloomberg is just about to move into its new European headquarters, across the road Sir James Stirling's No 1 Poultry is being converted into a tech hub, next door to which Soho House is opening up a new club.
"Those businesses are keen to work with us to create a different type of environment to suggest that this is an area for media and creative start-ups," says Dwyer.
Even more dramatic changes are afoot around Smithfield meat market, which is located on the City's north-west fringe. Redundant and decaying historic market halls are being revamped with the planned move of Museum of London, which will be a centrepiece of a new cultural quarter that will be bookended by the City's two new Crossrail stations at Moorgate and Farringdon. "We're planning to transform that area into a really vibrant destination for Londoners," she says.
Change of heart
The scheme itself reflects a change of heart at the City, which only a couple of years ago was backing controversial plans for the wholesale redevelopment of the site for modern offices.
As for the existing Museum of London site at the Barbican, Dwyer says that the Corporation has been inundated with entries for the competition to design the new concert hall, which the authority is now leading on following the government's withdrawal of support.
And the Corporation's ambitions don't stop at the boundaries of the City, as was seen last month when it stepped in to buy the affordable housing element of a Berkeley Homes development in Kensington which will be used to rehouse victims of the Grenfell Tower disaster.
This purchase won't be a one-off: the Corporation – which has a long tradition of preserving space within the Square Mile for employment while providing affordable homes in other parts of the capital – has committed to delivering 3,700 affordable homes across London as its contribution to tackling the capital's housing shortage, which in the long term threatens to undermine its economy.
Similar thinking underpins the Corporation's "huge" support for Crossrail 2, even though it will bump business rates bills and doesn't even serve the City of London.
Dwyer, who commutes into the City from Brighton, says: "We try not to take a perspective just within the Square Mile, because the Square Mile only works as part of London."
And having a City that is more open for business is something we can all probably drink to.