On the banks of the River Thames, there's all kinds of shenanigans going on – not to mention recent events on a reservoir in north London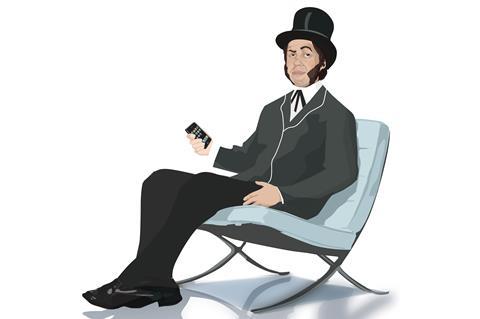 Tales of the riverbank
One of my scribes called someone involved with the plan to turn the former ITV Studios building on the South Bank into a mixed-use scheme for his thoughts on it all. It was stalled last month by Michael Gove, and my mole thinks he knows why. "It's a load of South Bank luvvies who got themselves organised and started complaining," he says. Beware of dismissing them too lightly, mind. This is the same mob, I should tell you, who did for the Garden Bridge.
Van and the man
A six-month operation just finished by the Driver and Vehicle Standards Agency, local police forces and National Highways finds that a third of vans used by the construction industry are dangerous to other road users. It might not come as a huge surprise to some but, as a few pointers, the DVLA said the most common defects were lights, tyres and brakes. And that's before we get to the drivers themselves …
Bit of a stretch
Who would have thought it? On the day when all eyes were on the no-confidence vote in Boris Johnson, the transport department slipped out the news that a £3bn stretch of the HS2 railway was being scrapped. It was planned to be announced this day all along, the department offered; these things happen, nothing to see here. The link was due to be built in the North and it seems to me that all this levelling-up stuff is, pardon the pun, rather hitting the buffers.
On the day when all eyes were on the no‑confidence vote in Boris Johnson, the transport department slipped out the news that a £3bn stretch of the HS2 railway was being scrapped
What a party
In the run-up to last week's no‑confidence vote in the PM and just hours after his anti-corruption tsar resigned, more than 20 Tory party donors, who between them have given the party more than £18m in recent years, signed an open letter to MPs urging them not to ditch him. It said removing him would have been "foolish" and that Johnson had their "unwavering support". Among the signatories were Redrow founder Steve Morgan, JCB chairman Anthony Bamford and developer Simon Reuben. Let's call them the 59%ers.
Going to great lengths
An interview with the Times recently reveals that Mace chief Mark Reynolds trained with the Great Britain swimming team in the 1980s, such was his prowess in the pool. He remains an active swimmer and prepared for his chat with the paper with a morning dip in the pool. Given that (very) early morning starts are commonplace for swimmers, I'm guessing they must be for the rest of Reynolds' management team and strategists. They must be thrilled.
Ukraine supporters
Three Ukrainian refugees had something special to divert them recently. Sasha (15), Genia (15) and Sergei (16) were treated to Ukraine football shirts and tickets by Keepmoat Homes to go to see their team play Scotland at Hampden Park earlier this month. Helped by Building Awards judge David Birkbeck, also their host back in Essex, they gate-crashed the Ukraine squad hotel and got their shirts signed by their favourite players. Local news crews later interviewed them about how their shirts had been tagged by stars like Manchester City player Oleksandr Zinchenko. The boys were then reunited with all the friends they'd left behind as photos of them in Glasgow went viral across Ukraine as the country celebrated its World Cup play-off win. That had the boys, and Keepmoat Homes, over the moon, as they say in football.
Oar-inspiring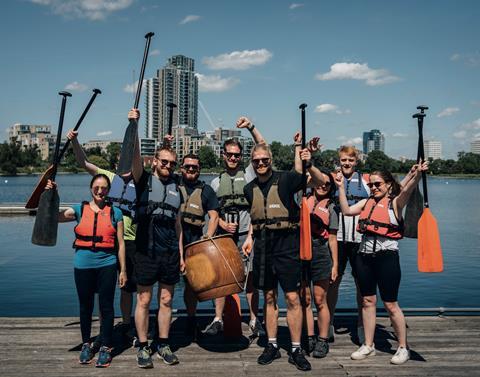 Well done to everyone, including the team from Building (pictured), who took part in this year's Dragon Boat Challenge which returned last month after a two-year hiatus caused by the pandemic. Held in warm and sunny conditions at the West Reservoir in north London, the event saw 360 people take part with the crew from fit-out contractor Parkeray taking the title in its first year of competing. The 35 teams raised more than £17,500 for industry charity CRASH's construction projects helping homelessness charities and hospices.
Send any juicy industry gossip to Mr Joseph Aloysius Hansom, who founded Building in 1843, at hansom@building.co.uk