Imagine a world where Olympic athletes excelled at board games, Britain considered surviving on a diet of ants and huge dogs rode around on top of cars … no, it's not a bad trip, it's this week in construction
Multi-talented
Olympic champion track cyclist Chris Hoy is best known for his sporting prowess and enormous thighs. So I was surprised to hear that Hoy is also a champion in the general knowledge stakes. Speaking at a 2012 velodrome event last week, ISG environmental director Vincent Busk claimed that Hoy, and his fellow cyclists Jason Kenny and Jamie Staff, are the reigning Olympic Trivial Pursuit champions. While this conjures up a wonderful image, it is sadly not true. Busk may have meant to describe them as the "team pursuit" champions, although this is also wrong. That title is held by Bradley Wiggins, Ed Clancy, Geraint Thomas and Paul Manning, with Hoy and co actually the team sprint champions.
Six-legged snack
This summer all eyes will be on a spectacular celebration set to reach millions of people around the globe. National Insect Week - what else could you be thinking of - will take place at the end of June and is sponsored by construction materials giant Lafarge which, bluntly, is why I'm writing about it. Conscious of potential competition from a couple of other minor events during the summer, those behind the creepy crawly carnival have given this year's proceedings a Great British Insects theme including the creation of a "dream team of Olympic insects" and an "insect-themed menu to promote insects as a sustainable food source here in the UK." Yummy!
On board with the hub
The prospect of government backing for a new airport in the Thames estuary seems to have generated a little friction between two of its most famous proponents, London mayor Boris Johnson and architect Norman Foster. Writing on his own firm's website last week, Foster, who has teamed up with Halcrow to create the Thames Hub vision, said: "We are aware that there is some confusion between our Thames Hub vision and the mayor of London's Shivering Sands proposals … known as 'Boris Island'. The mayor has expressed his support for the Thames Hub proposal, as have Douglas Oakervee and Bridget Rosewell, who developed the Boris Island proposals, and who are now part of the Thames Hub team." So there you have it - Boris Island is a dead duck and all we need now is a catchy name for the Foster scheme. "Norman Peninsula", anyone?
Department for online communities
Good to see that the Department for Communities and Local Government is keeping up its most vital duties by attracting its 30,000th Twitter follower. There had been fears that the coalition might jeopardise the work of the department by slashing its staff by nearly 40% but its Twitter performance just gets better and better. Housing minister Grant Shapps - 38,500 Twitter followers and counting - sent his congratulations via, yes you guessed it, Twitter.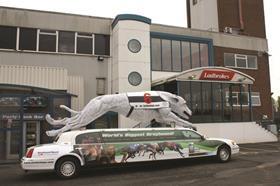 Odds-on favourite
Protesters against plans by housing association L&Q for a redevelopment of the Walthamstow dog track in east London have a new ally in the form of a giant canine beast. Bunny - dubbed the biggest greyhound in the world - is potentially also the fastest given that he is an inanimate model strapped to the top of a stretch limo. The limo has been touring the Walthamstow streets this week to remind residents to attend a public meeting, and Hansom tips his hat to the Cockney campaigners behind the stunt - Save Our Stow.