This week, Make's Ken Shuttleworth puts on a good spread, RIBA throws a party at the V&A, energy minister Greg Barker gets told off, and a terrible odour reaches Building Towers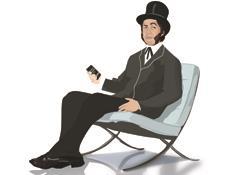 Feel the burn
Architect Ken Shuttleworth has thrown down the gauntlet to those firms planning their summer parties. His practice, Make, kicked off the season with an event held
at the Paramount bar on the 31st floor of London's Centre Point. There was a high calibre guest list, great views over the city, fine wines and - best of all - plenty to eat. Mrs Shuttleworth told one of my hacks Ken was tired of going to events and going home hungry so was determined no-one would leave his party and head for a kebab shop. The only downer was the lifts temporarily stopped working, meaning a colleague of mine had to venture down 31 flights of stairs in her heels. Hardly Make's fault, although it did have the unintended benefit of helping guests burn off some calories.
A night at the museum
Monday night saw an enjoyable party held at the V&A's RIBA architecture gallery to celebrate the revamped King's Cross Station and the launch of a new book on the project, Transforming King's Cross. Guests enjoyed canapés and cocktails and listened to a panel, featuring architect John McAslan, Arup engineer John Turzynski, chair of English Heritage Kay Andrews, Network Rail client Ian Fry and design guru Sir John Sorrell. Project architect Hiro Aso presented 14 years of design work on the project to RIBA curator Charles Hind, for the Institute's library. All that graft was stored on a memory stick the size of a postage stamp. Let's hope they don't lose it.
And breathe out …
Building has often reported on contractors causing a stink, but this latest incident was rather closer to home. An unexplained and almighty pong descended on Building Towers earlier this week, which (I am relieved to say) had nothing to do with the personal hygiene standards of my reporters. An email flashed around our offices to explain the unpleasant smell. It was caused by Pyeroy - a subcontractor on the Thameslink construction project adjacent to our building - draining the workplace facilities outside. I'm told Pyeroy has now agreed to only carry out this smelly business out of office hours, so everyone here can breathe a little easier.
Carrying a torch
With the Olympic flame now making its way around the country, it's a great time to highlight some of the remarkable runners taking part in the 8,000-mile torch relay. Atkins engineer Lucy Willis will carry the torch around Bristol, after colleagues nominated her for raising £20,000 for CLIC Sargent, the cancer charity for children and young people. ISG managing surveyor Sean O'Keefe will be taking part in the Coventry leg, after being nominated for decades of fundraising for homeless and AIDS charities in Africa. We wish them the best of luck.
Bam to rights
I wouldn't want to leave you without a last little bit of hoarding news. Bam Construct was at pains to point out to me this week that the scarcity of the firm's branding at their revamp of London's Waterloo station - which was noted in this column last week - was under strict instructions from their client.
The boistrous Mr Barker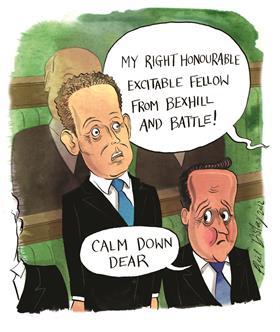 It seems energy minister Greg Barker can't open his mouth without getting a telling-off. Just the other week he received heckles when he spoke at the Construction Products Association's annual lunch. Now the speaker of the House of Commons, John Bercow, has chastised him for being an "excitable fellow" rather than a "cerebral" one. His intervention came after Barker repeatedly tried to interject while the Labour shadow energy secretary Caroline Flint was speaking in a parliamentary debate on living standards. I'm sure he'll be on his best behaviour from now on.