This week, cows cross the line at Cambridgeshire's guided busway project, tourists are told where to go by a former transport minister, and we celebrate longevity and charitable giving in equal measure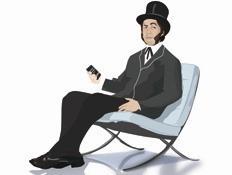 Showing the way
One of my hacks was amused to witness a couple of tourists asking for directions on the tube from former transport minister Steven Norris and HS2's commercial director Beth West last week. Little did the sightseers know that they were talking to two people who have been instrumental in shaping London's transport network into what it is today (West spent nine years working for Transport for London and Tube Lines). In fact, it would be hard to think of anyone better to ask for directions. Thankfully, the tourists were complimentary about the Tube's service and design or else the whole thing could have got a bit awkward.
Rebels with a cause
A date for your diary here. Al Jazeera launches a TV series called Rebel Architecture on 18 August - a series of six half-hour documentaries showcasing radical architects from around the world. It profiles architects from Vietnam, Nigeria, Pakistan, Israel/Occupied West Bank and Spain who are "using design to tackle the world's urban, environmental and social crises", according to the press info. Projects include designing flood and earthquake-proof buildings, self-builds in public spaces on the edge of the law and architecture designed to promote social cohesion in a war zone. One to watch.
Old-timers
At 201 years old I often feel my age, truth be told. Few construction firms have spanned the period, but Sheffield-based architecture practice Hadfield Cawkwell Davidson comes close. The practice celebrates its 180th birthday next month. It was founded in 1834 by Matthew Ellison Hadfield and its first commission was to design a monument to the citizens of Sheffield who lost their lives in the cholera epidemic in 1832. Today it is 80-strong and is working on projects such as the extension of Manchester City's Etihad Stadium. They are having a bash at Mercure Sheffield St Paul's Hotel on 12 June to celebrate the milestone. I'll raise a glass from here.
Fancy that
Homelessness charity CRASH is once again hosting its annual dragon boat race next month, where teams from across the construction industry compete to be crowned champions in a mad paddle across a reservoir in north London. Building will once again be fielding a team to take part and as ever will be in fancy dress. You have been warned. To sponsor Building visit http://bit.ly/1rpcodb. Elsewhere in the world of huffing and puffing for charity, 25 staff from Suffolk Housing have been taking part in a 171-mile cycle around East Anglia this week to celebrate its 40th anniversary and to raise money for a neonatal unit at West Suffolk Hospital. To sponsor visit http://bit.ly/1jAQgCy.
The next generation
This column has documented various initiatives to inspire the next generation in construction. Now I hear the Construction Industry Council (CIC) has launched a mentoring system pairing up young construction professionals with 18 industry leaders, including Gardiner & Theobald senior partner Tony Burton and CIC chairman Jack Pringle. Meanwhile the Greater London Assembly hosted a Dragons' Den style competition at London's City Hall last week to select a student for the Mayor of London's Low Carbon Entrepreneur of 2014 and a £20,000 prize. Bravo!
Where's Hansom?
Find this week's sporty Hansom hiding somewhere on our website for a chance to win £50 of John Lewis vouchers. Just email hansom@ubm.com with his location. All correct answers received by midnight 12 June will go into a prize draw.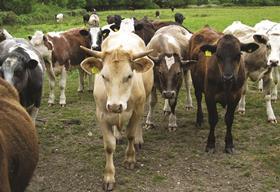 Pull the udder one
As if Cambridgeshire's guided busway project hadn't had enough problems, it was last week invaded by cows. In April, the council, having received £33m from contractor Bam Nuttall to settle a lengthy legal dispute over cost overruns on the busway, resolved to pursue further legal action for the cost of fixing a raft of alleged faults on the line. Then last week a neighbouring herd of cattle escaped their field and wandered onto the line at Swavesey delaying buses by around 15 minutes. Whether fencing to keep livestock off the line will be added to the council's list of gripes is yet to be seen.