BAM's building sites take their place in high society, Dubai regains its appetite for the grandiose, Glasgow shelves plans for a five-tower demolition extravaganza - oh, and there's surfing on Snowdonia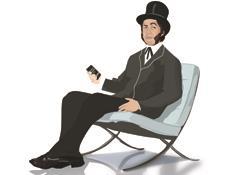 Grandee tours
BAM construction sites seem to be a magnet for the British establishment. Last week prime minister David Cameron was the latest in a long line of senior politicians to visit a BAM site, after choosing to drop in on a warehouse the contractor is building for logistics giant DHL at Manchester airport. He was hot on the heels of chancellor George Osborne, education secretary Michael Gove, education minister Lord Baker, the Prince of Wales, the Duchess of Cornwall and the Duke of Gloucester. Does BAM offer good prawn sandwiches at their sites or something?
Not with a bang but a whimper
It must have seemed like a good idea at the time. The organisers of the Commonwealth Games in Glasgow last month announced spectacular plans to blow up five sixties tower blocks in 15 seconds as part of the games' opening ceremony and as "a statement of the city's regeneration". But they appear to have forgotten to ask nearby residents what they thought of the plans. Ten days of criticism later, including a petition against the plans signed by 17,000 people calling the demolition "disrespectful" and "insulting" to former residents, and the plans were scrapped for "safety and security" reasons. What could have been a potent symbol of the regeneration of the area will now be done away from the media gaze. A bit of a shame, really.
The only way is up
Is Dubai's property market frothing up again? News reaches us that work could soon restart on the world's tallest residential tower, the 516m-tall Pentominium, designed by Aedas. Work on the tower stalled after just 30 floors had been constructed in the thick of the financial crisis in 2009. For five years it seemed the neglected stump would remain a symbol of Dubai's misguided bubble of the early noughties. But now client Trident says it will resume building this summer. A positive sign or a scary one?
Data error
Thanks to Berkeley's external PR firm Curtin & Co for raising a smile earlier this month. News reached us that London mayor Boris Johnson had overturned Islington council's refusal of Berkeley's plan for a couple of residential towers, designed by Foster + Partners. A press release fired over from Curtin hailed the news and noted the broad range of uses on the site, including a "relocated day care centre". Good news for babies, it seemed. But a sheepish call from Curtin the following morning clarified that "relocated day care centre" should have read "relocated data centre". Oops! Let's just hope that all concerned appreciate that looking after infants and data servers are very different matters.
Surf and turf
Snowdonia is renowned as one of the UK's finest spots for adventure sports, attracting skiers and snowboarders in the winter and mountaineers and hikers all year round. But if plans being developed by Conwy Adventure Leisure come to fruition, the area could soon become synonymous with another sport: surfing. News has reached us that work is expected to start on building a multi-million pound surf attraction and "wave garden" in the Conwy Valley in May. The indoor surfing experience is aimed at providing consistent surf conditions for new and experienced surfers alike. With the jury out on whether climate change is going to bring colder or warmer winters to the UK, perhaps it's wise that Snowdonia keeps its adventure sports bases covered, although perhaps rising sea levels may ultimately mean you won't need an artificial surf facility there to catch some waves.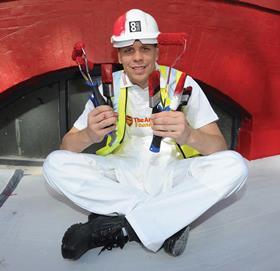 Gunning for centrepoint
Back in the world of famous people donning hard hats, Arsenal goalkeeper Wojciech Szczesny joined contractor 8build to work on the refurbishment of a health and wellbeing facility in London's Soho for homelessness charity Centrepoint last week. Szczesny is seen here sporting several paint brushes on the job, a couple of days before his team sneaked past Wigan Athletic in the FA Cup semi-final on penalties. The facility's refurbishment is funded by Arsenal through the Be a Gooner, Be a Giver campaign, which raised over £500,000 for the charity. 8build is doing the job at zero profit.
Send any juicy industry gossip to hansom@ubm.com