Other government departments need similar - if not even more ambitious - targets for net zero and modern methods of construction, writes Mark Reynolds
Every child deserves the same opportunities to succeed in life and how well we educate our young people is central to our success as a nation. If we get it right, we can equip everyone with the right knowledge and education to succeed in life. In turn, we can create a society that is happier and more equal; and at the same time we help to ensure that our young people are better prepared for the jobs of the future.
As we collectively suffer through the UK's third national lockdown, the importance of high-quality schools and educational facilities has never been clearer. Everyone is looking forward to the moment at which we can safely return to normal life – parents in particular!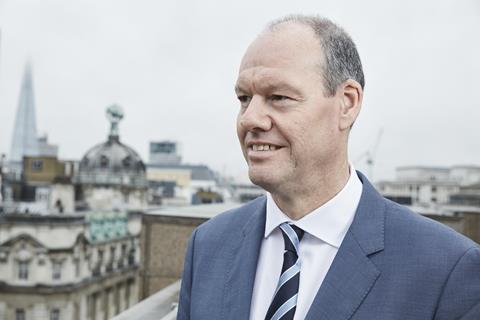 We know that high-quality, well-built schools have a big impact on how students learn and how effectively teachers are able to work – and that in turn generates huge benefits for our wider society.
In case you missed the news at the start of the year, the Department for Education (DfE) has recently begun their tender process for the next generation of its huge schools' framework. It's obviously a very significant moment for the sector: more than £7bn of capital expenditure will be delivered through the framework, creating new facilities for hundreds of thousands of pupils over the next four years.
Beyond that, however, the framework marks another ambitious step forward from the department, with ambitious targets for net zero schools, incorporating more collaborative procurement models and mandating the use of modern approaches, shifting construction towards a production mindset.
The DfE's promotion of new technology and process has played a significant role in the last 15 years
For those in the know, the DfE has long been seen as one of the few parts of government that has bought into the idea of working with construction to drive forward change in the industry. It makes sense – it is spending a huge amount of money every year on delivering new and refurbished schools, so why not try and make sure it is spent more effectively? But that is not a view universally adopted by every department with a big capital budget.
Although at times its process has not been perfect, its promotion of new technology and process has played a significant role in the past 15 years of driving forward the progress we have seen in the industry. By creating clear pipelines of work and setting out its ambitions clearly, the DfE has provided an impetus for construction to invest in helping it to get there.
The reality is that real advancement and radical innovation in construction relies on public sector bodies like the DfE being prepared to commit significant volumes of capital expenditure to give contractors the confidence to invest and develop new approaches. As we look to build back better and greener from covid-19, senior figures across government have listened to the right voices in industry and now recognise that, if we want to drive real economic recovery, we cannot miss out on a chance to reform construction. Building back "better" is not just about "what" we build; it is also about "how" we build.
The DfE sets a standard that other departments should meet – but even it must go further. The new construction playbook sets out a truly ambitious view of collaborative procurement methods and the adoption of genuinely industry-changing approaches that must become standard practice if we are going to create authentic change.
The DfE sets a standard that other departments should meet – but even it must go further
That means redefining the scope of our ambitions and setting more challenging targets than we have done before for every stage of a project and programme. It means collaborative approaches to procurement; and the industry being prepared to adopt new ways of working and to invest in new approaches.
The new playbook – a product of genuine collaboration between the Cabinet Office, the industry and the wider public sector – is a foundational document that I hope will begin to drive the right behaviours across the sector.
The last year has been a bruising one for many companies, but there is light at the end of the tunnel. What has been a constant reassurance, though, is the undiminished ambition across industry and government to leverage the challenges and opportunities of covid-19 to create a better future for construction.
The new DfE framework is a good start, but even it does not meet the vision that the playbook lays out and we all must work to help realise. In the past year we have seen British innovation deliver a world-class vaccine for coronavirus within a matter of months – a demonstration of what we are capable of when we work together to achieve a common goal.
The public sector, the construction industry and the public all know how to deliver better schools – just as we all now know that it is possible to build infrastructure and homes more effectively. The playbook sets out a clear vision for how we can achieve those outcomes – but we must embed it into the procurement processes that shape our sector.
When we come out the other side of this pandemic, I hope this will be seen as a transformative moment for our sector; not just because of the legacy of coronavirus but because it can be the pivotal point when we finally began to move the needle and transform our industry.
We know that modern methods of construction can help to deliver projects faster, safer, more sustainably, and to a higher standard. That means better projects delivered earlier and with less cost and risk to the taxpayer. By adopting a "kit of parts" approach, there is no reason why we cannot standardise school design and delivery without compromising on quality.
Thankfully, the DfE is a government department that truly "gets" the impact of new methods of construction. Rather than paying lip-service to the idea of changing how we build, it has demonstrated a keen sense of how it can use its not-insignificant capital budget to help drive transformation in our industry.
Recently the department built on that legacy with the launch of the tender process for its new construction framework. The numbers involved demonstrate the huge opportunity that exists in the education sector. The more of that £7bn of capital expenditure on schools that is delivered using modern approaches, the more certainty the construction industry can have to invest in new approaches and innovation.
The success of this framework is likely to shape outcomes in the sector for years to come – through our recovery from covid-19 and beyond. We know from our engagement with the department that it is trying to shift the dial in a number of key areas.
Mark Reynolds is CEO for Mace Group