On A-level results day, Aecom's Jack Barker explains that university is no longer the be-all and end-all for further education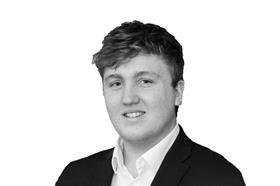 A-level results day was full of mixed emotions for me. I achieved the results I wanted and had a place accepted at my chosen university, yet I had an uneasy feeling that I might not necessarily be doing the right thing.
I discovered quantity surveying as a career option when I was at college. I assumed I would need a degree first, followed by a postgraduate degree and further study to achieve my Assessment of Professional Competence (APC) qualification. I chose to study geography at university with a vague idea about pursuing a career in the construction industry. I had long admired the idea of property development, which originated from observing villa developments while on holiday. My passion for development led me to construction management, specifically quantity surveying. I got as far as deciding to study in London before I had the dawning realisation that I didn't want to spend the next five years studying while also amassing a serious amount of debt and no guarantee of a job at the end of it. Because of this, I deferred my place at university and started to research my options.
I had attended a presentation about apprenticeships when I was at college, but this was both brief and irrelevant to the industry I was interested in joining. So I started to research quantity surveying opportunities. After looking at a few options, I joined Aecom as a quantity surveying apprentice and can honestly say I haven't looked back. I'm now a year into the company's apprenticeship programme, which includes a day at college studying for a degree in quantity surveying.
A big advantage of apprenticeships, in addition to earning money, is the meaningful experience I am gaining on real-life projects. A common misconception about apprentices is that they are employed as unskilled labour, tasked with jobs like printing or making tea. However, this is far from the truth. I've never felt inferior among my team. I am involved with multi-million pound projects often with high-profile clients and also contribute on much larger programmes of work. This hands-on experience is so much more beneficial to me in my career than a geography degree would have been. Of course apprenticeships aren't for everyone and university is often the right option. But apprenticeships are now much more widely recognised as another viable route into a variety of industries and are available in an increasing number of professional services.
Starting work for a large business in a big office can be daunting for young people who might never have experienced this kind of environment before. That's why I worked with our early careers team to introduce apprentice ambassadors at Aecom. We work in a range of disciplines and help support new recruits when they start. We've also developed an apprentice handbook, which includes helpful information about the business and details about what to expect as an apprentice. I am excited about what the future holds for our ambassadors and I am grateful to have been given the opportunity for my idea to be made a reality.
Choosing to reject my university place was a tough decision but I'm so pleased I did. There have been many points throughout this past year when I have struggled to believe the options and opportunities that my apprenticeship has given me. It seemed like a distant career plan when I first achieved my A-levels. Hopefully more students opening their results today will have found it easier than me to find out about professional apprenticeships. My advice is to never assume that your options are limited. Going to university isn't the only option if you want to embark on a professional career.
Jack Barker, apprentice quantity surveyor, Aecom