Marcus Lee admires the Yale Centre for British Art for its understated presence, but criticises Frank Gehry's Serpentine Gallery Pavilion for making its mark too permanent
My wonder is the Yale Centre for British Art in New Haven, New York state. The centre was founded by art collector and philanthropist Paul Mellon, and designed by architect Louis Kahn, although it wasn't completed until after his death in 1974.
The recent restoration of this fine British art gallery has reinstated it to its original glory. It is beautifully crafted, right down from the macro concrete finish to the micro delicate detailing on the acid-etched panels.
It engages with the public realm, thanks to a great book shop cafe that provides a penetrable interface for a public building. Its stand-out feature is that it's so beautifully executed. The concrete is of a superbly high standard. Although it's a simple design, it achieves a wonderful street presence.
Louis Kahn's first building was created on the same street and it is significant that the Mellon centre was his last. The two projects book end his career. It stands alone in an understated way in its context.
A blunder building is like a bad book that one doesn't want to talk about. It is hard to nominate, as there are so many irritants out there, particularly all the awful high volume housing. But if I had to choose, it would be Frank Gehry's Serpentine Gallery Pavilion (2008). This is purely because while Gehry designed an interesting and complex timber frame, he ignored the brief which was to create a light structure. The resulting pavilion didn't touch the park lightly; its presence seemed much too permanent. While it fulfilled its purpose as a venue, it did not achieve the status of what a temporary exhibit should be. This year's Peter Zumthor Serpentine Gallery Pavilion fulfils the need for a fleeting philosophical escape in Hyde Park.
Marcus Lee is a director at Glenn Howells Architects
WONDER
The Yale Centre for British Art was the last building designed by Louis Kahn and houses the largest collection of British art outside the UK. It opened to the public in 1977. The five-floor centre contains nearly 2,000 paintings and 100 sculptures and also includes a reference library and photo archive.
BLUNDER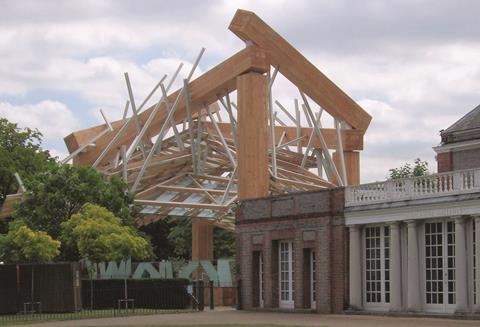 The Serpentine Gallery Pavilion, 2008, was designed and engineered by Frank Gehry in collaboration with Arup. It was the architect's first built structure in England and comprised four steel columns with large timber planks and nine glass canopies made up of about 30 panes, installed by Taylor Woodrow.