Emissions from buildings have remained flat, but there are signs of refreshed commitment from government, says BRE's David Leonard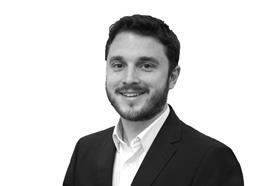 The UK became the first country to introduce a legally binding framework for tackling climate change when The Climate Change Act received royal assent on 26 November 2008. The Act commits the UK to reducing its greenhouse gas emissions by at least 80% by 2050 compared with 1990 levels.
So, what progress has been achieved in 10 years? Let's start with the good news – as a country, we're on track. Measured from 1990, emissions have now fallen by 43%, over a period when the economy grew by over 70%. This is the most substantial emissions reduction in the G7, over a period when economic growth was above the G7 average.
The bad news: progress has varied significantly by sector; 75% of emissions reductions since 2012 have come from power generation alone. Emissions from other sectors, including buildings, have remained almost flat. With buildings currently responsible for 40% of the UK's emissions (directly and indirectly), there is much work still to be done. Especially when we consider that 75-85% of the current UK building stock will still be in use by 2050.
Substantial progress was initially achieved in the building sector through the zero carbon homes policy, which was announced in 2006 by the then-chancellor Gordon Brown. The objective was for all new homes from 2016 to mitigate all the carbon emissions produced on-site as a result of the regulated energy use (such as energy used to provide space heating and cooling, hot water and fixed lighting, as outlined in Part L1A of the Building Regulations). The construction industry responded well to this consistent policy framework (and the equivalent pathway to zero carbon for non-domestic buildings), taking positive steps to invest and innovate. However, the zero carbon homes plan was scrapped by George Osborne in 2015 as part of a move to 'reduce net regulation on housebuilders'. Progress since then has slowed. A similar 'start-stop' picture of government policy impacts can be seen with regard to retrofit of energy efficiency measures – insulation installation rates in homes for example, are currently 95% lower than in 2012.
There are signs of refreshed commitment, though. In May 2018, Prime Minister Theresa May said in relation to the government's Industrial Strategy: "We will use new technologies and modern construction practices to at least halve the energy usage of new buildings by 2030. By making our buildings more energy efficient and embracing smart technologies, we can slash household energy bills, reduce demand for energy, and meet our targets for carbon reduction."
The Industrial Strategy included a government commitment to invest £170m over three years, with £250m coming from industry, to commercialise the technologies that are capable of delivering energy-efficient, cost-effective housing and infrastructure.
Beyond the policy framework for carbon reduction, the construction industry has responded well to voluntary best-practice standards, including BREEAM. Over 21,000 BREEAM assessments have been carried out in the UK since 2008, with predicted emissions from building services in a BREEAM Excellent building on average 35% lower than the regulatory baseline.
A key challenge acknowledged by the industry is the need to bridge the performance gap between modelled energy consumption at design stage and actual metered energy use in operation. Research by the Carbon Trust identified that in-use energy consumption can be up to five times higher than estimated at design stage in calculations for Part L compliance. This gap has been attributed to a number of factors around the accuracy of compliance modelling and the shortfall in 'actual' performance. Therefore, there is much work for industry to do in conducting more realistic modelling at the design stage and in monitoring operational performance to learn lessons that can help close the gap. BREEAM UK's New Construction 2018 publication has been welcomed by industry for providing a framework (including a new 'Occupation Stage' certification) that offers a feedback loop for continuous improvement.
In addition to climate change, there are many wider environmental challenges for the construction industry to address in the coming years and decades. Examples include: responsible sourcing, banking and repurposing of materials; improving air quality; facilitating a shift to sustainable transport; and supporting green infrastructure, to name a few.
Looking at the future direction of industry, there are clear opportunities for embedding improved environmental outcomes in conjunction with increased efficiency of delivery, productivity and resulting profitability. The harnessing of manufacturing technologies and digital approaches to quality control, testing and validation will enable a much more accurate understanding of sustainability impacts, including climate change contribution, in the design and 'optioneering' of new buildings. The data generated will in turn further increase the transparency of asset and component-level performance. With society increasingly demanding that companies and their products and services make positive social and environmental contributions, this transparency will ensure that all industry stakeholders, from investors to developers to manufacturers, are held to account and can benefit from the findings.
David Leonard is BREEAM new construction manager at Building Research Establishment (BRE)