Sit at home and watch Eastenders if you want - or go watch a melting house, take pictures of a major infrastructure project, design the new Guggenheim, or live in a zero-carbon house for a year. Up to you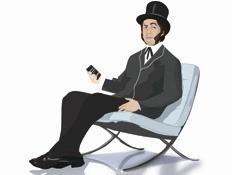 Wax and wane
Laing O'Rourke, the contractor run by no-nonsense businessman Ray O'Rourke, is making an unlikely foray into public art. The firm unveiled a "melting house" yesterday as part of this year's Merge festival on London's Bankside. The life-size house is constructed using wax bricks and will gradually melt during the month-long festival, leaving just the roof on the floor. The artwork explores the science of melting points and celebrates
the history of an old candle-making factory which was based in Bankside a couple of centuries ago. See www.visitbankside.com for more details.
ICE dancing
Who knew Olympic Delivery Authority chairman John Armitt could dance? Armitt features in a joyous video of engineers dancing to Pharrell William's smash hit Happy, organised by the Institution of Civil Engineers and Bechtel to raise the profile of the profession. Armitt is joined by a vast array of engineers young and old busting moves in front of various infrastructure projects, including the Thames Tidal Barrier, Crossrail and
the Millennium Bridge. Armitt channels his inner Bruce Forsyth to extremely entertaining effect.
Snap to it
The RICS has launched a nationwide photography competition for members of the public to capture images of major infrastructure projects. Entrants are invited to photograph any man-made physical structure which benefits society, including roads, bridges, water supply systems, telecommunications and energy generating facilities, such as power stations or wind turbines. The winner and shortlisted entries will be celebrated in an exhibition that will open in February 2015. Associate structural engineer Roma Agrawal, who counts the Shard among her projects, will chair the judging panel. Entrants have the chance to win £3,000 of camera equipment. The deadline for entrants is 19 December.
Guggy-mania
There are few bigger draws in architecture than designing a Guggenheim museum. Existing Guggenheim museums around the world have been designed by star architects, including Frank Llloyd Wright and Frank Gehry. So it is that the proposed Helsinki Guggenheim has attracted a record 1,715 entries. The judging panel has the unenviable task of narrowing this sea of entries down to six finalists for the €140m (£110m) project. How does one even begin to judge a competition in which 1,715 people are competing?
Year zero
Calling all green types. Top 20 housebuilder Hill is seeking a family to live in a sustainable concept home in Cambridge for one year in order to monitor the impact of zero carbon living on the family's health and well-being. The house is a forerunner to Hill's 208 unit Virido scheme in Cambridge, which will be built to Code for Sustainable Homes Level 5. The guinea pigs, sorry - family members, will undergo health checks when they enter and leave the home to evaluate what impact, if any, carbon zero living has on individual health. The family will also communicate their own experiences through social and conventional media. Tempted? Further information at www.be-zero.co.uk or www.hill.co.uk.
Above the fray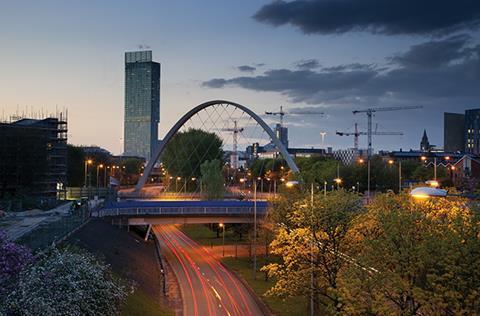 Usually at the party conference fringe delegates traipse through dimly lit corridors and squeeze into overheated rooms where the air hasn't been refreshed since the formation of the welfare state. But not for the architects. A session on the Farrell review of architecture in Manchester this week was kindly hosted by Ian Simpson in his penthouse at the top of the Beetham Tower (pictured). With delegates enjoying glasses of prosecco, sitting on designer furniture and staring out at the wonderful view, it all felt a long way from the conference centre 168m below, where a session on Wealth, Inequality and Power had just commenced. Send any juicy industry gossip to hansom@ubm.com