A leading proponent of free schools displays numeracy problems, there's some creative re-engineering of history, and the column is enlivened by some creative wordplay as the industry waxes lyrical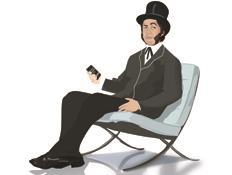 We happy two
A few eyebrows were raised at the launch of New London Architecture's "Developing City" exhibition last week, specifically the list of London projects in the accompanying event programme. According to the publicity material, only two engineers - Arup and Hilson Moran - had a hand in engineering building projects in the City of London. The two firms - no surprise - were sponsoring the event. A fair reward for their commercial investment, you might think. But some of the attendees noted the firms' so-called "engineering" roles on some projects could be said to be misleading. Arup was listed as sole "engineer" for the Foster + Partners-designed Bloomberg Place, whereas in reality they are the facade engineers on the project and AKT II is the main structural engineer. A bit cheeky, it has to be said.
Mixed signals
There's been some confusion about the Conservative's commitment to the Green Deal - the coalition's flagship energy efficiency scheme. If you read the Tory-supporting press you would be forgiven for thinking the scheme was a dastardly Liberal Democrat concoction, foisted upon the Conservatives, rather than the thoroughly-Cameroon policy it is. One of the scheme's greatest proponents is Tory minister Greg Barker, yet even he is guilty of expressing mixed views on it. Take his recent tweet after the publication of the final plans for the Green Deal: "Full steam ahead #GreenDeal but the roll out from the autumn will be very carefully managed so we grow from strong foundations." Forgiving the mixed metaphors, which separately evoke a train, a carpet, a tree and a building, the policy position seems to be, more, "Full steam ahead! (but actually quite slowly and with great caution)". Very brave, minister!
Teenage kicks
Sticking with laboured metaphors, likening things to teenagers is clearly the flavour du jour. Last week we had WSP's Chris Cole describing his firm as like a teenager that needs to mature. This week, Sir John Harman, chair of the Local Housing Delivery Group, described the landscape of different local standards that housebuilders are expected to meet as "like a teenager's bedroom - it certainly could be tidied up a bit". Hansom is always excited by the audacious use of metaphor to leaven construction industry conferences, which can, occasionally, veer on the dry side. Harman's briefing, at the NHBC offices in Aldgate, was a veritable feast of imagery: as well as teenage bedrooms, there were dense forests to be navigated, not to mention a fear of a football referee turning up to police a game without rules (this came at the same event from Ed Turner at the Local Government Association). Any more creative wordplay will be duly rewarded with a mention in the column.
Long weekend
It's natural to begin winding down for the weekend on a Friday, but one prominent construction lawyer seems to have taken this a step too far. "He is not available to take your call," one of my hacks was told last Friday afternoon by said lawyer's PA. "He no longer works on Saturdays." Something tells me even this esteemed lawyer would struggle to defend this position in court.
Number crunching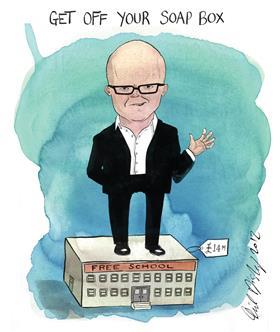 Champion of the free schools agenda Toby Young is never backward about coming forward to promote his West London Free School. Last week he took a pop at the last government's school building efforts, saying they were expensive, wasteful and all about hiring "Richard Rogers to design a glass box". Not his free school of course, which he claimed would only cost around £14m. As one of my hack's noted, averaged out over the 1,500m2 refurb and the 3,000m2 extension that the school entails, that comes to around £3,111 per m2. The average cost under the Building Schools for the Future programme was about £1,850 per m2 - 40% less than Toby's school. Perhaps Mr Young could use some remedial maths?