This week, Disney turns out to be a surprise authority on BIM, the timber debate goes Transatlantic, a second Atkins employee carries the Olympic torch forward and, last but not least, the Gherkin collapses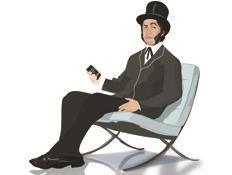 House of mouse
Where better to hold a conference on Building Information Modelling (BIM) for the predominantly middle-aged construction industry than at DisneyWorld Florida? Among the companies givingpresentations at the conference earlier this year, it has emerged, was Disney itself, which apparently is no Mickey Mouse when it comes to employing hi-tech construction technology. Apparently, Disney built an intricate BIM model of its underconstruction Shanghai resort two years before they broke ground on site last year, including its various rides and roller coasters. The model was sointricate Disney engineers - dubbed "imagineers" by the company - programmed virtual chefs to walk around virtual kitchens in order to identifydesign faults. Sounds impressive - but, also, like they could just have been playing on the computer game Theme Park.
America discovers wood
The running debate over whether wood should be given preferential treatment as a building material has now made it into the pages of the New YorkTimes, I was interested to see. The issue - covered by Building in recent weeks following Hackney council planners' attempts to create a presumption in favour of timber - was touched on in a recent feature in the newspaper which referred extensively to London architect Waugh Thistleton's high-storey Stadthaus timber tower in the London borough.
This won't have done the firm any harm at all given that its website received 200 hits the following day.
Scout's honour
A second Atkins employee this week carried the Olympic torch during its long journey to London's Olympic park. Oil and gas engineer Chris Pinnellcarried the torch in Aberdeen on Monday after Atkins nominated him for his work with the scouts, "inspiring more than 4,500 scouts and leaders over the last 35 years". As an Olympic sponsor the firm is able to nominate two employees, with Pinnell quite literally following hot on the heels of colleague Lucy Willis, who carried the torch in Bristol.
Dib dib dib!
Even better than the real thing I wouldn't want to leave you without a bit of hot hoarding news. Despite my previous cynicism about those at Tony Pidgley's One Blackfriars site on London's South Bank, their elaborate topiary and giant images of the London skyline are now proving to be a surprise hit with the public. Quite a number of tourists have been observed eschewing nearby views of the real London riverside and skyline - which can be seen from Blackfriars Bridge all of 50m away - and posing for holiday snaps in front of the hoardings. I suppose it's cheaper than buying a ticket.
Can't have your cake
It appears the canny engineers at Arup have finally met their match. Construction of a giant cake replica of London's Gherkin tower, built as part of a Diamond Jubilee baking contest, was cut short by the great British weather.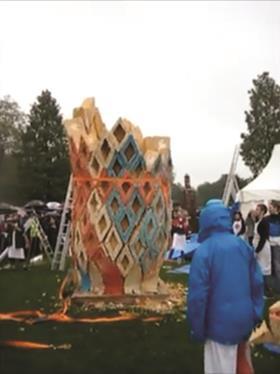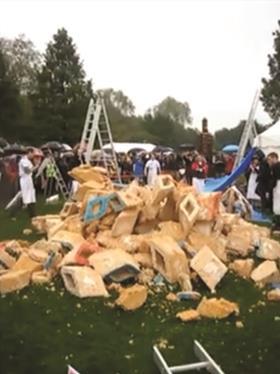 A YouTube video shows the cake undergoing a controlled demolition part-way through construction after the Rice Krispies, marshmallow and golden syrup-based cake was deemed structurally unsound because of the relentless rain.
But the 4.5m-high half-built Gherkin stood long enough for Arup to be judged the winner of the contest, over fellow engineers Buro Happold, Expedition and the Institution of Civil Engineers.
"We were doing very well but as soon as it started raining the sugar started to dissolve and it became incredibly unstable," Tom Foulkes, Arup's head of marketing, said ruefully. "It probably would have collapsed by itself 10 minutes later."